4 ways to add SmartThings devices to HomeKit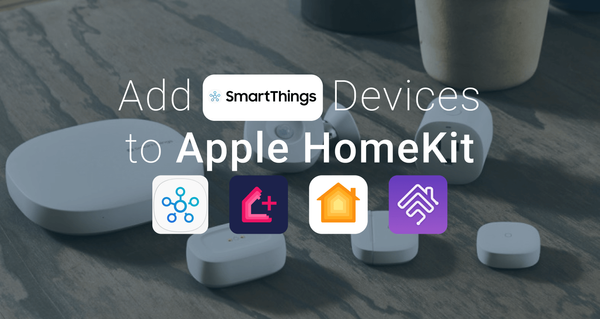 Wondering how to control your Samsung SmartThings devices via the Apple Home App and Siri? Surprise? There're several ways to do this. This article will guide you to add SmartThings devices to Apple HomeKit.
Best ways to add SmartThings devices to HomeKit
Adding Samsung SmartThings devices to HomeKit is easier than you might think. There're 4 ways to link Samsung devices to Apple HomeKit.
Enomek [Recommended App solution]
Athom Bridge [Recommended Device Solution]
Method 1: Enomek – Recommended App Solution
Enomek is an awesome mobile app. It can help you to add any smart home device to Apple HomeKit. Also, it supports many brands including the Samsung SmartThings. If you want to connect SmartThings with HomeKit, get this best solution via the button below.
Step Guide for Enomek App Installation
Why choose Enomek?
Overcome the limitation of Homebridge
Step-by-Step guide for easy installation
Hassle-free experience
Add any Smart Home devices to HomeKit
Easy to use app solution
Then, let's find our recommended device solution to link Samsung SmartThings to HomeKit.
Method 2: Athom Bridge – Recommended Devices Solution
Athom Bridge is an affordable and simple device solution to add your SmartThings devices to HomeKit. Not only SmartThings devices, but you can also add any devices to Apple HomeKit. This is a special compiled and pre flashed Homebridge server. You can simply download the plugins, configure it and that's it.
Why choose Athom Hub?
Affordable Solution
Open Source
Requires No Coding
Over 2000+ device plugin
Beginner friendly
Note: Athom Bridge is shipped from China, so delivery time may take 2 to 4 weeks. Refunds can only be requested within 24 hours of purchase.
Method 3: HOOBS Solution
HOOBS (Homebridge Out Of the Box) is a user-friendly platform. It simplifies the process of setting up and managing Homebridge. Simply, it is a popular open-source software. Also, it allows you to integrate non-HomeKit devices into Apple HomeKit.
Quickly transform your non-HomeKit smart devices into HomeKit accessories.
It can be controlled through the Apple Home app or with Siri voice commands.
Method 4: HomeBridge Solution
You can use HomeBridge - open-source software platform to integrate non-HomeKit compatible devices into Apple HomeKit . If you're a technical user, this is a convenient solution. This act as a bridge between non-HomeKit devices and HomeKit.
Check here to learn how to add SmartThings devices to HomeKit using Homebridge
Now you know how to add your smart devices to Apple HomeKit. If you want to add any Smart Home device, you can check how to add any devices to HomeKit article to know more. Let's dive further into Apple HomeKit Integration.
What you can do with SmartThings Apple HomeKit integration
You can do a lot when Samsung SmartThings is integrated into HomeKit. Let's explore some things about SmartThings HomeKit integration.
Control and manage Samsung SmartThings Devices – You can control all of your SmartThings devices from the Home App directly
Check device status – You can check the device status from Apple Home App
Automate your SmartThings devices – You can set up automation in various rooms of your house
Use Siri for voice control – You can use Siri to control your SmartThings Devices
If you're a technical user, you can add your SmartThings devices to HomeKit using the below guide.
Connect SmartThings to HomeKit using HomeBridge
Homebridge is one way to add your SmartThings devices to HomeKit. You need to install SmartThings HomeKit Homebridge on your computer. Let's see more about SmartThings HomeKit Homebridge.
Step 01: Install the Homebridge on Mac/PC
Step 02: Open the Homebridge UI
Step 03: Go to the "Plugins option"
Step 04: Search the SmartThings Plugin
Step 05: Install the HomeBridge SmartThings Plugin
Step 06: Configure the plugin
Step 07: Restart Homebridge
Then, let's see how to add your devices to HomeKit using HOOBS, one of the device solutions.
Connect SmartThings to HomeKit using HOOBS
Follow these steps to connect Samsung SmartThings to HomeKit using HOOBS.
Step 01: Connect HOOBS to your home network
Connect HOOBS to your WiFi network or directly to your router using an Ethernet cable
Step 02: Create a HOOBS account
You need to create an admin account to set up HOOBS. Visit https://hoobs.local/ for Mac or visit http://hoobs/ for Windows > Enter your credentials > Click Next
Step 03: Install the SmartApp
You can follow these steps to install the SmartApp.
If you are a new SmartThings user, enable Github integration. You will find the settings button once the integration is enabled. If you are outside the US, use this link for assistance.
Access your SmartThings account through the SmartThings IDE.
Select your hub under My Locations.
Proceed with manual installation.
Click on My SmartApps.
Copy the code from the provided source.
Click '+ New SmartApp' and select the 'From Code' tab.
Paste the copied code here.
Click the 'Create' button at the bottom left corner.
Next, Go to App Settings
Navigate to OAuth and enable OAuth in the Smart App option. Select update.
Save the settings and click 'Publish' to successfully publish the code.
Step 04: Configure the SmartApp
You need to configure the SmartThings Mobile App to work with Homebridge:
In the SmartThings Mobile App, tap on the sidebar and select SmartApps.
Tap on the '+' sign.
Select Homebridge V2.
Then you can see the Define Device Types Option to select the type of device you're integrating into HomeKit
Once you have added your devices, proceed to the next step. Tap on the sidebar and select SmartApps within the App.
Tap on Homebridge V2.
Tap on 'Render the platform data for Homebridge config.json. This will generate your App URL, App ID, and App Token information. Keep these for the next step.
Step 05: Install and configure the SmartThings plugin to integrate specific devices. (You need to install the corresponding plugins on HOOBS)
Use the HOOBS plugin screen on the HOOBS homepage to find the necessary plugins
Install the necessary plugins
Check for updates for any installed plugins on this screen
Install the plugin 'homebridge-smartthings-v2'
Enter the previously noted App URL, App ID, and App Token information in the corresponding fields.
Congratulations! Apple HomeKit and Samsung SmartThings are now successfully integrated.
Want to find the best Smart Home Ecosystem? Let's look at the differences between SmartThings and HomeKit.
Samsung SmartThings vs. Apple HomeKit
The choice between SmartThings and HomeKit will depend on your specific needs and preferences. Consider the factors that matter most to you to make the ideal choice for your home.
Apple HomeKit
Hub or no Hub : No hub is required; Apple devices act as hubs
Security : Strong user data encryption
Device Compatibility : Limited but growing
Companion Phone App : User-friendly and easy to use
Voice and Remote Control : Siri voice control; limited assistant compatibility
Samsung SmartThings
Hub or no Hub : Requires a hub for communication with devices
Security : Less secure; allows Homebrew integrations
Device Compatibility : Extensive compatibility and integration options
Companion Phone App : Confusing and less user-friendly
Voice and Remote Control : Compatible with Google Home and Amazon Alexa; cloud-based remote control
As a HomeKit nerd, you can take advantage of both home automation systems. Also, if you're an Alexa Smart Home device user, you can find out how to add your Alexa Smart Home devices to HomeKit.
Did you know that the SmartThings iOS app now adds Matter support? If you want to know more about the latest update, please find below.
SmartThings iOS App Now Adds Matter Support
The SmartThings platform added Matter support in October 2022. It allows SmartThings hubs to integrate with Matter-enabled smart home devices.
Also, users can now control these Matter devices connected to a SmartThings hub using their iPhone, iPad, or Apple Watch. Yeah! Matter released the Samsung SmartThings Station, a hub for Matter products. So, SmartThings HomeKit Matter no longer matters to you.
Matter standard was developed by Amazon, Apple, Google, and other smart home companies.
Users can download the SmartThings app from the App Store for free
Apple's built-in Home app is also Matter-compatible.
It is important to have iOS 16.1 or later installed for Matter support.
SmartThings Devices You Can Control with Homekit
You can get access to HomeKit's platform-based control when you use a third-party solution to connect SmartThings gadgets. Here are some examples of SmartThings devices HomeKit can control:
Samsung SmartThings Hub: The SmartThings Hub act as a central control point for SmartThings smart devices. You can control devices like lighting, thermostats, door locks, and appliances using the HomeKit by integrating it with HomeKit.
Switches: Smart switches connected to SmartThings can be integrated into HomeKit via Homebridge. This integration enables you to control switches and the devices connected to them using HomeKit's intuitive interface and Siri voice commands.
LED strip lights: If you have SmartThings-compatible LED strip lights, you can connect them to HomeKit through Homebridge. Once integrated, you can control the LED strip lights using Siri voice commands, adjusting their colors, brightness, and on/off status through the HomeKit app.
Smart plugs: Smart plugs compatible with SmartThings can be integrated into HomeKit using Homebridge. This integration allows you to control the connected appliances and devices plugged into the smart plugs using Siri voice commands or the HomeKit app.
Garage door openers: With Homebridge integration, SmartThings-compatible garage door openers can be controlled through HomeKit. You can use Siri voice commands to conveniently open or close your garage doors from your Apple devices.
Air purifiers: You can control SmartThings air purifiers with HomeKit when adding these two. Also, you can control the air purifiers using Siri voice commands, enabling you to manage their operation and settings through the HomeKit ecosystem.
Smart light bulbs: By integrating SmartThings to HomeKit, you can control the lighting in your home using Apple Home App and Siri voice commands.
Conclusion
The Samsung SmartThings device can be added to the Apple HomeKit as the solutions mentioned above. I recommend going with the Enomek HomeKit enabler as the app solution is easy to use. Also, I recommend Athom Bridge as an affordable hardware solution.
If you enjoyed reading this article, subscribe to our newsletter to receive more articles like this.
FAQs about Samsung SmartThings
01. Is SmartThings hub worth it?
The SmartThings hub is a worthwhile investment if you have smart home accessories utilizing Z-wave or Zigbee protocols, as it stands out as one of the few reliable smart home hubs that provide support for both connectivity options.
02. Can SmartThings work with HomeKit?
The answer is yes. SmartThings works with HomeKit using a third-party solution. You can use Enomek – HomeKit Enabler to add SmartThings to HomeKit. Also, you can use a simple device solution – Athom Bridge to use HomeKit SmartThings.
03. Is SmartThings compatible with Apple?
No. But as mentioned above it can be compatible with some third-party solutions like Enomek, Athom Bridge, and HOOBS.
04. Can I add Samsung TV to HomeKit?
Yes. You can add your Samsung TV to HomeKit with Enomek- HomeKit Enabler or Athom Bridge.
05. Can HomeKit & Siri Control SmartThings?
The answer is yes. After integrating Samsung SmartThings to HomeKit, you can control your SmartThings devices using HomeKit and Siri.