Enomek - Add Any Device to Apple HomeKit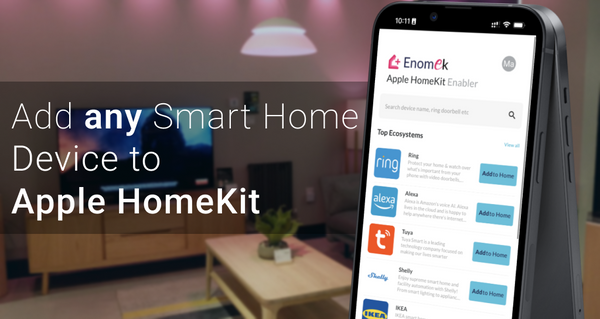 Do all of your smart home devices work with Apple HomeKit? If the answer is YES, you are one of the few luckiest people who read this article. But if any of your favorite smart home devices do not support Apple HomeKit, we got you back. There is an awesome mobile app to help you to add any smart home device to Apple HomeKit.
Let's dig more and find how to do this step by step.
Enomek is the best and our recommended solution. There are a few methods to achieve what you are trying to do, Adding non compatible smart home devices to Apple HomeKit.
Enomek has its unique advantages as well as the limitations. Let's find out more about Enomek - HomeKit Enabler.
Enomek App
Enomek is a web-based application which helps you to add your smart home devices to Apple HomeKit. It supports the major smart home device brands like Ring, Tuya, Alexa, Shelly, Roborock, IKEA, Roomba, Sonoff, Eufy, MyQ, Zigbee, Dyson, Google Nest, Meross, Yeelight and many more.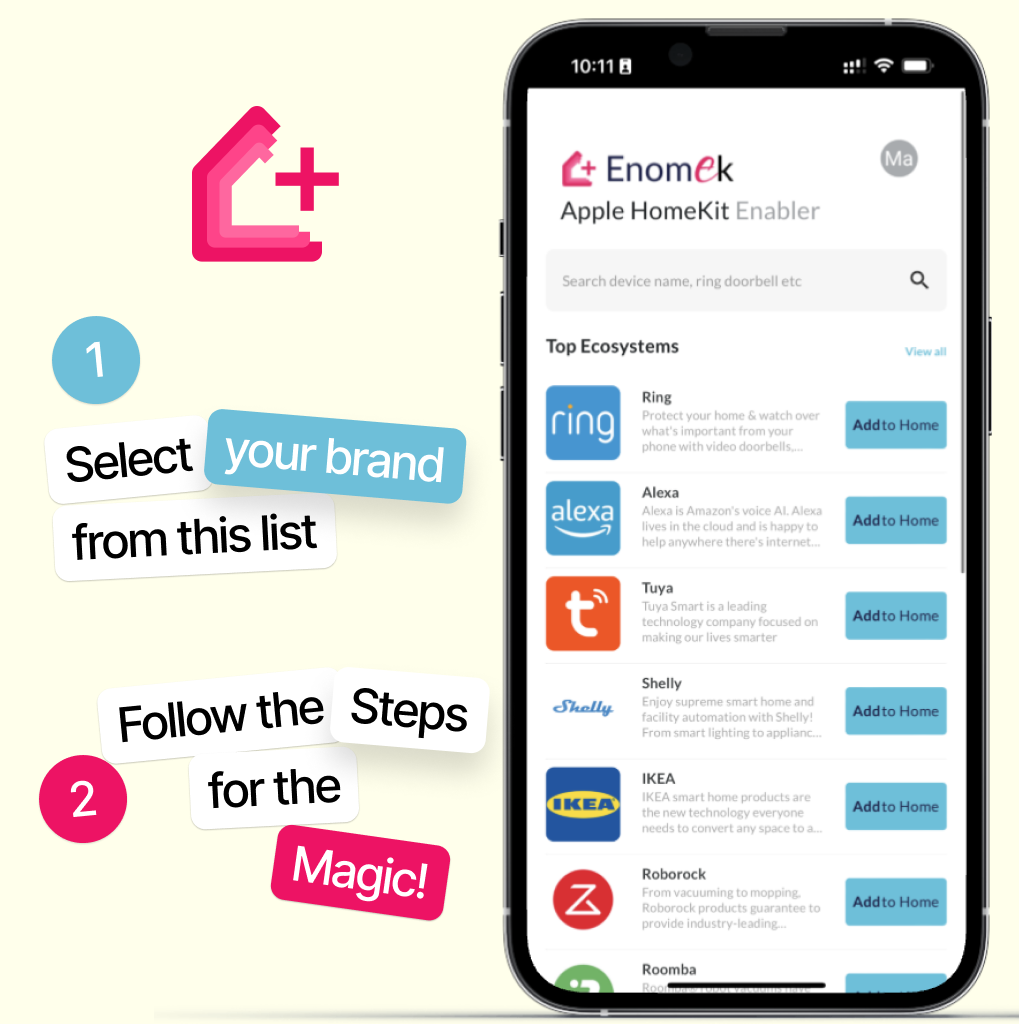 Let's see how to install Enomek App and Add your devices to Apple HomeKit.
Follow the step guide below.
Step by Step Guide to Install Enomek App
Step 1 - Visit https://kodmy.com/install-enomek/ page from your iOS device. Enomek currently supports apple iOS only. If you visit the page via a PC or computer, it will show you a QR code to scan from your iPhone / iPad
Step 2 - Tap on Download Enomek App button to start downloading process.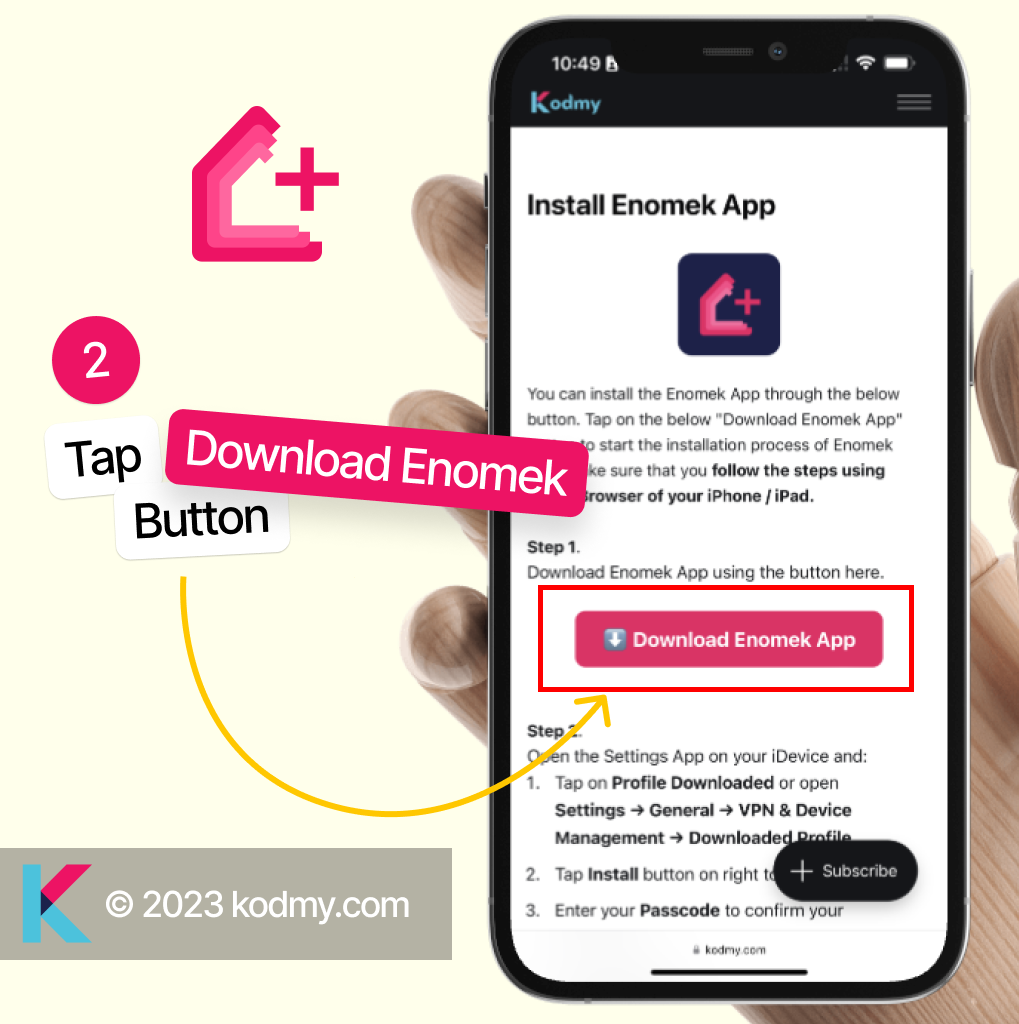 Step 3 - Tap allow on the next prompt. This will download a mobile configuration profile to your device.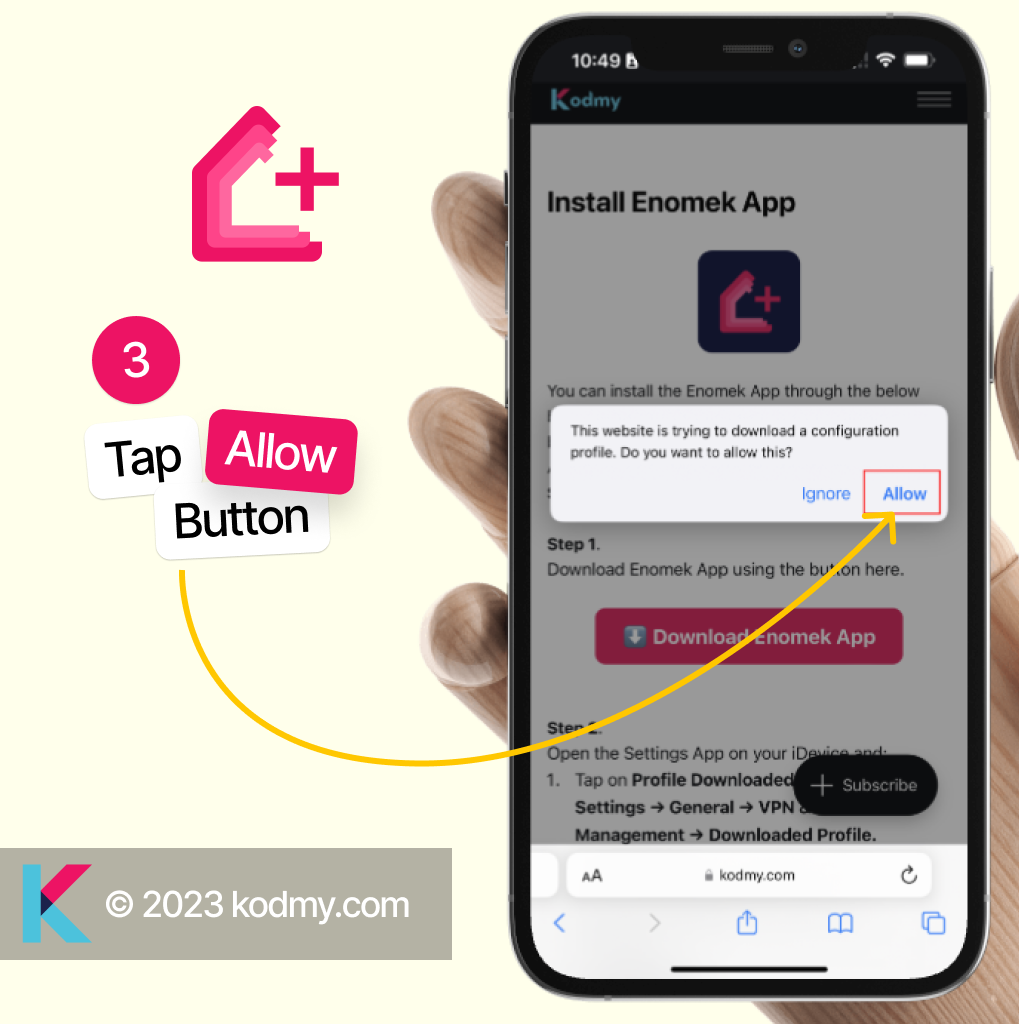 Step 4 - Go to Settings and complete the Installation
4.1 - Settings > Profile Downloaded
4.2 - Settings > General > VPN & Device Management > Downloaded Profile
Follow one of the above two steps and you will find Enomek latest version (Currently v1.0.0)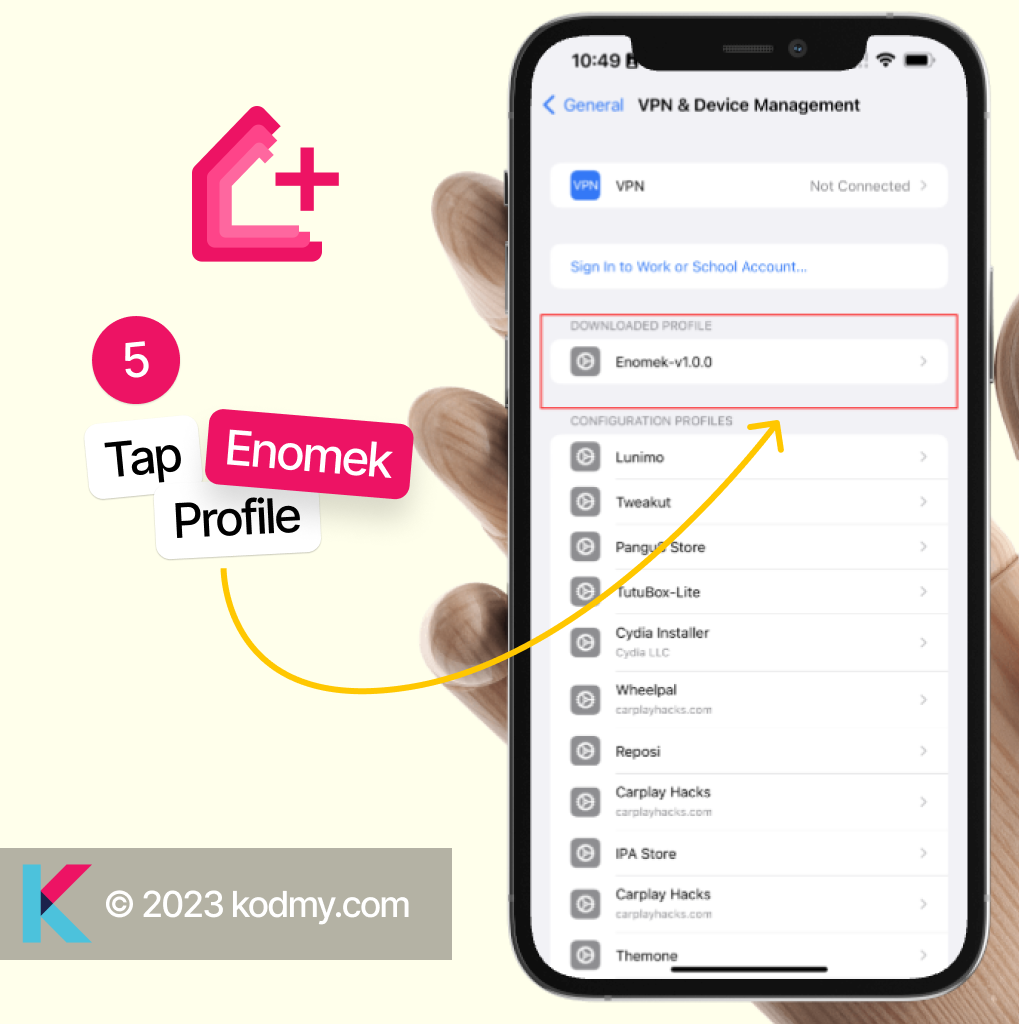 Step 5 - Tap on the downloaded Profile (Enomek-v1.0.0)
Step 6 - Tap Install on the top Right corner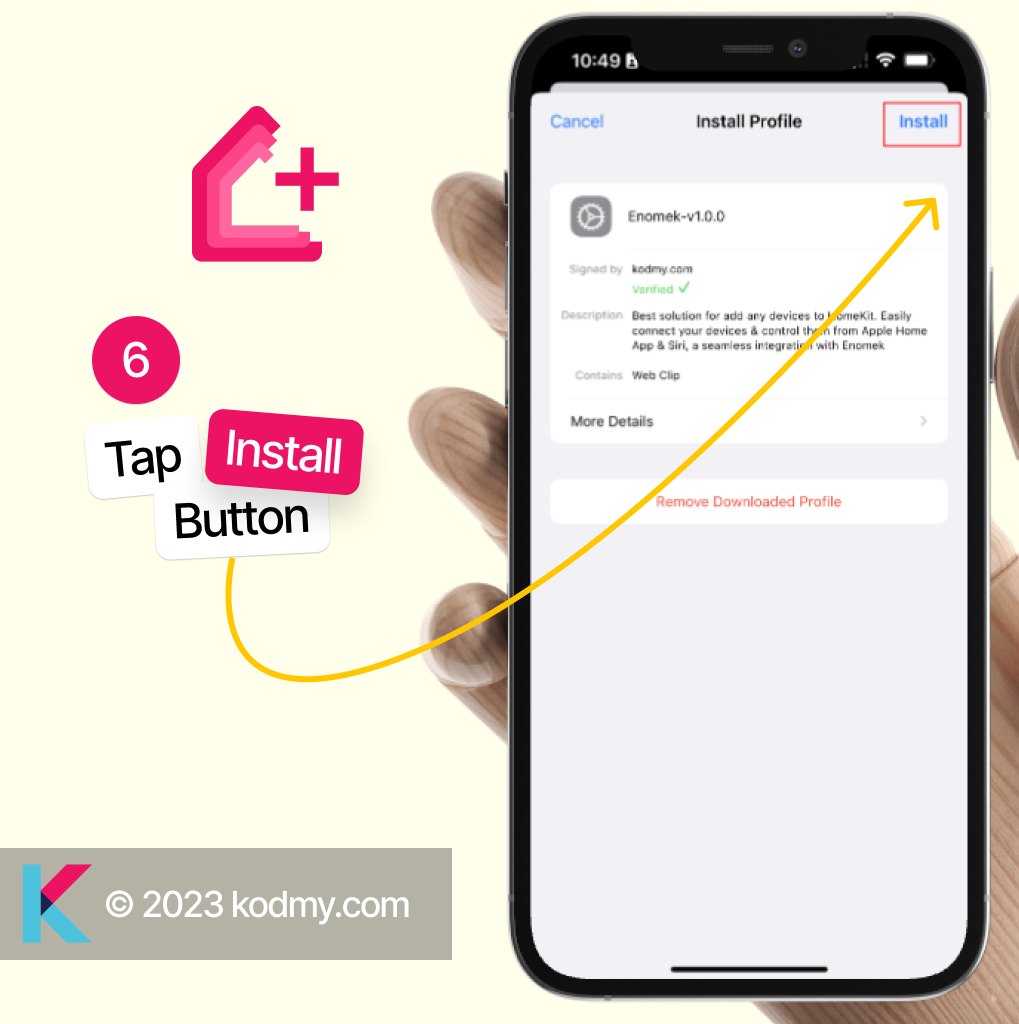 Step 7 - Enter your phone's four-digit or six-digit passcode. This is required to install Enomek App to your device. You can always remove it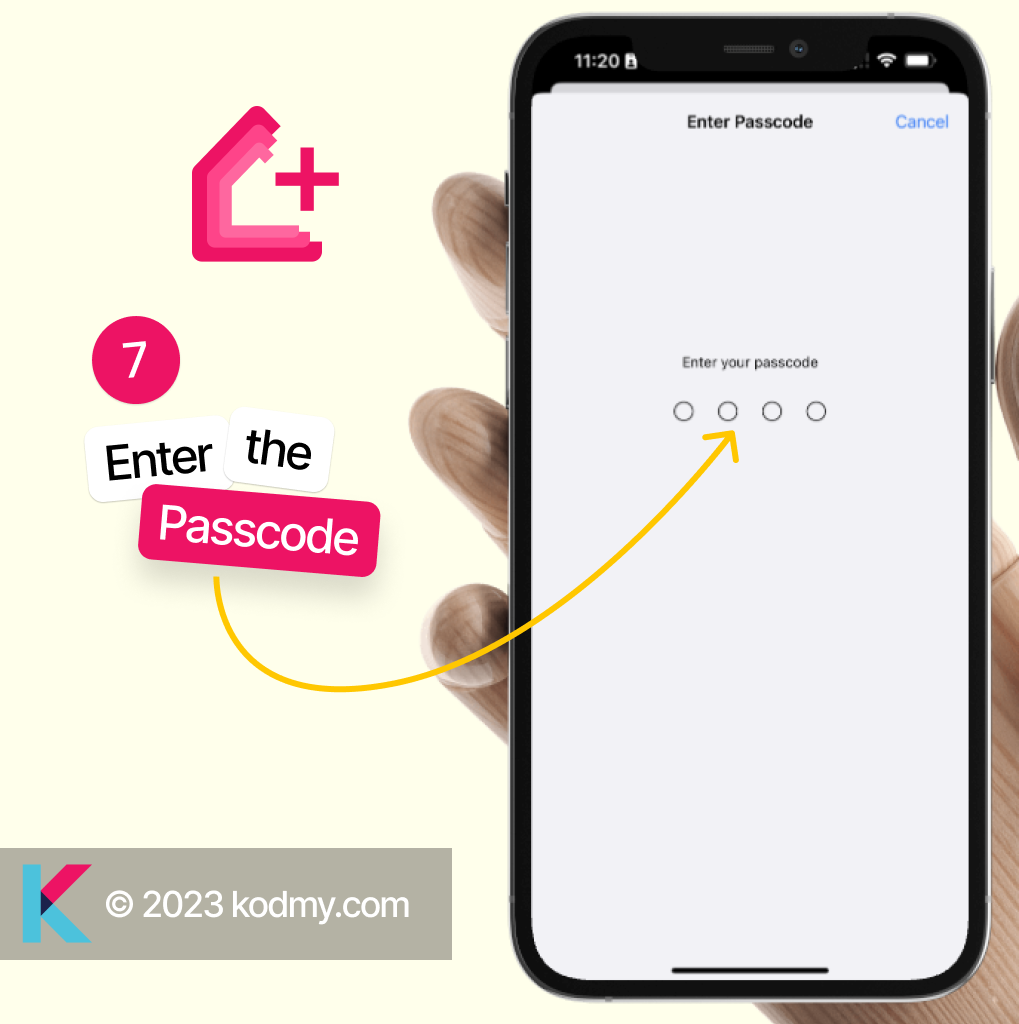 Step 8 - Once Passcode is entered correctly, it will confirm the installation again, just tap on the install to complete the installation.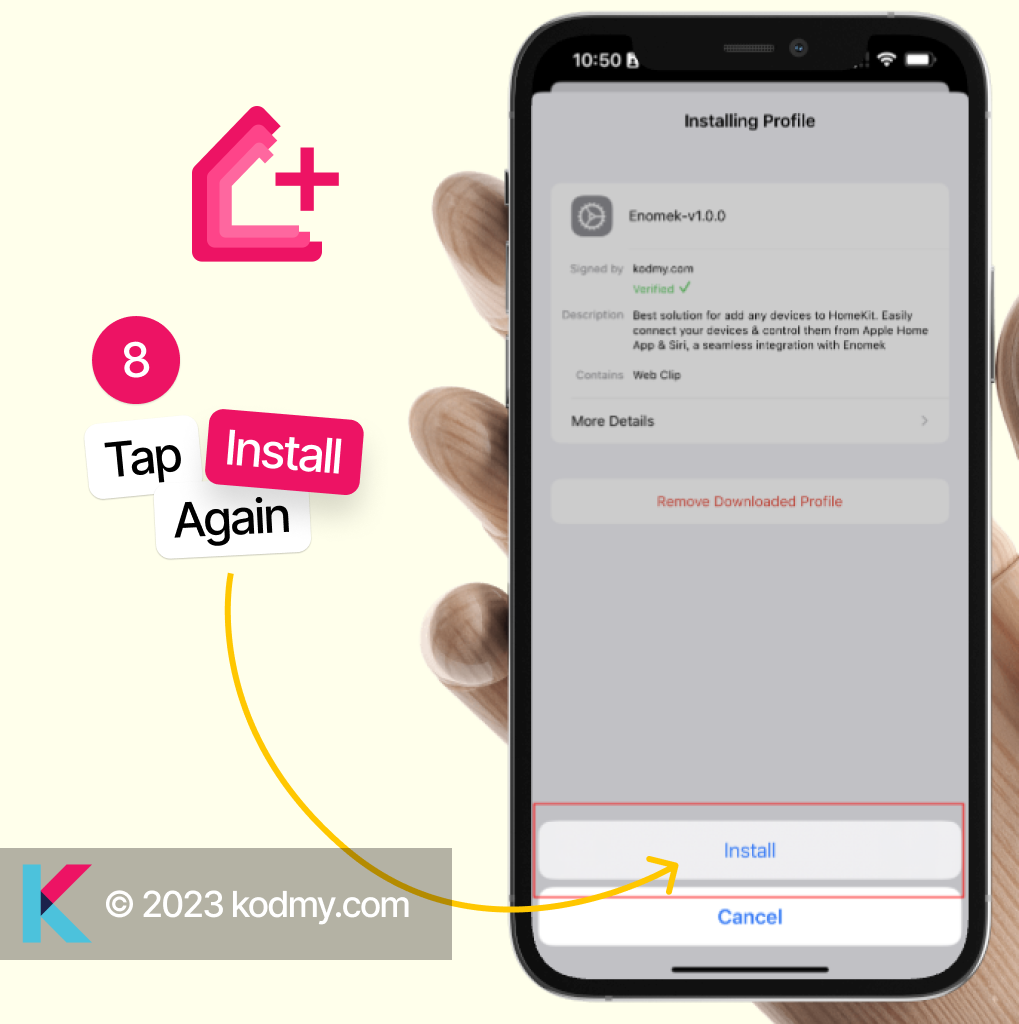 Step 9 - Tap on Done and you will find Enomek on your iPhone / iPad Screen.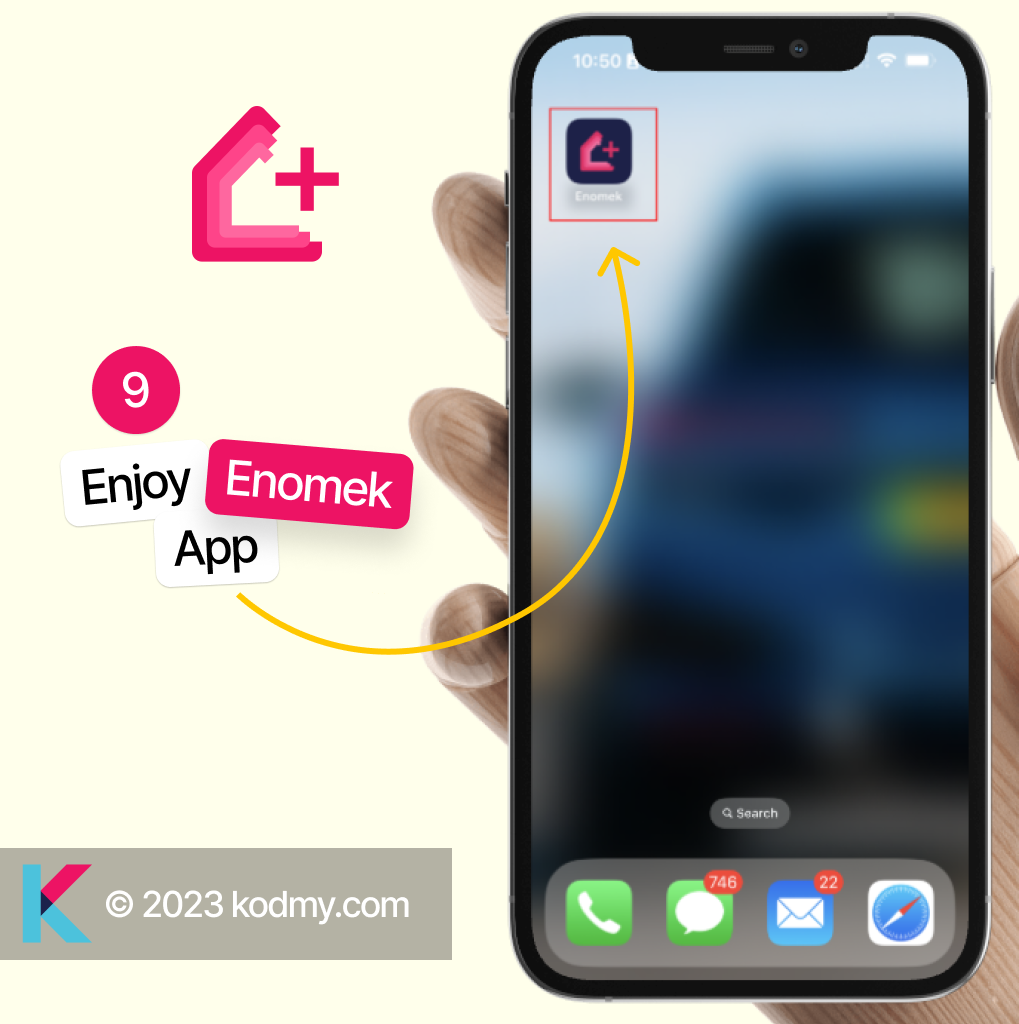 How to Add your Smart Home Device to Apple HomeKit via Enomek?
Once installed you will find Enomek App on your home Screen. Open Enomek app and allow it to preconfigure things for you. It will load the supported ecosystems within seconds. I assume that you already know that your smart home device is not compatible with Apple HomeKit.
Let's continue,
Step 1 - Open Enomek App from your home screen
Step 2  - Scroll Down / Search to find your smart home device's brand. (If you have multiple devices to add, you will have to add those separately as the steps are different from brand to brand)
Step 3 - Tap on Add to Home button near to your smart home equipment's brand name
Step 4 - It will show you available methods to add your device to Apple HomeKit
4.1 - Homebridge Method -  This is the cheapest method but you need to have your personal computer running all the time to add and access your smart home devices via Apple Homekit
4.2 - Hoobs Hub, This is a hardware-based solution and very convenient as there are little configurations to be done
You are free to choose whatever method according to your needs and budget.
Software Method
If you use the software-based method, follow the steps 5 – 9 here. Make sure that you have a PC before starting the process.
Step 5 - Select your Computer's Operating System
Step 6 - Enomek will find the appropriate Homebridge plugin for your smart home device
You may ask to activate Enomek if you haven't activated it already. Once you enter your purchase email address, Enomek will be activated within seconds
Step 7 - Follow the step-by-step guide shown in the app to complete Homebridge Installation and Plugin Installation.
Step 8 - Config the plugin as instructed by the Enomek App
Step 9 - It is the end of the problems and start of a new journey. Now you can open Apple Home App and add the smart home devices there.
Hardware Method
If you are not a techy person and your budget is high enough, this is the best solution for you. Just order a prebuilt Hoobs Hub via Enomek of using the link below.
If you order a Hoobs device via Enomek, you will get a free copy of Enomek to register under your name. Exited? Let's go ahead and own a HOOBS now.
Step 5 - Order a Hoobs Box
Step 6 - Once you receive it, Unpack and follow the instruction on the manual to add Hoobs plugin for your smart home device.
Step 7 - Plug it and enjoy non interruptive seamless Apple HomeKit integration.
Hope you got an idea about adding non compatible devices to Apple HomeKit via Enomek App. Let's find out the other available methods to add smart home devices to Apple HomeKit.
Article Summary
It is possible to add any non-compatible smart home device to Apple Homekit as the underlined technology knows how to communicate with each other. But the big brands like Apple, Alexa, Samsung, Google does not want every brand to be compatible with their ecosystems.
So we as the smart home users need to find and use solutions which helps us to make our smart life easy.
If you enjoy reading this article, give a thumbs up, share it with your friends and bookmark us or subscribe to our newsletter to receive more articles like this.
FAQs related to Enomek
1. Is Enomek App safe and secure?
Yes. Enomek is a secure platform that prioritizes user privacy by refraining from collecting or tracking any user information. Our app provides expert guidance and effective solutions for integrating any device with Apple HomeKit.
2. How does Enomek work?
Enomek provides Homebridge and HOOBS solutions to add any smart devices to HomeKit. Also, it provides step by step guides to install Homebridge and Homebridge plugin.
3. How to install Enomek?
You can install the Enomek by following the above step by step guide
4. What are the compatible devices for Enomek App?
Enomek is compatible with your iOS device (iPhone or iPad) only. You can download the Enomek using your iPhone and enhance smart home experience.
5. How to find Enomek App?
You can find the Enomek App by using this URL https://kodmy.com/step-guide-to-install-enomek/ or this URL https://kodmy.com/enomek/
6. Is Enomek free?
The answer is yes. Enomek is available for free download, so you can experience it without any cost. However, to access the premium content, you need to become a premium member.
7. Who owns the Enomek App?
Enomek is owned by kodmy.com and you can download Enomek from their official site.