Ring Stick up Cam Solar HD Security Camera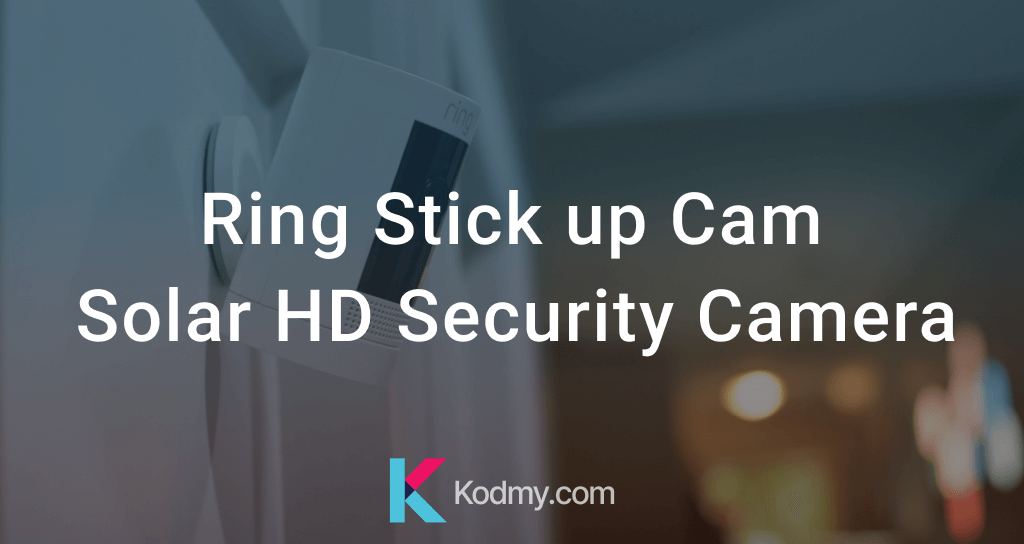 In order to choose the best solar-powered security camera, you should consider some factors such as how the security camera transmits data, its solar panel's capacity, and the image resolution. solar-powered security cameras use an internal battery to store energy from direct sunlight like Ring Stick up Cam Solar.
You won't have to worry about the camera losing power when the sun goes down. The Stick Up Camera operates on the internal battery to store energy from sunlight. Keep reading to learn more about the Ring Stick up Cam Solar HD Security Camera.
What is a Ring Stick Up Cam Solar HD Security Camera?
All-new Ring Stick up Cam Solar HD Security camera is a motion-activated camera with a connected Solar Panel and backup battery pack. So, you can enjoy the flexibility of dual power sources. It is your versatile solution for smarter security. Plus, monitor what matters using your phones and place it where you need it with endless placement options.
Ring devices can be integrated into Apple HomeKit using Enomek App. You can enhance your home security with Ring HomeKit. Download the below HomeKit enabler app.
Step guide for Enomek App Installation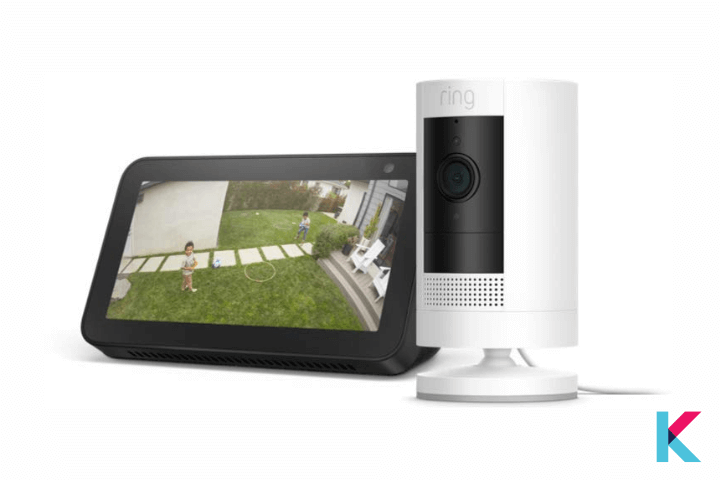 Is it raining or shining? No worries. You can get non-stop power and protection in rain or shine with an included battery pack. It is covered with backup power. You can place it above your home or mount it up on a corner of the yard to watch over important areas of your home. Relax! It covers every corner as a bird's eye view of all the activity.
Do you want to connect your Ring Device with Apple HomeKit?
If you have an Alexa Echo Dot smart speaker. you can hear custom notifications from Echo Dot. It is simply awesome. You can also launch videos with Echo Show and more. You know what connects your Ring home security kit easily. And you can link your security camera and all your Ring devices to the Ring App so that you can control them all from your phone.
You may get the Ring Stick Up Cam Solar HD security camera from Amazon via the below image.
Ring Stick up Cam
Stick Up Camera provides all the features you need such as motion-activated notifications, a flexible design, and several power options. It is a redesigned version of its previous generation. So, with updated Stick up Cam Solar, Stick up Cam Battery and Stick up Cam Elite, you can find the perfect smart home solutions for your Smart Home.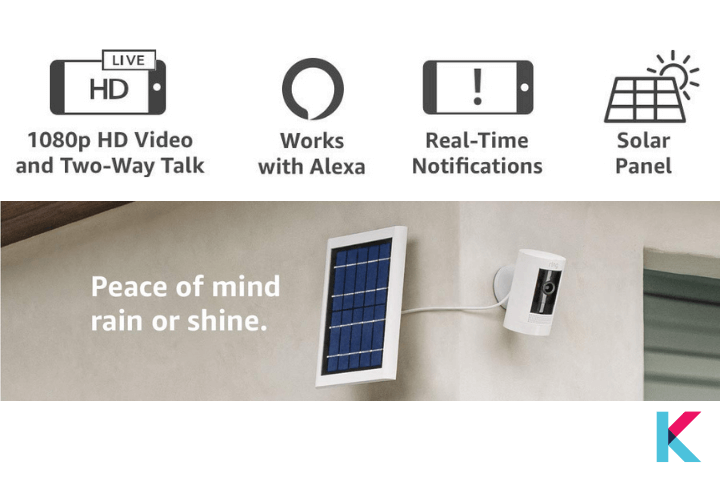 This Ring Stick Up cam has dual power. This means this Cam has a primary power source (Solar power) with a backup power source (Quick release battery pack) to keep you connected.
Ring Stick up Cam Solar Panel
Ring Stick up Solar Panel is the best non-stop solar power for Spotlight and Stick up Cam. It comes with Stick Up Cam Solar for the continuous charge. Don't worry! You will never run out of power because of the Solar panel. It has a weather-resistant design and adjustable mounting bracket.
Pros and Cons of Ring Stick up Cam Solar
Features of Ring Stick up Cam Solar
Ring App
If you want to control your camera smoothly, Ring App gives complete control for you. When anything happens at home, you get a real-time notification on your smartphone and tablet. And get real-time video and audio with the Live View button and, check in on your home at any time from anywhere.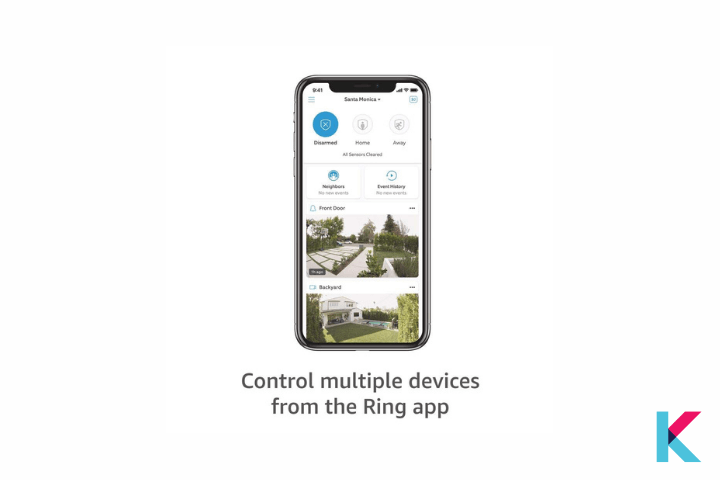 Sometimes you may have several Ring devices in your smart home. So, you can connect and control all Ring devices from a single dashboard. It is important to say about security and privacy control. It allows you to view, control, and customize security settings.
Also, you can stay connected to your community with safety alerts and real-time crime from your neighbors. Further, you can open your door for friends and family right from Ring App with your favorite Smart door locks like Yale Smart Lock and Schlage Encode.
Does Ring Stick up cam work with Apple HomeKit?
Ring Stick up cam doesn't  support Apple Homekit natively. If you want to add your Ring devices with Apple HomeKit, you can use third party application such as Homebridge, HOOBS and Raspberry Pi.
01. Software based solutions - Homebridge
02. Hardware based solutions - HOOBS, Raspberry Pi
Let's see How to add Ring Devices with Apple HomeKit.
If you want to make your Ring device compatible with Apple HomeKit using Homebridge, you can do it simply using the above step guide.
What is the difference between Stick up Cam Solar, Stick Cam Battery, Stick up Cam plug-in and Stick Cam Elite?
How do you connect your Solar Panel to your Ring Stick up Camera?
Three steps are all it takes to connect your solar panel to Ring Stick up Cam Solar. Let's see how to install the solar panel.
Step 1- Start by placing the Stick up Cam on a flat surface or wall. Next, insert the batteries.
Step 2-Connect Stick up the camera to the Solar Panel
Step 3- Lastly, follow the instructions in the Ring app to connect to WiFi
Ring Protect subscription
Don't miss a Ring Protect subscription. Here are all the things to know about your Stick Up Cam Ring protection plan.
Records and Capture – Record videos and capture photos when you are not in any time
Person Alerts – When your device spots a person, you can get person alerts and can customize your alerts.
Rich Notifications- You can get a rich notification without opening the Ring App with a photo preview.
Flexible Options- $3/month subscription to Protect Basic plan to cover one device or $10/month subscription to protect plus with video recording for all of your home's devices.
Privacy features of Ring
There are several privacy features included with Ring Stick up Cam. You can create privacy zones that you don't want to monitor. Also, you can disable motion recording, audio alerts right from the app. Further, you can schedule your motion alerts to turn on or turn off.
Price and Availability
The Stick Up Cam Solar is $148.99 for a single camera with a Solar panel. Other versions include the Stick up Cam Battery ($99.9), the wires version ($99.99). So, Stick up Cam Solar is an impressive set of alternatives for this category with Solar panels. There are two different colors available in Ring Stick up cam as black and white from Amazon.
Before choosing a great solar-powered smart security camera, it is important to determine whether it is compatible with your smart home, existing Wi-Fi, or 4G service provider.
Our pick
The Ring Stick up Cam Solar HD security camera is the best solar-powered security camera with Color Night Vision, Motion-Activated Notifications, Weatherproofed camera, and more. There is no doubt about this. It is a great option for your home, but it's best for those already invested in Ring's ecosystem or Alexa devices.
You may be looking for more interesting things related to home automation. So, you can go to Kodmy Smart Home Blog to find out the latest information about Smart Home.
FAQs about Ring Stick Up Solar
01. Does Ring stick up cam work with solar?
Yes. Ring stick up cam is solar powered. Not only solar powered option, but also with battery, plug-in power options.
02. Is Ring stick camera worth it?
If you're more into Google Assistant and Amazon Alexa, Ring stick camera is worth for you. It has fantastic features such as night vision, two-way audio, cloud and local storage.
03. How long does battery last on Ring stick up cam?
It depends on the use of Ring Stick up cam. Normally, it last six to twelve month.
04. Do you need Wi-Fi for Ring Stick up cam?
Yes. If you want to access Ring Stick cam features, you need to have Wi-Fi connection.
05. How long does ring solar panel take to charge?
If you want to fully charge, it can take up to five hours. It varies from time to time according to sunlight.
06. Does Ring solar need direct sunlight?
Ring Solar camera needs about 4 hours of direct sunlight to fully charge.