4 Ways to Add any App to Apple Carplay!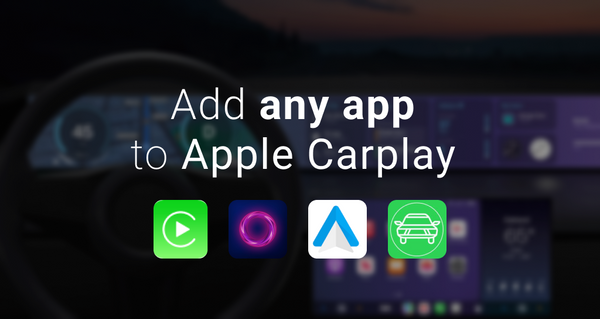 There is no doubt that being smart makes modern life easy. So why not try to make your car smarter too? These are simply the methods of using the most important phone applications like navigation, Music, and Phone on the car's infotainment system, without being bothered to touch the phone while driving.
So these smart technologies have been introduced to enhance the driver's safety. Here are the best and most trusted solutions to add any app to Apple Carplay.
Now you know how to add any desired app to Apple CarPlay for having an extraordinary driving experience filled with entertainment and convenience. Let's see what apps come with Apple CarPlay?
What are the default CarPlay Apps?
CarPlay Apps refers to the apps which are compatible with Apple CarPlay by default. Apple has made certain apps available for CarPlay with the assumption that the driver is not distracted by those apps.
Below are some Apple CarPlay Apps
CarPlay Navigation apps: Google Maps, Apple Maps, Waze apps, InRoute, Naver Map etc.
CarPlay Music Apps: Apple Music, YouTube Music, Amazon Music, Doppler, Google Play Music etc.
CarPlay Audiobooks: Audible, Kobo Books, Google Play Books, Walmart Books etc.
CarPlay Communication apps: Telegram Messenger, WhatsApp, Zoom Cloud Meetings, Microsoft Teams
CarPlay EV charging and parking: ChargePoint, PlugShare, and SpotHero.
Apart from that there are a lot of CarPlay Food apps,  Podcasts app, and news apps such as BBC Sounds and NPR One.
Moreover, a range of podcasts like TuneIn, Overcast, Pandora and Spotify can be identified as CarPlay Apps. Apple has recently included communication apps like WhatsApp, Zoom in the Apple CarPlay compatible app list. Apple has displayed the full list of CarPlay Compatible Apps in their official site for your convenience.
Let's see why are many of my iPhone Apps missing from CarPlay?
What are the most common apps missing in CarPlay?
When going through the CarPlay App list, you may have noticed that some of your favorite apps are missing there. What about YouTube, Netflix, FaceBook, Instagram, Games, Videos etc ?
Yes, these types of video players and streaming apps are restricted by Apple as they might affect the safety since they can grab the attention of the driver's eye.
Here are some of the apps which you can not use with the default settings of CarPlay.
YouTube
Netflix
Facebook
Messenger
Instagram
VLC Media Player
KMPlayer
Twitter
Photo Viewers
Games
Gmail
Outlook
Amazon Prime Video
Let's see how to use ANY App with Apple CarPlay? It enables app enables non-default apps like video streaming apps.
How to add any app to CarPlay?
Even Though these apps can cause safety threats while driving, there is a space for using these apps in certain situations like while you are stuck in traffic or waiting in a car park. Understanding this opportunity, developers have introduced some hacks for adding these apps for CarPlay.
Most of these methods require a technique called jailbreaking. This is simply the method of expanding the restrictions imposed by Apple for customizing their products. Most common methods of CarPlay App list customization requires an iPhone which is already Jailbroken.
Apart from that, there are some other methods where you can have the same service without having a jailbroken phone. Some methods help you to get your phone jailbroken and then to customize the CarPlay app list while other methods offer solutions to get any app on CarPlay without being required to jailbreak your phone.
For interesting folks on Tesla, you can find out our Tesla Apple CarPlay article to enhance Tesla experience with CarPlay. Also, you can find How to use Android Auto in your Tesla Car to enhane your tesla experience with Android Auto.
So as a gist, there are jailbreak and non jailbreak methods for adding apps to CarPlay.
Jailbreak Required methods - Using CarBridge or NGXPlay
Methods do not require a jailbroken device - WheelPal and third party alternative apps.
If you're a myQ user, you may find how do you get myQ on Apple CarPlay article.
Jailbreak Required methods for adding apps to CarPlay
If your iPhone is already a jailbroken one, you can add any desired app to CarPlay using the following tweaks.
Let's talk about these methods a bit more comprehensively.
CarBridge Tweak
CarBridge is a tweak which allows jailbroken devices to play any desired  app on the car's infotainment system. Unlike just mirroring the user interface running on the phone into the CarPlay screen, CarBridge runs apps actually on the car's screen giving a high quality experience to the user.
Yet, there are some limitations in CarBridge such as it is not compatible with some streaming apps and also this works on a limited number of devices. Since most of the latest devices with latest iOS versions are not compatible with any jailbreak, CarBridge can not be successfully  used by such devices. We have a separate article about Installing CarBridge, you can go through and make the decision of trying that based on your requirement.
NGXPlay Tweak
NGXPlay is also a tweak which offers almost similar functionality as CarBridge. Yet, it allows you to mirror your phone on the CarPlay screen. So that, you can enjoy any app on CarPlay without any restrictions.
NGXPlay too requires jailbreak for its functionality. Hence you can not use it with most if the latest iPhones running recent iOS versions as they do not have any compatible jailbreak tools available currently. You can read more on our Install NGXPlay article.
No jailbreak methods for adding apps to CarPlay
When it comes to no jailbreak CarPlay customization methods, there is WheelPal app and some aftermarket solutions.
WheelPal App [Our recommendation]
WheelPal app is the most famous and the most common method of adding apps to CarPlay. This app is compatible with most of the devices and iOS versions.
This app can be installed to any phone regardless if it is a jailbroken one or not. As jailbreaking your phone is mandatory for CarPlay Customization, WheelPal guides you to jailbreak your iPhone and then to add any app to CarPlay. If yours is a jailbroken phone, then you can simply follow the provided step guide to install any  app to CarPlay.
Click on the button below to install WheelPal via Carplayhacks now.
You can install WheelPal from the Carplayhacks' official website.
Wireless CarPlay
If you do not have a jailbreak-compatible iPhone, then the only possible way to install any app to CarPlay is the aftermarket solutions. There are a number of wireless CarPlay adapters and head units which allow you to enjoy YouTube, Netflix and some other streaming apps.
You can use these options most of the time without jailbreaking required and most of them are USB plug and play. And 99% of them work only on original cars with built-in CarPlay functions. These types of dongles or adapters are available from $100. You can order them from online stores too.
See more: Best Wireless Apple CarPlay Adapters 2023
If you want to get more connected experience, you can use wireless CarPlay adapters. Also, there're few best options for those who are looking for a reliable and efficient CarPlay wireless connection.
You may get this AutoSky Wireless CarPlay Adapter from Amazon for $82.99 and keep your all wired CarPlay features. Click the image below
You may get CarlinKit 3.0 Wireless CarPlay Adapter USB from Amazon for $120 to easily convert your wired CarPlay to wireless Carplay. Click the image below
You may get the SuperiorTek 3.0 Wireless CarPlay Adapter from Amazon for $119.99. This works with all factory wired CaPlay cars. Click the image below
Also, there're several wireless CarPlay Adapters for those who want to quickly convert their wired CarPlay to wireless CarPlay. Click the image below to buy one of them
If you want to Install NGX play in iOS 14 / iOS 15, you can refer this article further.
How to Set Up CarPlay?
If you're searching to set up Apple CarPlay on your vehical, there're a few things to consider. Follow the below steps to install CarPlay.
Step 01: Start your vehicle.
Step 02: Check if Siri is enabled on your iPhone.
Step 03: Connect your iPhone to your vehicle:
For CarPlay via USB: Plug your iPhone into the USB port labeled with a CarPlay or smartphone icon in your car.
For wireless CarPlay: Press and hold the voice-command button on the steering wheel while ensuring your radio is in Bluetooth or wireless mode.
On your iPhone, go to Settings > General > CarPlay, tap available cars, and select your vehicle. Refer to your owner's manual for more information.
Apple CarPlay Compatibility List
CarPlay is compatible with every iPhone released since the launch of the iPhone 5 back in late 2021. Also, you can find out which cars compatible with Apple CarPlay.
CarPlay compatible iPhones
Let's find out which iPhones are compatible with CarPlay.
iPhone 14 / iPhone 14 Plus / iPhone 14 Pro / iPhone 14 Pro Max / iPhone 13 mini / iPhone 13 / iPhone 13 Pro / iPhone 13 Pro Max / iPhone 12 mini / iPhone 12 / iPhone 12 Pro / iPhone 12 Pro Max / iPhone 11 / iPhone 11 Pro / iPhone 11 Pro Max / iPhone X / iPhone XR / iPhone XS / iPhone XS Max / iPhone 8 / iPhone 8 Plus / iPhone 7 / iPhone 7 Plus / iPhone 6S / iPhone 6S Plus / iPhone 6 / iPhone 6 Plus / iPhone SE (1st generation) / iPhone SE (2nd generation) / iPhone SE (3rd generation) / iPhone 5S / iPhone 5C / iPhone 5
Apple CarPlay compatible Cars
You can smarten up your ride with Apple CarPlay. Currently, there're more than 600 cars that are compatible with Apple CarPlay. Let's see which car manufacturers support Apple CarPlay.
Mitsubishi Motors / Nissan / Opel / Peugeot / Kia / Lada / Lamborghini / Land Rover / LDV / Lexus / Lifan / The Lincoln Motor Company / Maserati / Maxus / Mazda / Mercedes-Benz / MG / Mini / Polaris / Polestar / Porsche / Qoros / RAM / Renault / Roewe / Rolls-Royce / Seat / Skoda / Subaru /  Suzuki / Tata / Toyota / Vauxhall / Volkswagen / Ferrari / Fiat / Ford / Genesis / GMC / HA/MA / Haval / Honda / Hyundai / Indian Motorcycles / Infiniti / Jaguar / Jeep / Volvo / Arbath / Acura / Alfa Romeo / Aston Martin /Audi / Bentley / BMW / Borgward / Buick / Cadillac / Chery / Chevrolet / Chrysler / Citroen / Cowin Auto / Datsun / Dodge / DS Automobiles
Summary
Adding any app to CarPlay is now possible with various methods. If your iPhone is already a jailbroken device, then you can use tweaks like NGXPlay/CarBridge. On the other hand, if your iPhone is not already jailbroken and if you are willing to jailbreak your iPhone, WheelPal app is the best solution for you. Moreover, there are third party CarPlay adapters and dongles which enable streaming apps to CarPlay. So you can simply try these methods and enjoy your driving life!!!
And apart from your car, you can convert your car to a smart one too. if you are interested with that you can find more on new feature to your intelligent car - Car Key and Car Key compatible cars.
FAQs with adding apps to CarPlay
Can I add YouTube to CarPlay from my iPhone 13 running iOS 15.5 ?
Since there is no jailbreak available for iOS 15.5 you can not get it done with CarBridge, NGXPlay or WheelPal. Still you can use a CarPlay adapter which supports YouTube.
Can CarBridge play Netflix?
No, with the DRM security of Netflix, CarBridge can not Play some Streaming apps like Netflix.
Is CarBridge Free?
No, it's not available for free for the moment. It just costs around $10s by the time I write this article.
I do not want to jailbreak my phone. Can I still watch Netflix on CarPlay?
Yes you can simply connect a CarPlay USB Plug and Play dongle and watch Netflix on CarPlay.
Why do some apps not show up on Apple CarPlay?
If you want to fix Apple CarPlay not working issue, you can:
Restart your phone
Make sure CarPlay is Enabled on your iPhone
Make sure your Bluetooth is connected
Check your USB cable
Or, you can go to Settings > Click on General > CarPlay and reconnect your vehicle to the app
Can I use CarPlay on iPad?
No. CarPlay doesn't work with the iPad by default. But, there're few methods to make the CarPlay iPad a possible thing including WheelPal App.
How do I know if my car has Apple CarPlay?
There're several ways to know if your car has Apple CarPlay. You can check your car's manual. You can look for the Apple CarPlay logo. Also, you can check the car's multimedia system settings or you can connect your car's manufacturer or dealership.
Do CarPlay-enabled vehicles also support Android phones?
Most automakers offer support for Apple CarPlay and Android Auto. However, there're exceptions. Mini and Rolls-Royce only support CarPlay. They haven't announced plans for Android Auto integration. On the other hand, Tesla doesn't support either CarPlay or Android Auto.
Does CarPlay take control of the dashboard?
It hasn't happened yet, but it will happen in the near future.