Apple Car Key Compatible Cars [2023 Updated List]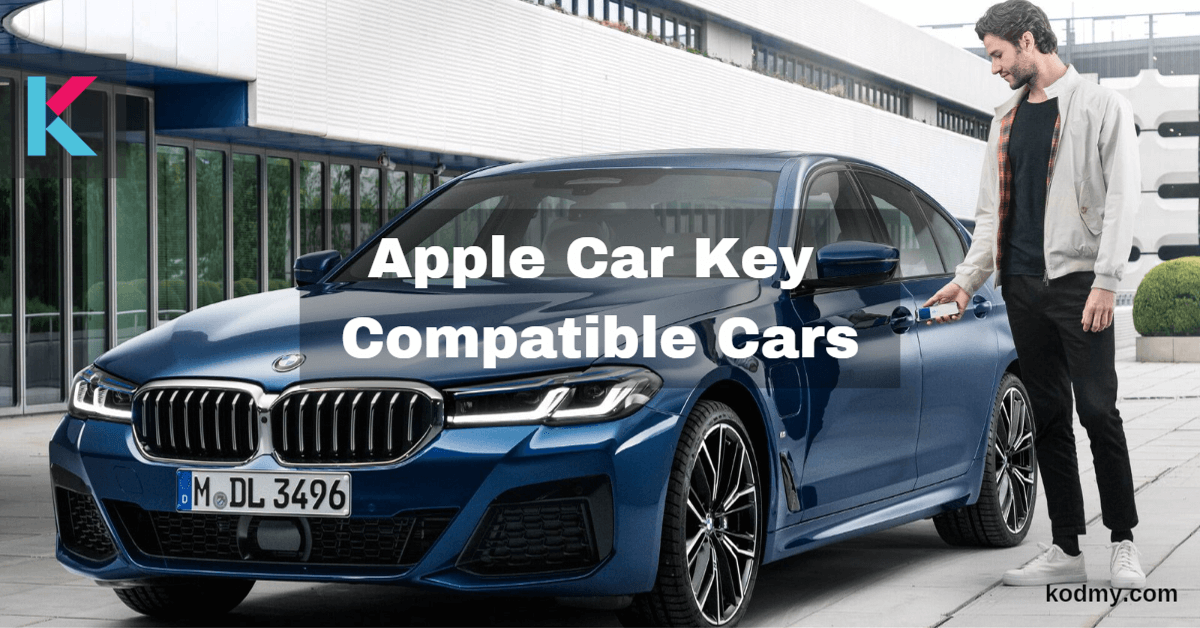 If you want to unlock and start your car using your iPhone and Apple Watch, or if you don't like keeping things in your pocket, Apple Car Key is a exciting and must have feature for your vehicle. Yeah!, this is right for you. What cars are compatible with this inovative technology? Surprise? Let's dive more into Apple CarKey compatible cars.
Apple Car Key
Apple Car Key is a digital version of your car key that is stored in the Wallet App. It allows you to use personal devices as storage of virtual keys in digital wallets.
And yeah! From now, you can lock, unlock, and start your car with iPhone and Apple Watch. But, Apple Car Key isn't supported for every iPhone/ Apple Watch device and every car.
Backgroud of Digital Car Key Feature
Apple and BMW worked with the Car Connectivity Consortium (CCC) to identify and set global standards for Digital Key functions. The good news is that the BMW digital key for the iPhone introduces some innovation to the car key formula. And this key wants to pair between a phone and a car that is stored in your Apple's Wallet app.
This digital car key feature is available not only for BMW cars but also for Hyundai Genesis and Kia vehicles. The sound is good. Keep reading!

Also, proximity key fobs allow users to lock, unlock and start their car without a physical key. And, it will transform your car into a Smart car in a surprising way.
Express mode
If you wish to restrict some access privilege, you can even limit max speed or stereo volume. And, there is an Express mode to lock, unlock and start your car without requiring you to enter a passcode. Also, you have an option to disable this Express mode to make it. So, you can only unlock the door of the car with a Touch ID, Face ID, or a secure passcode. It would make Apple CarKey more secure.
Away from traditional keys
Today, most car manufacturers have their proprietary key solutions such as Remote keyless entry systems and passive entry systems. A remote keyless entry system enables the user to press the button on their key fobs to access their vehicle functionality. Also, another widely used passive entry system allows users with key fobs to access vehicle functionality without pressing any buttons.
features
It has cooler features such as sharing CarKeys with friends through iMessage. And there is an opportunity to share Car Keys with up to five users and can be a restricted access option (restricts top speed, maximum radio volume). Don't worry about your dead phone. You are also able to get into your car with your dead phone up to five hours after a low battery shut-off. Further, in case you lose your Apple device, the Apple Car Key feature can be disabled via iCloud.
You can share your Apple car key in Apple wallet with an Android user using apps like Messages, Mail, and WhatsApp.
For interesting folks on Tesla cars, check out our Tesla CarPlay article to enhance your Tesla experience with Apple CarPlay feature.
Let's see what're the list of iPhone Car Key supported cars.
Which Cars Are Compatible With Apple Car Key 2023?
BMW was Apple's first partner for Apple Car Key feature. Now, most new BMW cars are compatible with Apple CarKey features. And, now supports select Hyundai Genesis and Kia vehicles too. So, you can use your iPhone and Apple Watch as a car key. How so? BMW's latest model demonstrated the Car Key feature at Apple's event.
Apple Car Key compatible car Brands - BMW, Hyundai, Kia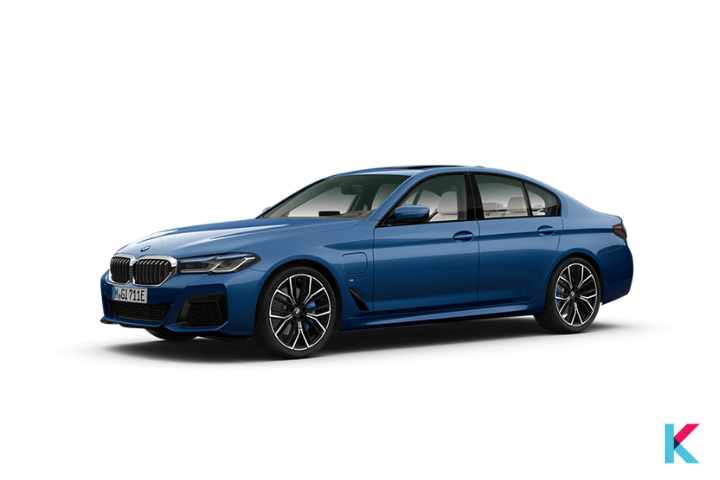 Even if your Apple device (iPhone, Apple Watch) is compatible with the Apple CarKey feature, Your car might not be compatible with this. If you don't know the BMW model of your car, you can find it using the BMW-connected app.
BMW is not only the first car to support the Apple Car Key feature, but also the first car manufacturer to adopt wireless CarPlay and iPod compatibility.
Apple adds NFC Car Key support for Hyundai Genesis and Kia vehicles
Now, Genesis and Kia cars will able to lock and unlock your car's door using your iPhone or Apple Watch. And, both cars come with the NFC iPhone's car key feature. But, there're doubts whether these Genesis and Kia models with NFC features are still widely available or still in the process.
However, Apple hasn't given any official statement which car manufacturers will be partnering with Apple for Apple Car Key compatibility. Sure! Most of the cars will support Apple's CarKey feature in the near future.
Since Car Key is based on Near Field Communication (NFC) tech, all cars should be compatible with CarKey with a fully implemented system for the same. Also, the cars should have an app from the manufacturer for your iPhone. It also wants to support the Car Key feature. Further, this feature is most popular as Apple Carkey compatible cars in India, Australia and UK.
Apple Car Key supported cars
Now, it is time to keep our fingers crossed for some good news. Here is the Apple Car Keys compatible BMW car list 2023.
BMW 1 Series
BMW 2 Series
BMW 3 Series
BMW 4 Series
BMW 5 Series
BMW 6 Series
BMW 8 Series
BMW M8
BMW X5
BMW X5 M
BMW X6
BMW X6 M
BMW X7
BMW Z4
BMW i4
BMW iX
Here is the Apple Car Keys compatible Hyundai car list (Genesis and Kia).
2022 Genesis GV60
2022 Genesis G90
2022 Kia Niro
2023 Kia Telluride
Don't have an Apple Car Key supported car? Don't worry! You can be smart with these smart solutions. Let's check the Best Car Key accessoires for your smart car.
Many tech enthusiasts believe that digital car key features will soon be available on other car manufacturers. To be able to take the entire advantage of the Apple CarKey compatibility feature, it is required for the device to have Background Tag Reading technology. This needed technology is available on the latest versions of iOS smartphones as well as iPhone XR.
The feature of Apple CarKey is promising, and Apple might bring more innovative features inbuilt into iOS with other car manufacturers to support. Note that most of the car manufacturers have their apps supporting Apple Car Key such as BMW, and Toyota.
However, Hyundai cars have digital keys that work through NFC currently. Apple is working to add support on BYD and Hyundai. So, we can expect the Apple Car Key feature from Hyundai in near future. So that, you will be able to see Apple CarKey compatible Hyundai cars and Apple Car Key compatible Toyota cars soon.
Let's find more about iOS Digital Car Key compatible cars.
BMW 2-Series
The BMW 2 Series is a range of subcompact executive cars. There are many awesome new features for this series including new engines offered in the 230i model and the M240i, the four-cylinder turbo engine in the 230i, a new 18-inch wheel and tire package featuring non-run-flat Michelin Pilot Super Sport tires for the M240i, and a new 17-inch wheel as standards equipment on 230i.
BMW 3-Series
The BMW 3 Series is a line of compact executive cars that brings power and innovation together. It maintains standard-setter status among compact luxury sport sedans. It is the most recognizable nameplate in the luxury compact sedan segment. Also, it offers xDrive AWD as an option and RWD as standard. Every Series is equipped with a 12.3-inch fully digital gauge and 10.3-inch infotainment touchscreen. All have Android Auto, Bluetooth connectivity, Apple Carplay, and built-in GPS.
BMW 4 Series
The BMW 4-series has a distinctive design, rakish two-door roofline, and snout-like front grille. The 4-series competes with other German luxury automobiles such as the Audi A5 and Mercedes-Benz C-class and is available as a hardtop coupe or soft-top convertible. Also, it is available with a turbocharged four-cylinder or turbocharged inline-six engine, both of which are available with rear-wheel or all-wheel drive.
BMW 5 Series
The BMW 5 Series is more of a luxury cruiser than a driving machine. The 540i had a facelift last year, as well as a modest hybrid system, but it did little to improve the numbness that pervades the driving experience. The 5 Series' interior room is a hallmark, and the cabin materials are generally of exceptional quality. Despite this, the interior lacks the seamless elegance of a Mercedes-Benz E-Class and the pure tranquillity of an Audi A6. Though the 5 Series lacks the latest generation of BMW's iDrive infotainment system, the technology is outstanding.
BMW M5
This includes a new standard 12.3-inch touchscreen infotainment display, BMW's new cloud-based navigation system, and redesigned headlights and taillights for the M5. There are a few M5-specific adjustments as well. The three controls for changing the damping, steering, and throttle response settings on the inside have been removed. They've been relocated to the infotainment display instead. Some may miss the tactile controls, but BMW claims the new system is more intuitive.
BMW 8 Series
BMW's 8 Series Gran Coupe is a stunner. Luxury four-door coupes with swept-back styling are all the rage right now, and BMW's 8 Series Gran Coupe is no exception. With two doors instead of four, the coupe and convertible models offer even more flair. The BMW 8 Series debuted for the 2019 model year as a replacement for the 6 Series, and it has remained mostly unchanged since then.
Further, the 8 Series competes with other premium fastbacks such as the Audi A7 and Mercedes-Benz CLS-Class, as well as electric options like the Porsche Taycan and Tesla Model S, especially in Gran Coupe form.
BMW X7
Because the BMW X7 is so large, driving and parking it in town might be a challenge. Despite this, the X7 has front and back sensors, various cameras for a 3D vision of the vehicle, and a system that can park and reverse the vehicle for you. So there are no more excuses.
The X7 is one of the tidiest SUVs to drive out of town and on winding country roads, but you'll be more interested in how comfy its air suspension is over bumps and how quiet it is at highway speeds. There's almost no wind or road noise, and BMW's Driving Assistant Professional adds a system that accelerates, brakes, and keeps you in your lane for a more relaxed drive.
Here're the list of vehicles that support the Apple Car Key feature
Apple's new car key Tests app
This Car Keys Test App was added under the Apple's developer account. You can download car key app via the direct link only. This app help for car manufacturers to test integration with Apple's Car Key feature (Test and validate connection, performance, and other key requirements for the certification process)
Don't you have Apple car key? - Smart Solutions
There is nothing to worry about whether you already have an Apple car key compatible car or not. We all know that in order to enjoy the Apple Car Key feature, you need to fulfil several criteria such as Apple Car Key compatible iPhone, and Apple Car Key Compatible car. If you don't have them, you can use these smart gadgets instead of the Apple car key now.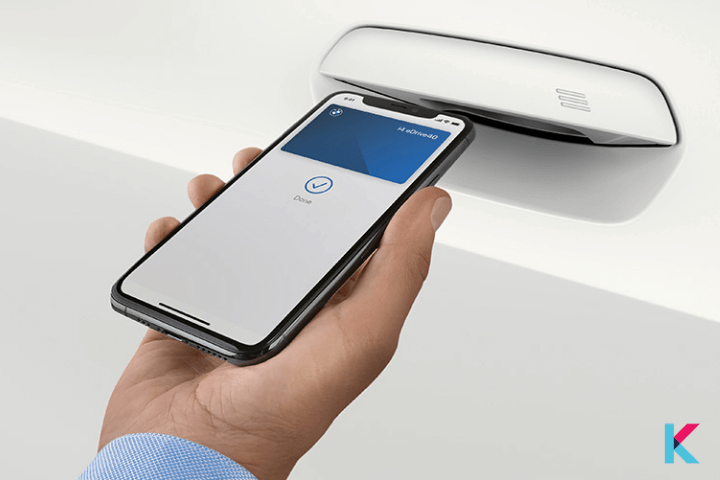 You can definitely enjoy this smart feature in the near future. So, you may use these now. Following are the few smart gadgets for your smart car such as Key finder, Keyholders, Dongles, and more.
VODESON Wireless Key Tracker
VODESON Wireless Key finder is one of the best key finders with a portable transmitter design. It comes in handy when you are running out of time. Also, it is a brilliant option for those with hectic schedules.  It is very convenient easy to use and no need to install any app on your phone.
Are you a busy man who despises wasting time looking for your keys, wallets, bag, purse, TV remote controls, air conditioner remote controls, U disk, glasses box, and other items? Don't be worried! That's why the key finder comes for.
You may get the VODESON Wireless Key Tracker from Amazon for $15.99 via the link below.
You'll never lose anything else on the couch. In the Find My app, you can keep track of and find your belongings as well as friends and devices. You simply want to connect it to your iPhone or iPad with a simple one-tap setup. And, you can play a sound on the built-in speaker or simply ask Siri for assistance.
Apple's AirTag takes advantage of tight iOS integration and the world's vast network of iOS devices to create Bluetooth trackers that are remarkably simple to set up, and operate. Also, the AirTag is a sleek and lovely solution to trace your lost iPhone or iPad if you have one.
Eusty Air Tag Keychain for Apple Airtags Holder
Are you looking for the best tag keychain or holder? There are plenty of options for Apple Airtags holders. Eusty Air Tag Keychain comes with protective leather Airtags Case Tracker cover with an AirTag holder. This Air Tag Holder is compatible with Apple New AirTag Dog Collar. And, this AirTag protection case includes a keychain that you may use to attach to your car key, bag, child's schoolbag, dog leash, valuables, and more. Change the location of your AirTag on the items you wish to keep track of with ease.
Check out this Best Apple AirTag accessories for your new Apple AirTag.
You may get the Eusty Air Tag Keychain for Apple AirTags Holder from Amazon for $12.99 via the link below.
Tile Pro Powerful Bluetooth Tracker
This latest edition of the Tile Pro is one of the key finders with the widest range and the loudest alarm. Tile 2022 brings back all the features from previous models and you can track your phone using the key finder on the device. Also, the free Tile app works on both iOS and Android devices.
In addition to Alexa, Google Assistant, and Xfinity, Tile also works with Siri. You can use the Tile app to ring your Tile when it's within Bluetooth range, or you can ask your Smart Home device to find it. With the Tile app, you can view your Tile's location on a map when it is out of Bluetooth range.
You may get the Tile Pro Powerful Bluetooth Tracker from Amazon for $34.99 via the link below.
Metal Digital Key Card Holder
Metal Digital Key Card Holder comes with a key ring, a leather lanyard, and 2 high-quality TPE protective covers for each side of your card. It has a multi-scenario Application so, it can utilize any badge, access card, key fob, or another key card with a compatible size. It will stand out among silicone, plastic, and leather products. Also, it comes in 3 colors. So, all of the colors fit well with Tesla's Car Key. And yeah! It's also ideal as a special gift.
Mstick MG-S01 In-Vehicle Infotainment Android Car Dongle
Do you want to turn your car display into an Android PC? Then, this is a perfect gadget for you. This dongle is compatible with Android Auto. And you just want to plug in and get preferable directions, enjoy your favourite music, receive calls, set up your calendar with voice control, and enjoy an HD capacitive screen. Also, it has fantastic features such as real-time navigation with GPS Navigation, Netflix, YouTube, Games, sports, and many more. Further, it supports speech recognition services like Google assistant using the in-vehicle microphone, touch control, and Bluetooth.
You may get the Mstick MG-S01 In-Vehicle Infotainment Android Car Dongle from Amazon for $135.99 via the link below.
Can I use Apple CarKey with older cars?
Apple CarKey is available on selected BMW cars, Hyundai Genesis and Kia cars only. But several older cars use the technology of digital car keys. They may be able to use Apple CarKey with future updates. But, Apple hasn't announced yet about compatible older cars.
How does the Digital key work?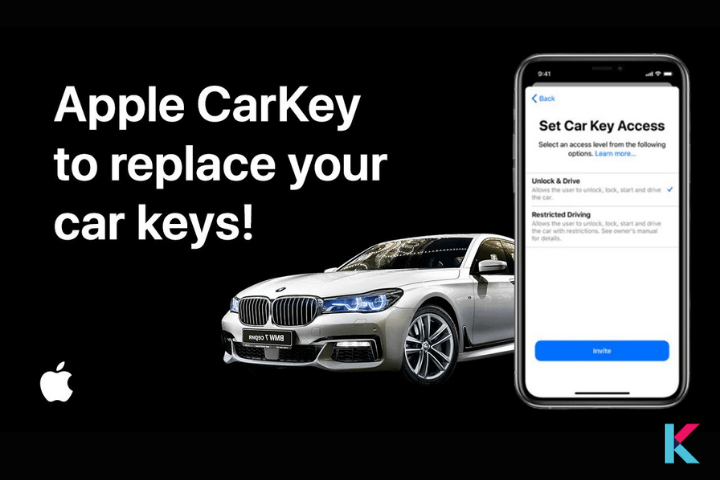 If you have a BMW Digital Key or a Hyundai Genesis and Kia Digital Key, it is easy to use for the first time. You just want to place your iPhone in the smartphone tray of your car and then press the start button. Your iPhone doesn't need to be unlocked before opening your car door or starting the car because of the preset Express Mode. If you want to disable this, you can disable this function manually. After disabling this function, you have to verify your identity through TouchID, FaceID, or passcode.
If you want to share your BMW digital car keys or Hyundai Digital car keys with others, first you can choose the type of access you grant to others. When you share your BMW CarKey with others, you can modify the access you grant with them such as you can grant full access or you can limit their access. But the restrictions available depend on the car you have.
MY BMW app, Hyindai Digital Key app, and Genesis Digital Key app
You can use the MY BMW App to see whether your vehicle is compatible with your Apple devices. You can use a Compatible iPhone to log into the app and it is necessary to have your BMW ID, and then you can add your vehicle to your account. On the vehicle tab if you see a section marked "Digital Key", then your car is compatible. Once you set up your CarKey, you can use it even if you uninstall the MY BMW app.
You can also access and control your vehicle with Hyundai Digital Key app and Genesis Digital Key app, and Kia connect app. So, you can use Hyundai Digital Key app and Kia connect app to unlock your Genesis car. Also, Kia Connect app to unlock you Kia vehicle.
How do I set up the BMW digital key?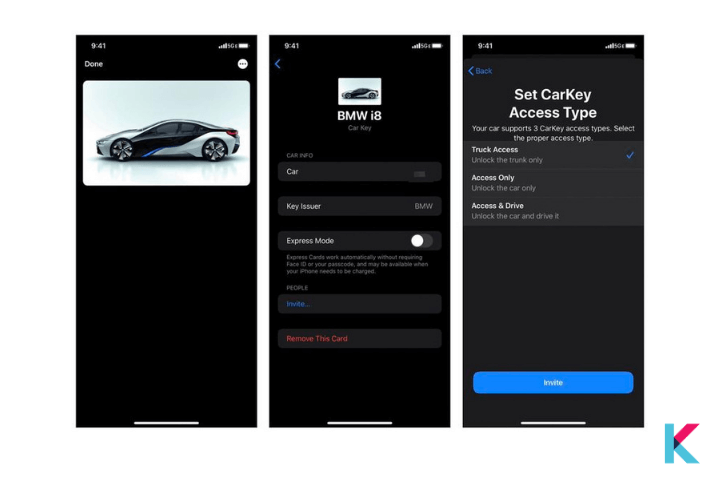 All you need to want is an Apple CarKey compatible BMW car and a compatible iOS device to set up a digital key. First, you want to link your BMW car to a BMW ID. You can use the My BMW App to add the key to your BMW ID. Otherwise, you can create a new BMW ID instead of an existing ID.
Create a BMW ID
Use the My BMW App to add your BMW car
Access the Digital Key menu in the app
You must be sitting in your car and have both regular car keys with you for security reasons
Press the Start Pairing button
Follow the instruction in the My BMW app menu
Place your iPhone in the smartphone tray with the NFC sensor
Then, your Car Key will be stored in the Apple Wallet app
Instead, check out the install CarBridge in iOS 16
How To Add Car Key To Apple Wallet
Step 01: Check whether you have a compatible car from the list above
Step 02: Then, you'll need to clarify that your car is associated with the account provided by the manufacturer
Step 03: Open the App (App, Email, or text message that sent by the manufacturer)
As well as, you can use your car's display to follow onscreen instructions
Step 04: Open the Wallet App on your iPhone
Step 05: Tap continue and place the iPhone on the car's key reader
Step 06: Once done the paring process, you can have the car key to your Apple Watch (Otherwise you can receive a notification )
How safe is the BMW digital key?
Don't worry about your digital key. It is saved in the Secure Element on your iPhone. Because the sender and receiver must be in close proximity to communicate, Near-Field Communication technology ensures a high level of data security.
Apple CarPlay is another interesting feature of your smart car. If you're interested in Apple CarPlay, you can find out more about customizing Apple CarPlay through our article.
Conclusion
In this article, you were able to learn more about the Apple Car Key compatible cars 2022, Apple Car Key compatible cars list, Apple Car Key compatible cars iOS 16, and more.
As previously stated, Car Key functionality requires an iPhone XR, iPhone XS, or newer, while Apple Watch support is limited to the most recent Apple Watch. And, Car Key requires iOS 13.6 or later on your iPhone. BMW, Hyundai Genesis and Kia drivers will be able to lock and unlock their vehicles using their iPhones or Apple Watches, as well as start the vehicle when the iPhone is placed in the smartphone tray.
You can also give other individuals access to your account via iMessage and set certain restrictions, such as speed limits. Also, the BMW Connected app is available for free download on the App Store for iPhone and Apple Watch.  Let's wait for Apple's next advanced feature and Apple Car soon.
FAQs about Apple Car Key compatible cars
Can I use my iPhone as a key fob?
Yes. Drivers can replace physical keys with their iPhone with a Car Key. Simply you can hold your iPhone close to your car's door handle to unlock it using NFC technology. Put your iPhone in the NFC reader or wireless charger to start the car once you are inside it.
Also, Android users will be able to lock and unlock their vehicles without taking their phones out by using UWB technology. Users who own car models that have enabled NFC technology, or near-field communication, will be able to lock and unlock their car by tapping their phone against the door.
Can I start my car with my iPhone?
Yes. Now you can add your car key to your Wallet app. Also, you can use your iPhone or Apple Watch to lock, unlock, and start your car.  But, you need a compatible car to add and use a car key on your iPhone or Apple Watch. You want to contact the manufacturer or your dealership to find out whether your car is compatible or not.
Does Mercedes have Apple car key?
Yes! The Mercedes-Benz lineup is packed with premium technology and also upscale features. Drivers can use Apple CarPlay to lock and unlock their vehicle securely from a compatible iPhone.  It is one of the most recent additions to the 2021 models. This feature works for up to five hours after your battery dies.
What cars will work with Apple Carkey?
Apple car key compatility List:
Apple CarKey BMW - BMW 2 Series, 3 Series, 4 Series, 5 Series, 6 Series, 7 Series, 8 Series, X5, X6, X7, X5 M, X6 M, i4, iX, i7 , Z4
Apple CarKey Hyundai
Genesis - Genesis GV60, Genesis G90
Kia - Kia Niro, Kia Telluride
Interested in smart car features like CarKey? There are a lot including MyQ smart gate operner. Please visit our blog for more and be smart to make your car smart.