Amazon eero pro 6 tri-band mesh Wi-Fi 6 System – Complete Review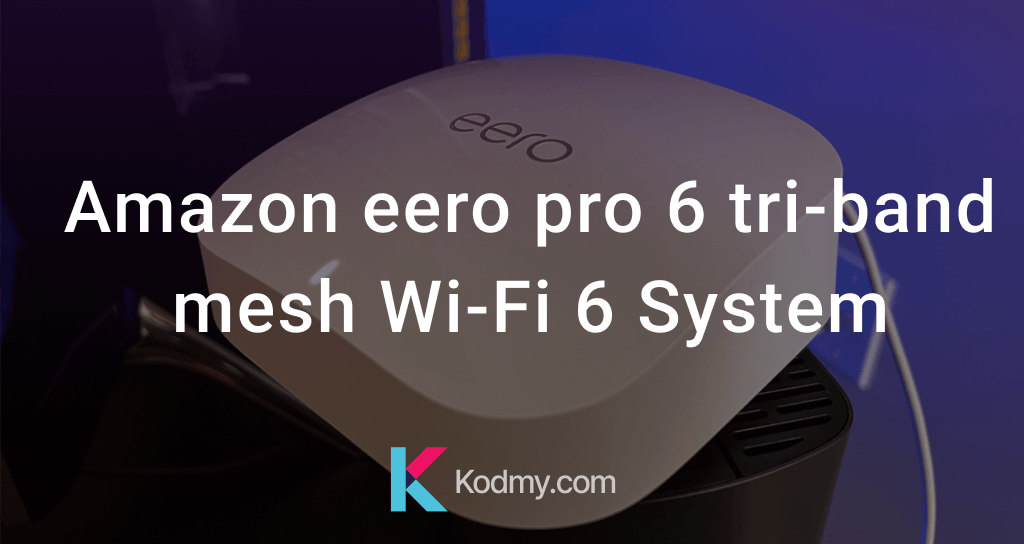 Amazon eero 6 added the 'Pro' with a few solid advancements to the inside. So, you never want to worry about your Wi-Fi connection again. It has brilliant features such as a fast and easy setup and advanced online protection. The majority of your gigabit bandwidth should be available throughout your home. So, that's what a mesh system is for. Keep reading to find out more about the eero Pro 6 mesh Wi-Fi system.
What is Amazon eero pro 6?
Amazon eero Pro 6 is a tri-band mesh Wi-Fi system with a built-in ZigBee Smart Home Hub. It is the fastest eero ever as it covers up to 3500 sq. ft. with Wi-Fi speeds up to a gigabit. So, if you want to get a wired connection for devices such as laptops and printers, you can get it via AmazonBasic Ethernet cable. And yeah! The company's first mesh Wi-Fi system for your Smart Home is the Amazon Eero Pro 6. It also utilizes the latest W-Fi 6 technology.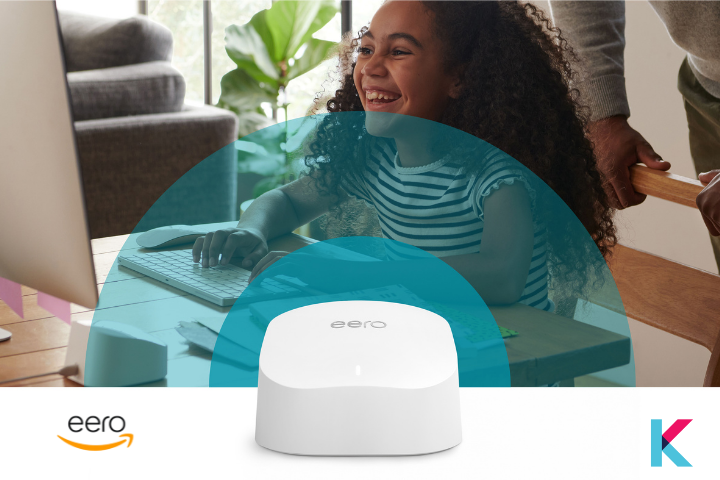 Eero's mesh system brings wireless internet down halls, around walls, and to every corner of your house. Instead of a traditional router, which can affect Wi-Fi throughout some rooms, it uses multiple devices which work together harmoniously to send connections in all directions. TrueMesh technology is what we call technology that adapts to you and your needs. Also, it is the best amazon eero pro mesh wifi system in Australia and Canada.
Moreover, buffering and dead areas are no longer an issue for you. Their TrueMesh technology automatically distributes traffic to avoid interruptions, allowing you to stream 4K movies, games, and video conferences with confidence. Also, Wi-Fi 6 distributes faster Wi-Fi with support for around 75+ devices at the same time. It also connects compatible devices on your network with Amazon Alexa. So, don't worry about separate smart home hubs for each device.

Are you interested in Android or Apple HomeKit?
Android User - This is compatible with Google Assistant and Amazon Alexa, so keep reading.
Apple HomeKit user - Ever wondered how to integrate eero with Apple HomeKit? See How to add eero to Apple HomeKit?
TrueMesh learns your home's structure, connected devices, and total network usage and optimizes accordingly. As a result, you'll have quicker speeds, better coverage, and a more stable connection.
TrueMesh is an eero-exclusive patented technology that uses dynamic routing algorithms and real-time data to reduce speed degradation.
TrueMesh switches between eero devices if there is a problem, ensuring that your signal remains strong and uninterrupted.

If you are interested in the other smart home routers, you may find the Best Smart Wi-Fi routers 2022.

Hurry up! Get the Amazon eero Pro 6 tri-band mesh Wi-Fi 6 system with a built-in Zigbee smart home hub from Amazon via the link below.
Instead, if you are interested in an alternative for this eero Pro 6 tri-band, you may get the TP-Link Deco M9 Plus Tri-Band Wi-Fi System with Built-In Smart Hub (3-Pack) from Walmart for $275.99 via the link below.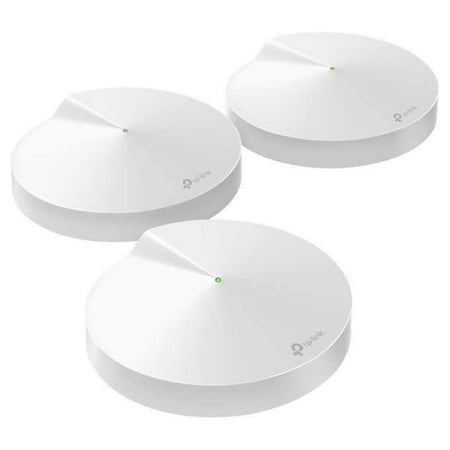 Amazon eero Pro 6 - Design
In terms of the design of the eero Pro 6, it is with three stylish low-profile nodes that each measure 2.1 by 5.3 by 5.3 inches. So it is bigger than the previous eero model. Each node provides wireless coverage of 2,000 square feet, with one serving as the main router and the other two as mesh nodes.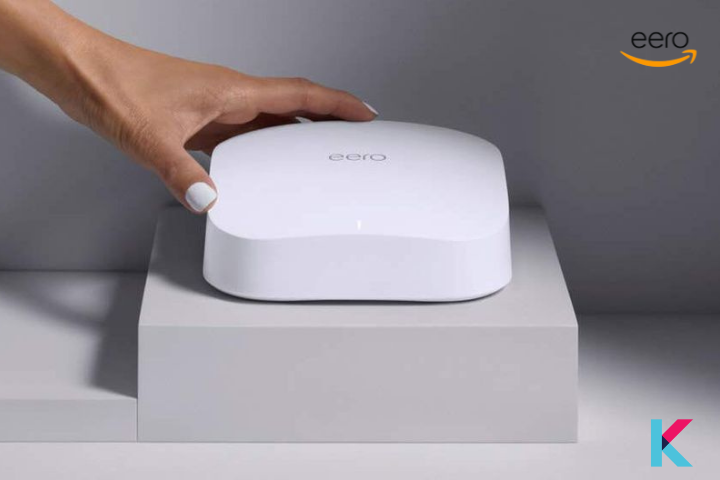 The Eero Pro 6 node is far smaller than any other tri-band system, making it easier to install in your home and ensuring that it does not stand out like a sore thumb if kept in a living space. On the front of the Eero, there is only one LED light. It flashes blue during setup, a static white while everything is working properly, and red when the internet connection is lost. You'll have to go to the Eero app for any additional information.
Like its predecessors, the third generation eero products continue with the rounded white plastic rectangular design and a slightly angled top. The eero Pro 6 devices are nearly twice the size of the previous version, measuring 5.3 x 5.2 x 1.9 inches.
Also, you can get an alternative (Monoprice Whole Home Mesh Wi-Fi System - Wi-Fi system) for this Amazon eero pro from Walmart for $149.99 via the link below.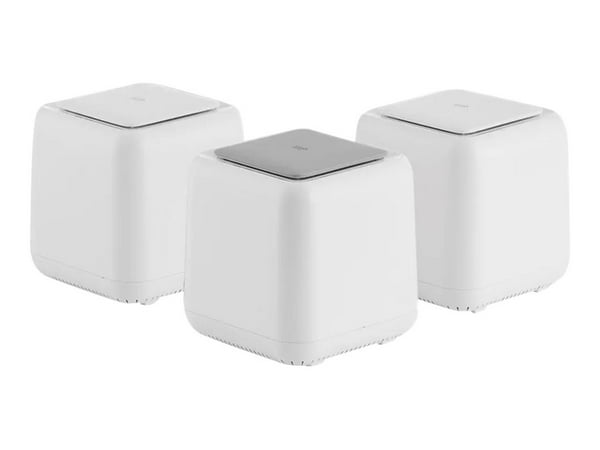 Amazon eero Pro 6 - Software (eero app)
The Pro 6 uses the same Android and iOS mobile app as the 2019 Eero system, and it includes Alexa voice commands for things like turning on and off guest networking and pausing network access for specific clients. It also supports Amazon Wi-Fi Simple Setup, which uses settings from Amazon Echo and Fire TV Stick devices to quickly and easily connect new devices.
The network name, internet status, and the name of each eero node are all displayed on the app's home screen. And, to do a speed test that evaluates upload and download speeds, go to the internet status tab, then to the node tab to check how it's connected (wired or wireless), its location and IP address, and which clients are connected to it. To add more devices, establish a profile, and invite users to your guest network, click the plus sign in the top right corner.
How to use HomeKit with your eero? (eero HomeKit)
Eero and Apple announced a new integration with Apple HomeKit which has a decent shot at improving your Smart Home Security. So, you can control the eero router with your Apple HomeKit. So,  you can set up rules to allow your smart devices to communicate only with specific addresses on the internet by adding your Eero router to the Home App.
How to activate HomeKit
Firstly, you need to open the eero app and then tap Discover at the bottom of the screen. As the next step, you can tap Apple HomeKit and set up HomeKit at the bottom of the app. After that, read through the text on the page. Now, tap the setup HomeKit icon and you'll get a pop-up. That's it. Finally, tap allow proceeding.
How to access HomeKit
Once activated the HomeKit opens the eero app and then taps the Discover button. Next, you want to tap Apple HomeKit and you'll appear eeros setup with HomeKit from this screen.
How to Add a Device
To add a device to HomeKit, open the eero app and then tap the plus mark (+) on the right. Then, you want to tap add a Device and HomeKit accessory. Now, you've to choose which Home you would like the device added to. Finally, follow the instruction on the screen further.
How to Disable HomeKit
Open the eero app > Tap Discover > Tap Apple HomeKit > Get a Pop-up > Tap Disable > Tap okay to exist. That's it.
Apart from these, if you want to take automatic replenishment service to the next level, then Amazon Dash Shelf is perfect solution for you.
What are the differences between eero, eero 6, and eero 6 Pro?
Why should you buy this eero pro 6?
You should consider a mesh networking system like the Eero Pro 6 if you're paying a lot for home internet and aren't getting the speeds you want over Wi-Fi. Over the years, I've been a great fan of Eero's products, and I enjoy the current version, which fixed a lot of the coverage issues I had with even the regular Eero 5. But it's pricey, and you don't need it if you don't pay for super-fast internet, don't have coverage issues, or don't need to cover a large area with Wi-Fi.
Control in the palm of your hand - What else?
Check your network speed, see which devices are connected, and double-check that each eero is operational (it would be strange if they weren't).
eero systems are built to work with all of your connected devices in your house. In real-time, see which devices are connected to your network and their data usage.
Run a Health Check to rapidly identify any problems and get advice on how to improve your network. You're also in charge of a family member's network. Troubleshoot it remotely from the same account.
You may configure schedules, create profiles for your family's gadgets, or turn off the whole thing if you want to be completely off the grid with wifi parental controls.
Allow friends and family access, or create a separate guest network for out-of-town visitors or your babysitter. It's time to dump that sticky note with the wifi password once and for all.
Advanced online protection
Every eero is equipped with world-class encryption and security protocols. Add on eero Secure for even more security, including parental controls, ad blocking, and other features.
Now, eero has new features, improved performance, and automatic updates to bring you security patches.
In search of all about your smart-home-related things? Try this
eero Pro 6 installation
In minutes, you can unbox your eero devices, and simply download the app. And plug your eero into the existing modem and begin surfing the web. The eero app makes setting up and managing wifi for everyone in the home. Also, Eero devices automatically mesh to keep your entire space connected, whether you have Ethernet throughout your home or just in one room. Over-the-air upgrades add new features and enhancements, ensuring that your wifi keeps improving. So, it is easy to set up an Amazon eero pro mesh Wi-Fi system.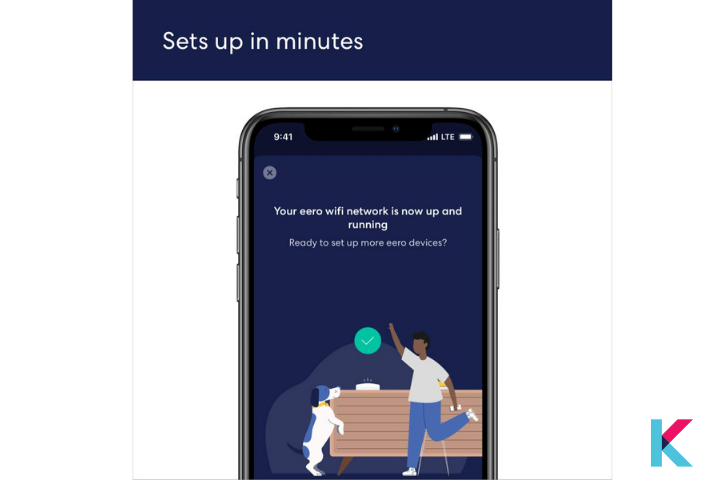 Easy Steps
Download the eero app
Plugin your eero devices
With TrueMesh, your Wi-Fi optimizes for your space
Price and Availability
The tri-band eero Pro 6 is available in 3 packages. Eero sells a single unit for $171, a two-pack for $299, and also three nodes for $449 from Amazon. These factors are significant because, to be frank, every tri-band Wi-Fi 6 mesh system, including Eero, is pricey. The Eero Pro 6 is 20% more expensive than Eero's previous-generation Pro model. Following are the Amazon eero pro mesh Wi-Fi system deals for you.
Amazon eero Pro 6, 1 pack: $171
Amazon eero Pro 6, 2 pack: $299
Amazon eero Pro 6, 3 pack: $449
When we talk about the performance of the eero Pro 6, it performs slightly better than the Wi-Fi 5 version. Wi-Fi 6 delivers a slew of improvements to wireless networking, including the ability to connect many more devices to a single network, faster theoretical peak speeds, and longer battery life for Wi-Fi 6-connected devices.
Hurry up! Get the Amazon eero 6 dual-band mesh Wi-Fi 6 system with a built-in Zigbee smart home hub from Amazon for $347 via the link below.
Is Eero mesh worth the money?
Yes! The eero mesh router is worth the money. It has decent wireless coverage and may also be used as a home automation hub. It's simple to set up and operate, however, the number of incorporated functions is limited.
Moreover, Eero Pro 6 comes with advanced privacy and security features, as well as parental controls. You'll get a free month of 'eero Secure,' which includes content filtering, ad blocking, sophisticated network analytics and security, a weekly activity report, and access to some third-party security platforms, as well as a weekly activity report.
Even though Eero's prior models do, the Eero Pro 6 does not support Apple HomeKit ecosystem. When I approached Eero about it, they indicated they're working with Apple to get it certified for HomeKit, but there's no set release date. We mentioned earlier that both the 6 and Pro 6 come with built-in Zigbee hubs.
Zigbee is a smart home device connectivity standard. You'll need to link your eeros to an Amazon account to use this function. It's not a particularly exciting feature, but you'll be able to easily connect smart home devices that use Zigbee (such as a smart bulb or door sensor).
Amazon's fantastic eero mesh Wi-Fi system has become more and more powerful in Australia with the local release of the eero Pro 6. And you can download the eero pro 6 manual.
On the surface, the Pro system has a few significant upgrades. To begin with, all three routers in the box are similar. They all have two Ethernet connections and can be used to connect to your modem as the primary router. A normal eero 6 3-pack has one principal router with two ports and two access points that extend your network but lack LAN ports and are unable to connect to the modem.
Our pick
Wide signal range, ease of use, and Wi-Fi 6 technology are all solid reasons to choose the Eero Pro 6 and it ensures that your network is accessible from every corner of your home or small company. With its simple set-up and superb user interface, the Eero Pro 6 can deliver Pro performance to even the most inexperienced users.
On the downside, the eero Pro 6 set lacks the high-speed performance of its competitors up close, but it shines at mid-range distances where others falter. It only has two Ethernet connections for attaching a storage device or a wired computer, and it doesn't have any USB data connectors.