The Best Robot Vacuum in 2021
The iRobot Roomba i7+ is the best Robot Vacuum with a Smart Mapping feature. It has a new feature like automatic dirt disposal-empties itself. Also, it is a fantastic vacuum with Alexa Smart assistant and Wi-Fi connected.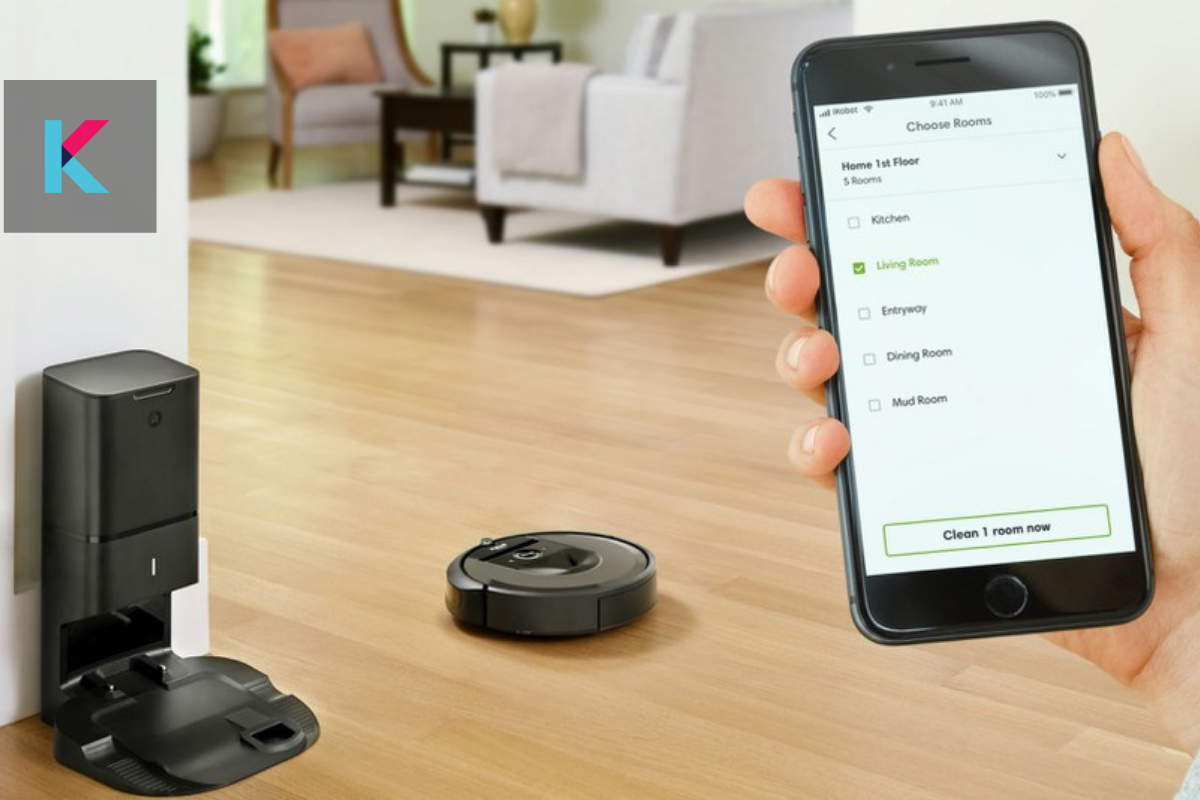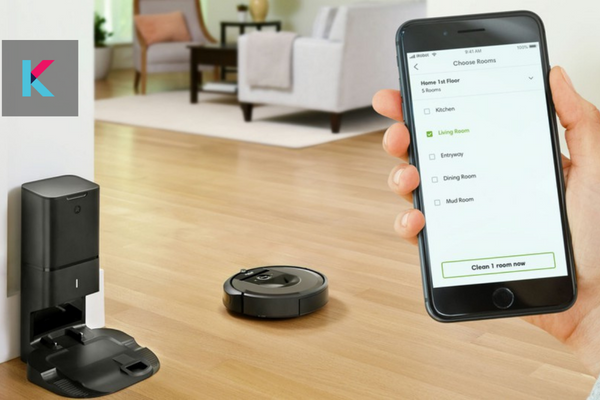 Here is a surprise. The iRobot vacuum cleaner is a great option for you who dislike sweeping, cleaning, and vacuuming in particular. You can sit here and think about what a burden it is to dump a tray of dirt into a trash bin.  And yes! Between the digital assistant integration and the Smart Mapping technology, it is well worth the money. Here is more about the best robot vacuum in 2021.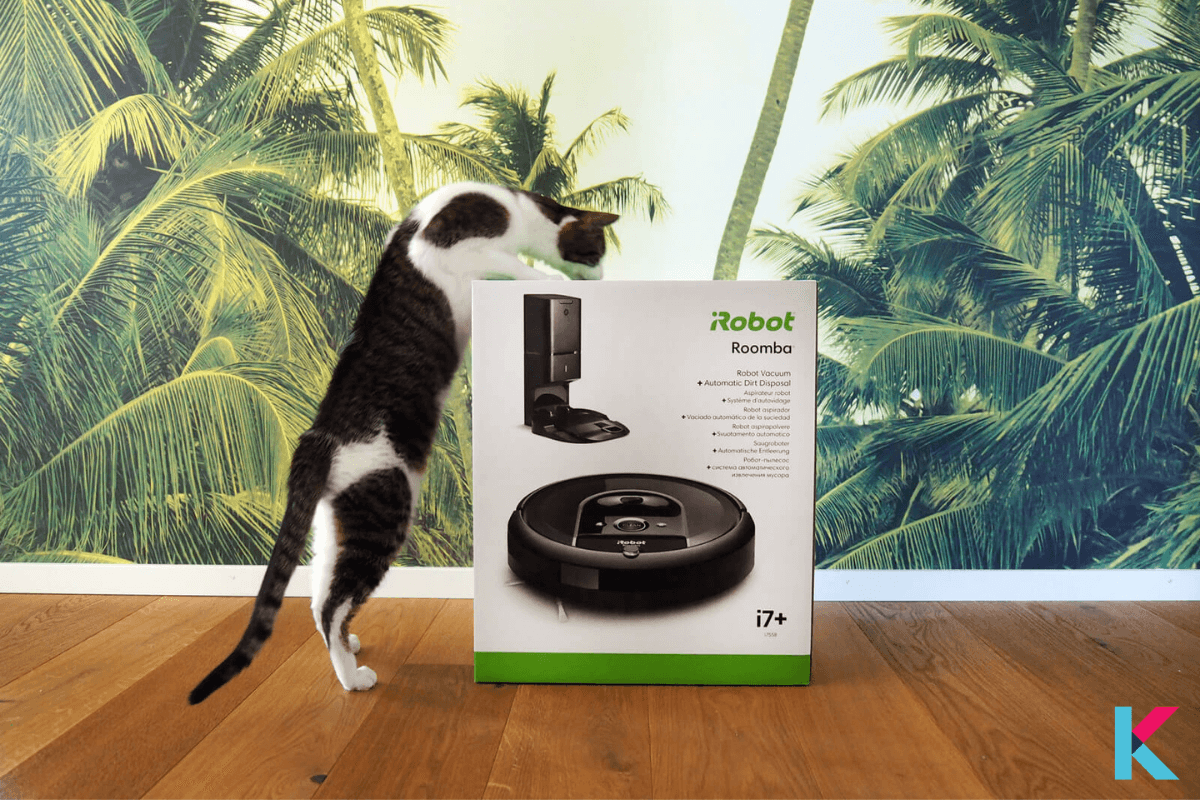 In this article, you will learn:
What is the best vacuum in 2021?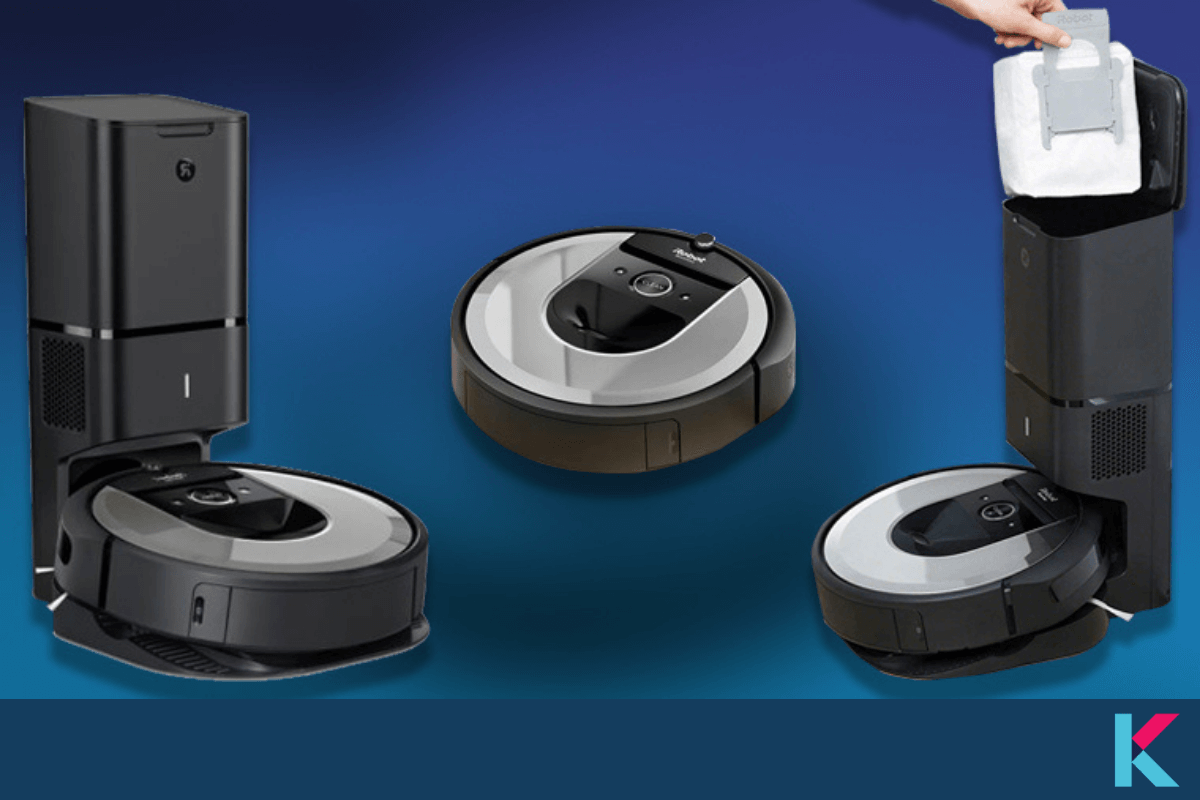 The iRobot Roomba i7+ is the best Robot Vacuum with a Smart Mapping feature. It has a new feature like automatic dirt disposal-empties itself. Also, it is a fantastic vacuum with Alexa Smart assistant and Wi-Fi connected.
Do you forget about vacuuming for months at a time? Then, you can relax. The iRobot Roomba i7+ is the best gadget for you. It allows to empty itself for up to 60 days with the Clean Base Automatic Dirt Disposal.
When considering the performance and pick-up, it pulls in stubborn and messes with a 10X the Powerful-Lifting Suction and premium 3-Stage Cleaning System. It is also guided by serious smart with vSLAM navigation. You know what, the i7 learns the layout of your smart home and builds personal Smart Maps. If you really like to keep your home clean and neat, you can use this i7+ iRobot.
Are you troubling to clean under the kitchen table? Only you want to request your favorite voice assistant, or you can use the iRobot Home app. It enables the i7+ to clean messes for you.  Your iRobot knows your kitchen from your other rooms, so you have to decide where it is clean and when it is clean with Smart Mapping.  Also, it is an awesome gadget. He knows to avoid sensitive areas such as play areas and pet bowls.
It is smarter than you think. It learns where and when you usually clean and suggesting personalized schedules. It has special features like unique Dual Multi-Surface Rubber Brushes. Also, it doesn't get tangled with pet hair. Flex to stay, and brushes adjust in constant with hard floors and carpets.
However, It is fairly noisy, when emptying its bin of the extreme suction process puling the dirt and dust up into the clean.
What are the specs of the Roomba i7+?
Weight: 7.44 pounds
Dimensions: 13.34 x 13.34 x 3.63 inches
Battery life: 90 minutes
Voice Assistant: Amazon Alexa, Google Home
Dock dimension: 12.2 inches x 15.1 inches
Recharge time: 3 hours for 100%
Who should get this iRobot Roomba i7+?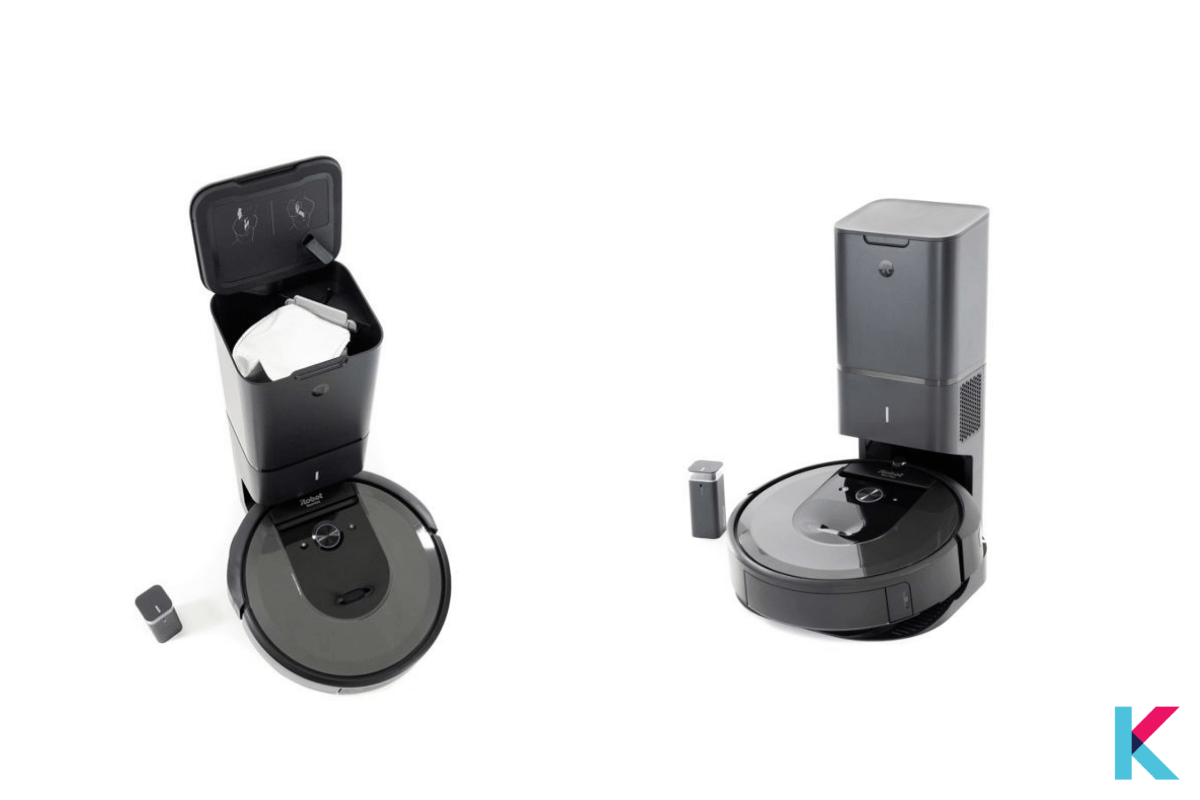 An iRobot Roomba i7 is good for you if you are ok with your house floors being good. Actually, today people live in a busy world. So, you have to do a lot of other things rather than clean the floor. It makes you free from concerns about your dirty floors. Also, if you have bigger floor areas and have hard floors or normal- medium carpets, you had better get this. If you have the cash to spend and want the best iRobot, you can go with this Robot Vacuum.
Pros and Cons of the Roomba i7+
This iRobot vacuum is a great choice for your home as well as it has some downsides. Let's see what they are.
Pros
It is a much cheaper option than hiring a cleaning service.
You can clean your floors and schedule it from anywhere with your voice or the iRobot Home App
It is compatible with Amazon Alexa and Google Assistant
It cleans hardwood, carpet floors, and vinyl.
It can transition effortlessly from one flooring type to the other type.
You want to just press the button. Then it will clean floors while you do something.
It is 100% automated.
It has excellent camera-based navigation
Cons
If it is vacuuming near you, you can't watch TV because they are loud enough.
They do not work well long, shaggy carpet.
It is more expensive than the other
Recurring operating cost
What do you need to know before purchasing a Robot Vacuum?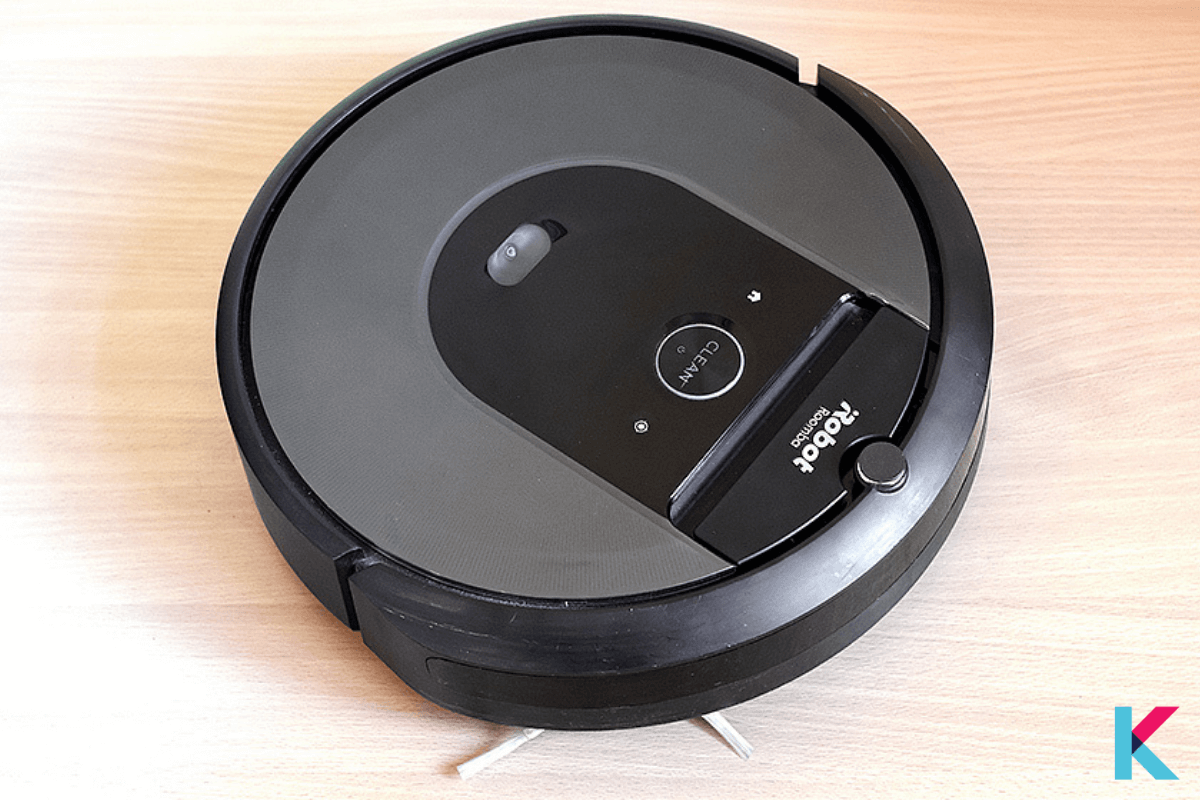 There are important things to know about before getting a Robot vacuum. If you have stairs, the robot vacuum can fall down the stairs. So, you need to put something in front of your stairways. Especially, you need to pick up the area the robot to clean without getting stuck with clothes.  You have to remember to use it and love it as your pet. Also, you will name it.
iRobot Home App and set up
Firstly, you want to download the iRobot home app for iOS and Android. Then register an account. Once register, select the device you want to connect. After then, press the home and spot clean button on your iRobot vacuum and wait for the LED ring around the start button to turn blue. You can follow the in-app instruction for connecting to the home Wi-Fi network.
Also, it is easy to connect your voice assistant. You want to enable the iRobot skill in the respective apps and then link your accounts. After that, you can use your voice to start and stop cleaning, return the robot to its dock, check battery life, and locate it.
The iRobot app itself is well-design and very easy to navigate. The core screen is minimalistic, with a large button of clean at its center. Once you start digging into the sub-menus, it looks pretty streamlined. Also, you can able to select between tabs for preferences, Smart Maps, History, Schedule, and more.
What are the differences between Roomba i7 and i7+?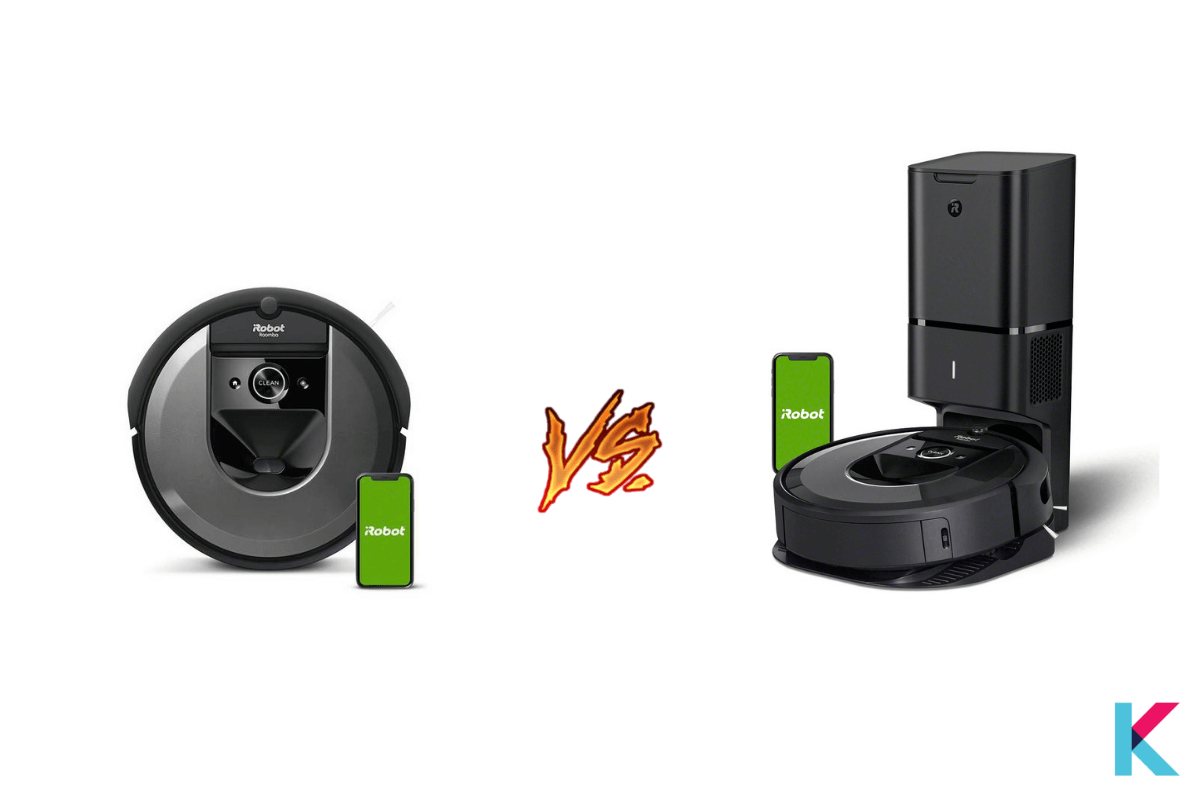 There are two choices when buying the newest iteration of the iRobot Roomba. Are you debating to select the i7 or the i7+? Let us get this out of the way.
The iRobot Roomba i7 has a varied collection of bins than the Roomba i7. The material and sizes are the same. If you prefer to rinse it out and wash your vacuum, you can wash it with soapy water.  This is the same for both. However, there has only one difference. The i7 collection bin has a hole in the bottom. So, you won't leave any dirt on your floor. There also has a small rubber flap. It can use to seals the hole shut.
When we consider charging stations, they are different. The standard docking portal for the iRobot Roomba i7 is called the Home Base. It will plug into the outlet and sit on your floor waiting to dock. Then, it will start to recharge the batteries. After recharging, it continues cleaning or waits for the next schedule.
Clean Base is the name given to the charging station for iRobot Roomba i7+. This charging station has a different platform. It has a 14-inch tall tower and helps to resets against the wall. This platform identifies the rubber flap which seals the collection bin shut. When the dock charges the batteries it begins to empty the collection bin. Also, you never want to empty the collection bin manually. When it gets full, you will need to remove the bag and toss it out. But, you don't want to check it when it is full continually.
The Home Base and Clean Base charging station will recharge the battery. There is an issue with the Clean Base charging station. It is the detection by the rubber flap seal on the collection bin. When it is detected, it vacuums out the content of the bin. If it is not, the base cannot do anything except charge the battery.
The two robots are identical aside from the charging bases and the collection bins. This includes the wheel, motors, extractor, and all internal parts. The dustbin is installed is the only difference in the robot themselves. Also, the connectivity to the wireless networks and use of the iRobot Roomba voice commands, mobile app, and controls are identical but the memory is the same.
The Bags and Clean Base Notifications
If the bag needs to be replaced, Roomba mobile app will get a notification for you. Then you can able to open the lid on the tower, pull the bag out and replace it with a new one.
Price comparison of i7+ and i7
| | | |
| --- | --- | --- |
| | iRobot Roomba i7+ | iRobot Roomba i7 |
| Price | 798 | 569.99 |
| Brand | IRobot | IRobot |
| Color | Black / Silver | Black / Silver |
| Surface recommendation | Dual Action | Dual Action |
| Controller type | Amazon Alexa, Google Assistant, Vera | Amazon Alexa, Google Assistant, Vera |
| Battery Cell composition | Lithium Iron | Lithium Iron |
| Automatic Dirt Disposal Empties itself | Yes | No |
Is the Roomba i7+ worth it?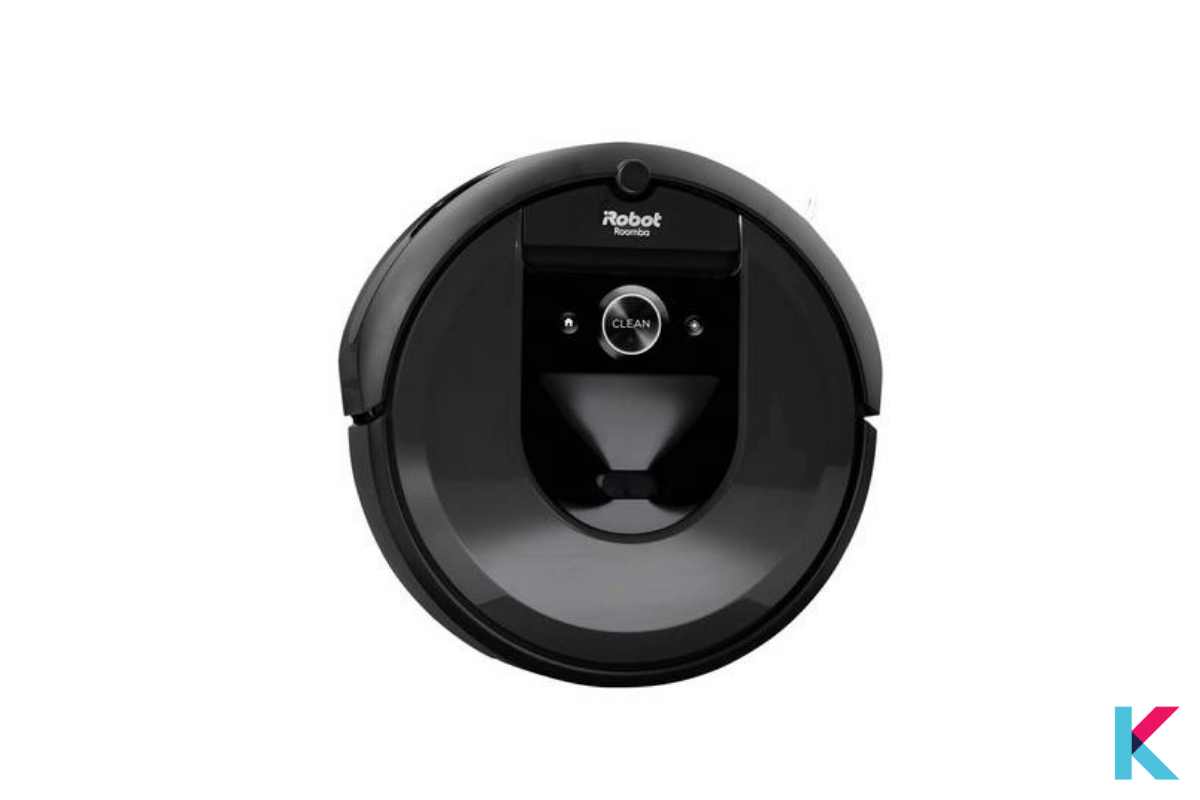 The iRobot Roomba i7 robot vacuum is absolutely worth it for most people. They can clean ceramic, tile, hardwood, vinyl, laminate, and carpet floors with a simple press. If you want to clean your home, you don't even have to be home to get clean. It will be a particularly worthwhile option in a big house with your favorite hairy pet and dog. Also, you can use it in a smaller home with fewer pets.
Our pick
In my opinion, the iRobot Roomba i7+ is the best Robot vacuum. I think it is nice to have an auto-emptying docking station. So, you can go with i7+. But, if you don't need it and save your budget, you can just go with the iRobot Roomba i7 or Roborock S7 Robot Vacuum.