Roborock S7 Robot Vacuum and Mop - Complete Review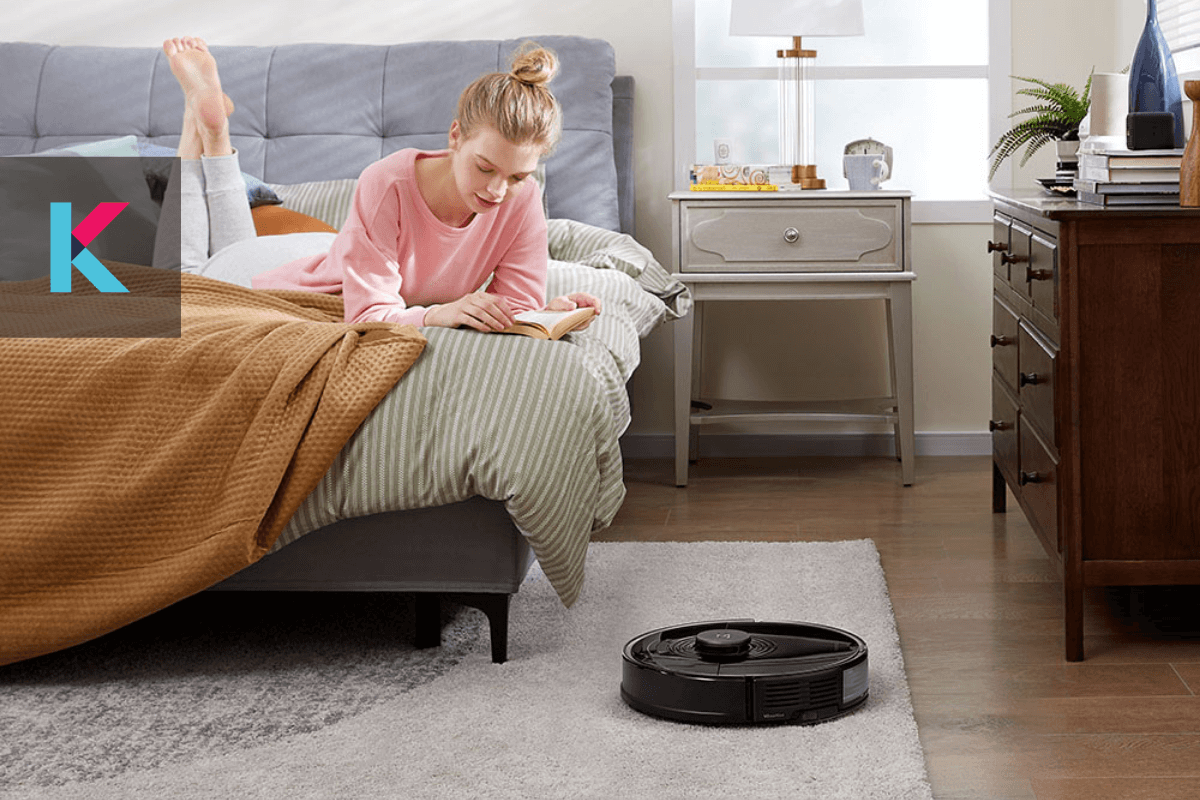 If you are big on the vacuum and mopping function, you will be thrilled now. Modern society is built around automation, so we can expect anything from our new Robot Vacuum. If you are new to home automation, the new Roborock S7 Robot Vacuum and Mop is a great option for you to start your new journey. Don't be late to start. We have reviewed this, especially for you.
What is the Best Roborock S7 Robot Vacuum?
The Roborock S7 Robot Vacuum and Mop is the newest hybrid robot vacuum and mop by Roborock. It combines with a fast mapping feature and also an app feature that is full of customizations. It has three main modes namely vacuum, mop, or both simultaneously.
Have your ever tried to control your Roborock vacuum to HomeKit? Enomek is the best option to add any devices to HomeKit. Download the Enomek using the below button.
Step guide for Enomek App Installation
When it detects carpet, it is smart enough to raise its mop. Not only smart mopping performance but also offers strong vacuuming performance. If you want to deeper clean, you can set mop only mode. It is amazing! So, now we dive to know more about Roborock S7.
Hurry up! Get the previous version of Roborock S7 from Amazon. Click here.
Pros and Cons of Roborock S7 Robot Vacuum
Pros
Excellent mapping feature
Auto-raising mop works well
Perfect carpet detection
Wide range of automation features
Auto-empty dock is available
Cons
Mop pad can catch on area rugs
Diving spaces in-app can be a glitch
High recurring cost
Features of Roborock S7
Sonic Vibration Technology – It scrubs at up to 3000 cycles per 1 minute for a deeper clean.
Intelligent Mop Lifting – Travers the challenging environment of your home and prevents cross dirt with the self-lifting mop.
Ultrasonic carpet recognition – It shows you in-app where your carpets are. So, you are able to place no-mop zones on long or medium-pile carpets.
Multi-Directional floating Brush – It can move across four panes the brush sticks closer to the floor.
2500Pa intense Suction – it has 2500PA maximum suction. So, you can easily pull grim out of the carpet and lift dust from floors.
Precision Navigation with Multi-Level Mapping – Every room automatically identifies and accurately maps up to 4 levels.
Auto-Empty Dock Support – When it docks, it can automatically empty the robot's dustbin. You can buy it separately.
LiDAR Navigation – It creates precise maps of homes with precision route tracking.
Long Battery Life – It can clean up to 180 minutes on a single charge.
Knowing the Roborock feature, if you think, it is better to compare features with other smart vacuum cleaner, you can find the best smart vacuum comparison here.
---
Item information
Dimensions: 19.06 x 15.63 x 6.1 inches
Weight: 15.67 pounds
Modes: Vacuuming and mopping
Smart Home Compatibility: Amazon Alexa, Google Assistant, Siri
Onboard dustbin capacity: 0.47 L
Design of the Roborock S7
Roborock Vacuum has a unique shape and compact design. So, this vacuum has a round shape as usual. It stays below 10cm (height) that fits under most beds, heaters, etc. The robot vacuum is available in black and white colors. When considering its design, it doesn't vary from its previous model. But it has some unique features.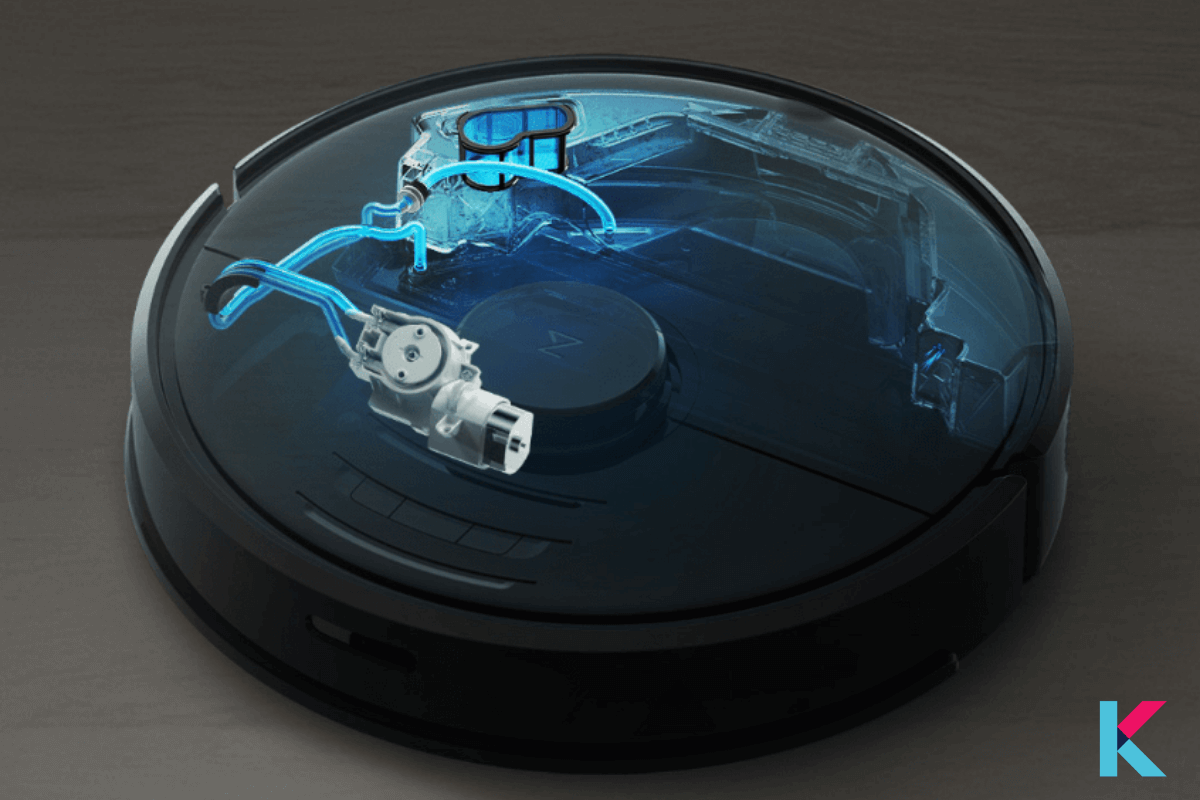 It has LED status lights that specify what the robot is currently doing. The white color indicates Vacuuming, and the blue color indicates Mopping. When charging the battery, it appears blue, and it changes to green color after full charging.
You can see wave-like design elements around the laser tower. It represents the sonic mopping (pulsating mopping plate). It is cool! Its' appearance looks like glass but the upper side is made of plastic and has a metal finish.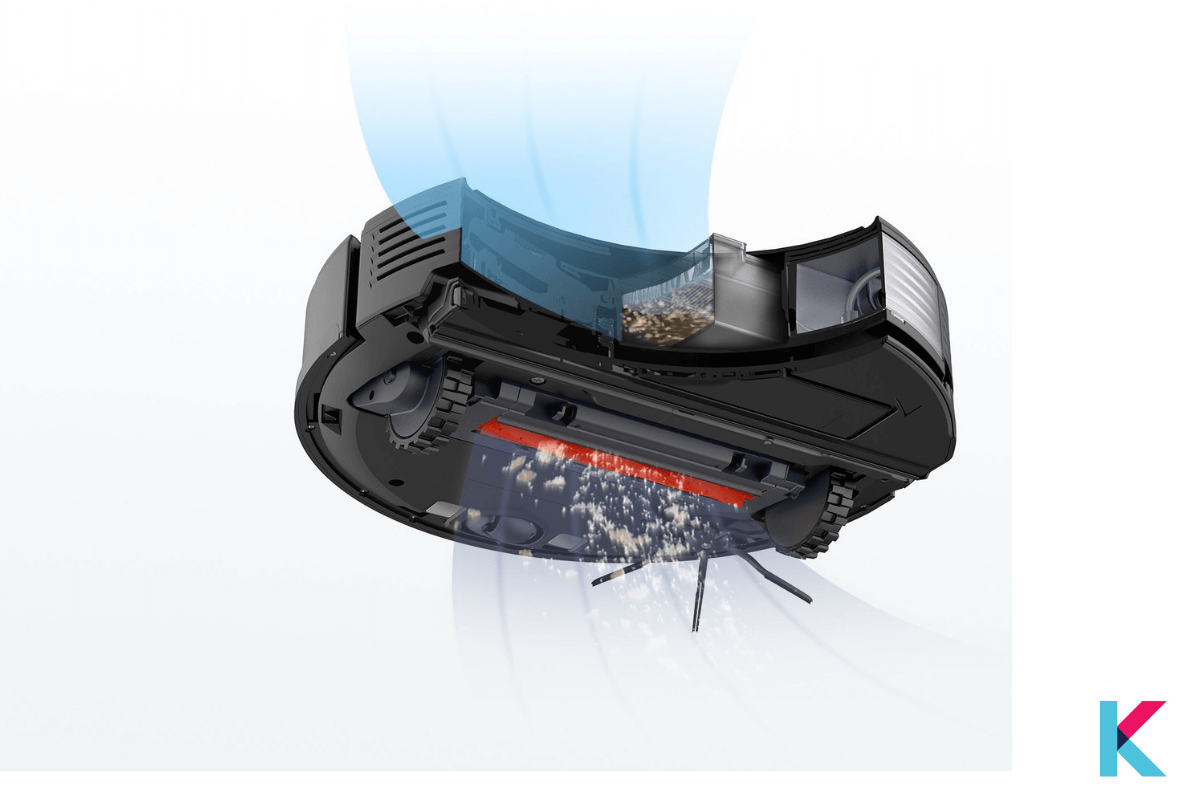 Don't worry about the main brush of the bottom. It is made of rubber that prevents hair wrapping. Also, the water tank and the mopping plate are permanently installed in the robot vacuum. You can replace and remove the mopping plates and water tank easily without any effort.
App and Mapping performance of RoboRock S7
It controls via the Roborock app that is compatible with both Android and iOS. Thankfully, it is simple to use and straightforward. You can manage the same company devices from the same app. Once you have installed the app you can connect the S7 to Wi-Fi. Then set it off on its way without any effort. Also, you can set scheduled cleans using this app.
The very first time you run the Robot, it will map your space with LiDAR. Then automatically create rooms. You can be edited later as you wish and named whatever. The S7 supports 4 separate maps, so you will need to go into settings and then manage Maps or access it from the Edit Map button on the device page in your app. After that tap restores to make the map that you want to activate.  Then, you can instruct the robot vacuum to create a new one.
What is the new Roborock S7 Auto empty dock?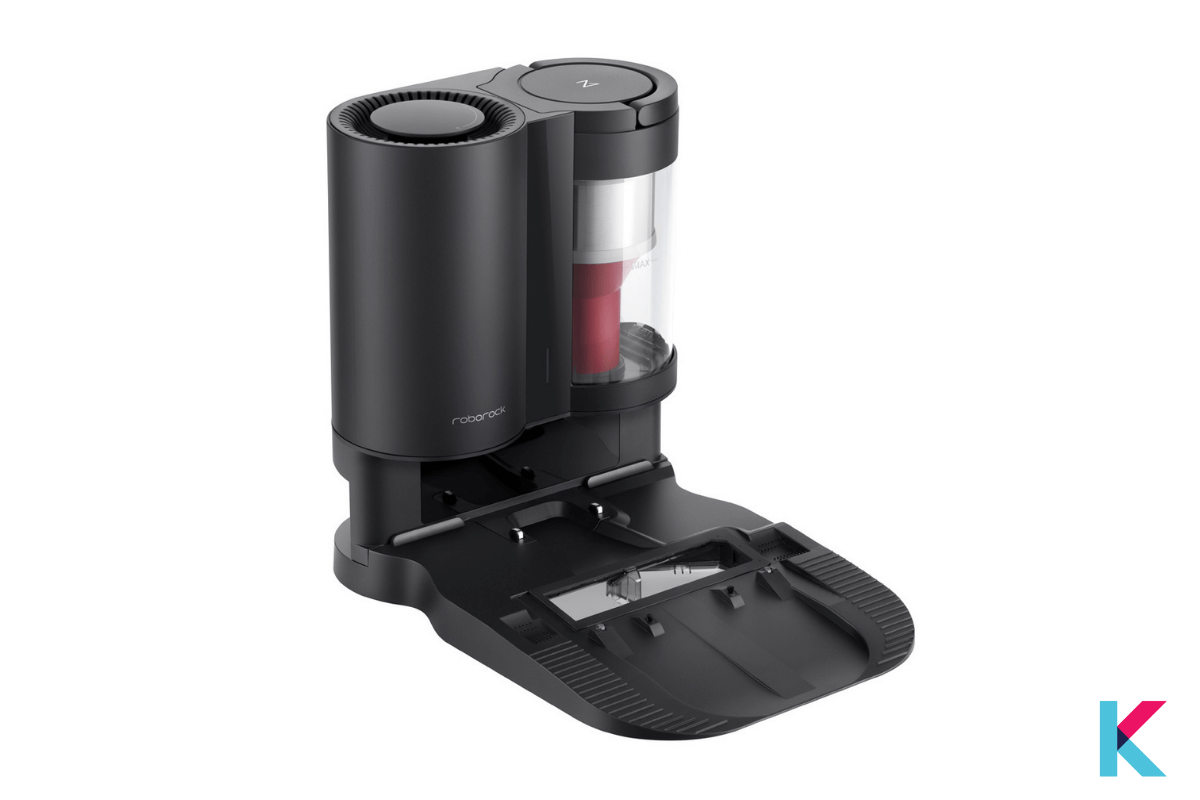 The Roborock auto empty dock is especially for Roborock S7. Once finished with the cleanup process dust is automatically emptied. It has a large capacity 3L bag that can hold up to 8 weeks of dust. Smart Emptying Modes is one of the interesting features that have. You can choose the right emptying option for your needs.
After the vacuum finishes its cleaning job, it automatically returns to its base to recharge when it does a motor in the robot's dust bin into a bag in the base. It is the most useful feature that I have ever seen. The process of vacuuming your floors is now fully automated.
Also, you can power on and off using the app whenever you want. Multi-Layer Air Filtration is another useful feature that keeps fine dust locked away inside the dock. If you currently have the S7 and want to upgrade the bin, I think it is a no-brainer and worth buying.
How to use Roborock S7?
The S7 can be controlled by a voice assistant like Amazon Alexa, Google Assistant, and Siri. It is also compatible with Smart Home Hub Apps like Mi Home and Google Home. Also, the Roborock facilitates you to control it with the buttons on the S7 and has a Roborock app. Don't worry about unexpected activations from curious pets and your kids. It has added handy child lock buttons.
How to mop and vacuum with Roborock S7?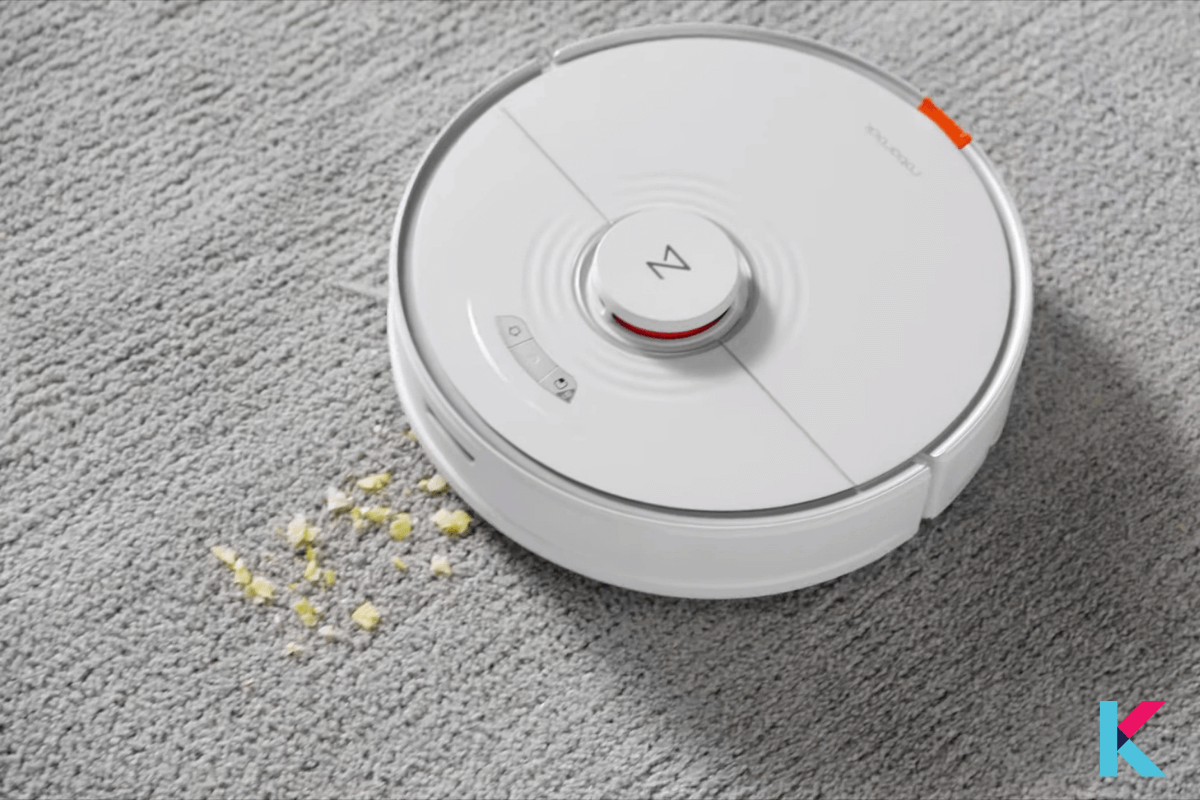 How does sonic mopping work? Sometimes you may be wondering. The Roborock S7 includes a 300ml water tank, special mop cloth, and VibraRise mop bracket. Sonic mopping is another name for a vibrating pad. The VibraRise mop bracket vibrates at 50Hz, So you can hear sound waves from it.
The deep mopping option runs in a tight Z-pattern. It covers each area of the floor twice. So, it offers great vacuuming and top-tier mopping. It has an improved main brush, same-size dust bin, water tank, and enhanced mopping function. You can set a variety of cleaning profiles for each level of your home, floor covering, and each room.
Vacuuming with your new robot is relatively fast as well as offers strong overall performance. It has a mapping feature that can map your home floor. It can detect carpet automatically and increase suction accordingly. This Robot Vacuum is smart enough to avoid mopping carpets. Also, It integrates with a couple of nifty features for mops and vacuums at the same time. It also comes with a floating brush. It adjusts its height on different surfaces for efficient cleaning.
How to set up the Roborock S7?
The Roborock S7 has a simple setup process as the previous Roborock vacuum. Once you get an S7 you can unpack and assemble everything. After, plug the dock into your outlet and charge the robot battery fully. Here are a few steps to set up your Roborock S7.
1st Step: Install the app of Roborock
2nd Step: Lift the lid on the Robot
3rd step: There are two power buttons on both sides, and hold down the two buttons.
4th step: You will see the resetting Wi-Fi alert and Wi-Fi indicator light flash
5th step: Tap the + button in the app, and once the S7 has been detected tap the S7 icon in the app.
6th step: Once paired to the S7 Wi-Fi indicator light glows progressively.
7th step: To connect the S7 follow the prompts in your app.
Is Roborock S7 worth buying?
We have reviewed the Roborock S7 Robot Vacuum and Mop. So, you have an idea about the Roborock S7 Robot Vacuum. Its' sonic mopping feature ensures a superb moping result. The Robot can lift its mopping plate. Thus, it will not pull the wet mop over the carpet. What amazing features! Don't want to worry about it anymore. It has a self-emptying dustbin.
So, I don't want to use disposable bags. As an alternative, you can use the installed dust container. It can be empty by hand. There are so many excellent features. So, Roborock S7 is worth buying for you. However, you can choose the iRobot Roomba i7+ and Roborock S6 Max if you have any other preferences.
Instead, if you're more into iRobot Roomba, you can get the iRobot Roomba i7+ from Amazon. Click here.
Our Pick
As we mentioned above, it has fantastic advanced base features like intelligent mop lifting, a new rubber brush, upgraded floating brush, and sonic mopping technology. It is a fairly quiet robot vacuum and has more than its price tag. So, Roborock S7 is the best choice for your home. You can buy it if you need plenty of customization options, mopping and vacuuming together, and want an auto-empty dock. But don't buy it if you want an onboard camera and you are on a tight budget.
Also, for interesting folks on Home Automation, you can visit Kodmy Smart Home Blog to know more about Smart Home related things. And, if you love this article, please subscribe to Kodmy using subscribe button below.