KNX Smart Home [ A Complete Guide and Review]
KNX smart home is any set of devices, appliances connected into automatically controlled and monitored using KNX system. Expand your living experience by providing your home with perfect smart home solutions with a KNX system.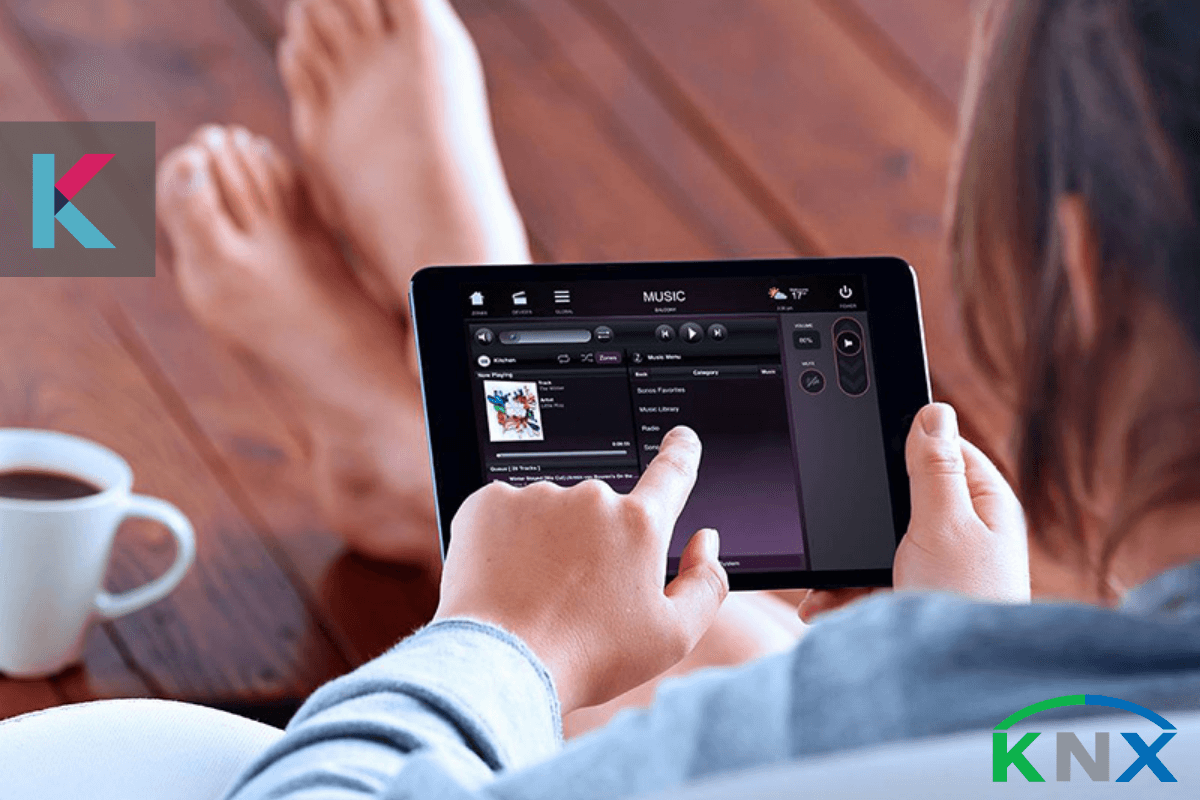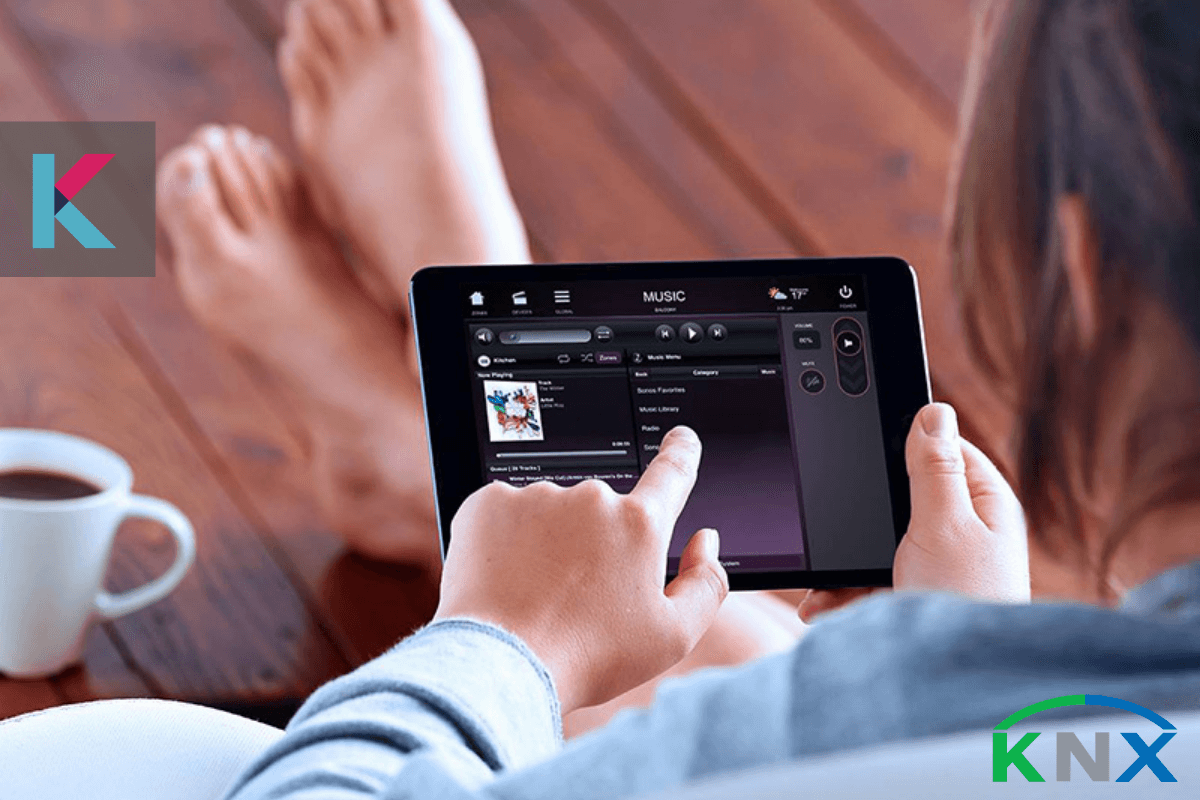 Today, Smart Home Automation systems have wide use in home building to make Smart applications. Thus, many automation protocols such as BACnet, C-Bus, 1-wire, and KNX are developed rapidly. The KNX protocol is the famous one among these. Also, there are some specifications such as easy and fast installation process, user-friendly software, and adaption to the current system. KNX system is widely used in a home with the rise of a smart home. It is called KNX smart home.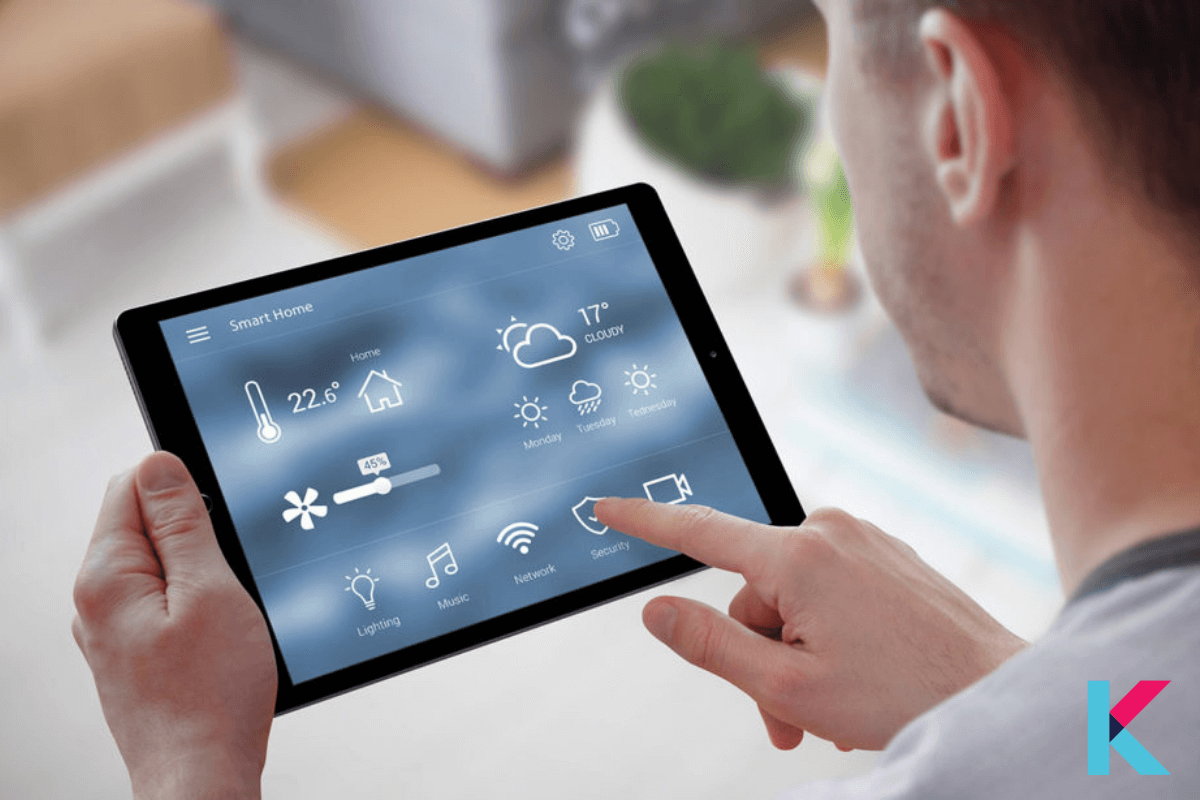 In this article, we'll cover:
What is a KNX smart home?
KNX is an open standard for domestic and commercial building automation and wired automation. This standard is regulated by the KNX association. Also, KNX devices can manage blinds and shutters, lightings, security systems, HVAC, energy management, white goods, audio, video, and remote control.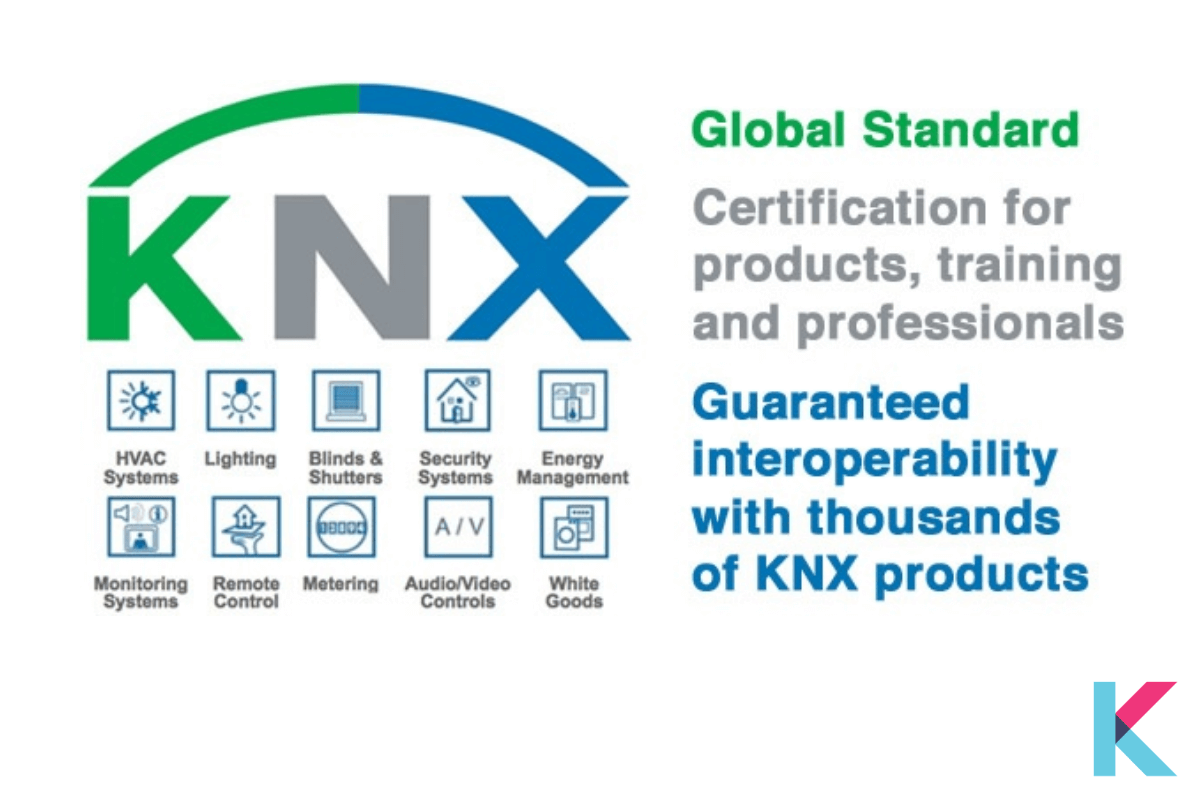 Mainly, it can work by confirming all devices, components, functions, and features of any building communicate through one common language remotely. It also gives the best guarantees in terms of future compatibility with all your automated devices.
KNX smart home is any set of devices, appliances connected into automatically controlled and monitored using KNX system. You can able to control a variety of functions using one Home Automation System for the whole architecture. There is no need for additional control centers. It makes things more comfortable and convenient. It also increases the energy efficiency of our urban habitat. Also, it is the most secure smart home technology according to the encryption standard AES 128.
KNX system might seem outdated with the rise of the smart home. They are hard to extend automation. Also, they don't feature fancy smartphone apps. It can't easily integrate with Google Assistant, Alexa, and other new smart home devices such as Sonos, Philips Hue, or Fibaro.
However, there is good news for KNX system owners. They also can combine their wireless smart home devices using the Homey app. You can also control your KNX installations with Amazon Alexa or Google Assistant easily.
This can link up to create customized If This Then That (IFTTT) technology functions. The wires running directly through every wall. Hence, it can be considered as the central nervous system for your house. Also, KNX wiring (bus system) integrated into an existing home. It is commonly installed in a newer home.
Hence, the protocol is applied in the standardized technology. There are many KNX products from different manufacturers that are friendly to each other. That is the famous reason why the KNX system is generally used at home.
You can easily adjust or control a range of KNX functions and applications directly from your tablet or smartphone using the KNX smart home app.
What is the KNX smart home app?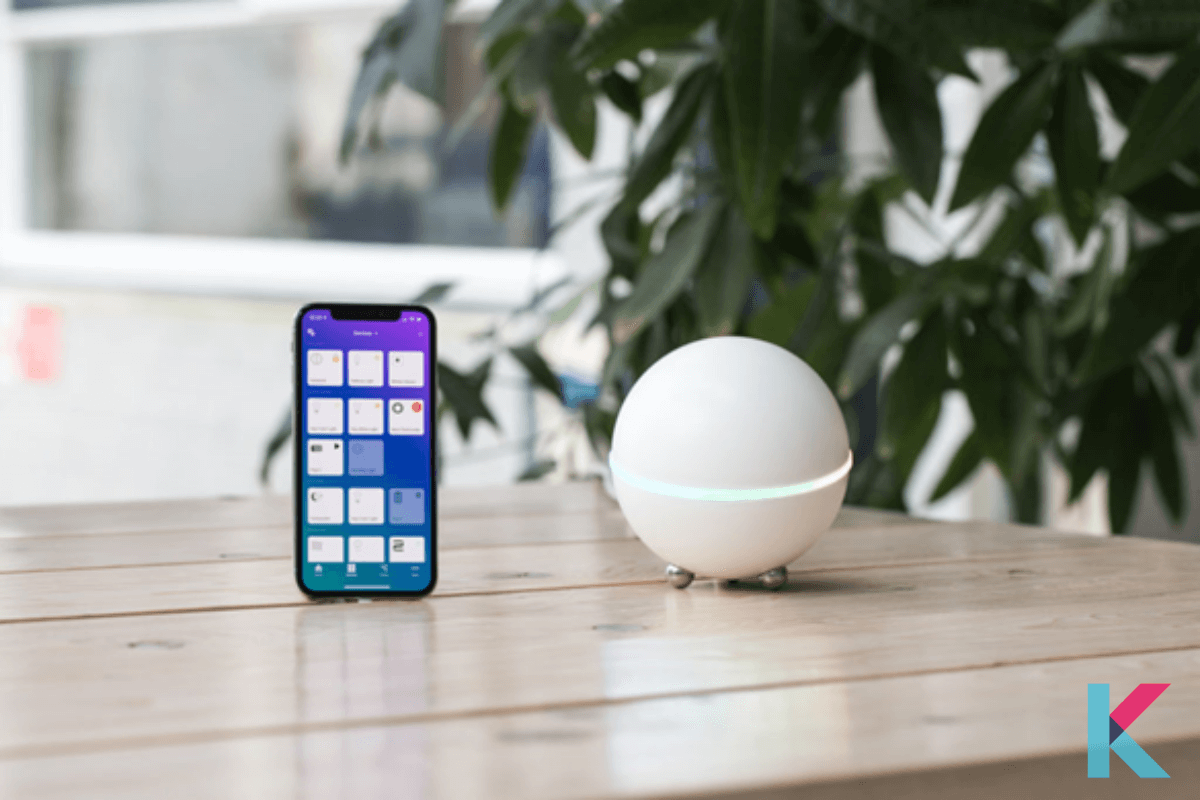 There are few KNX smart home apps available such as the iBEMI control app or Homey app. They can be used to adjust switching, light scenes, dimming, temperature, air conditioning, shutter control, RGB, blinds, times and dates, energy indication with scale and offset, as well as a value transmitter.
iBEMI KNX control app is compatible with Android tablets and phones with Android 5.0 and later. Also compatible with Apple HomeKit such as iPhone, iPad, and iPod touch with iOS 5.0 or later.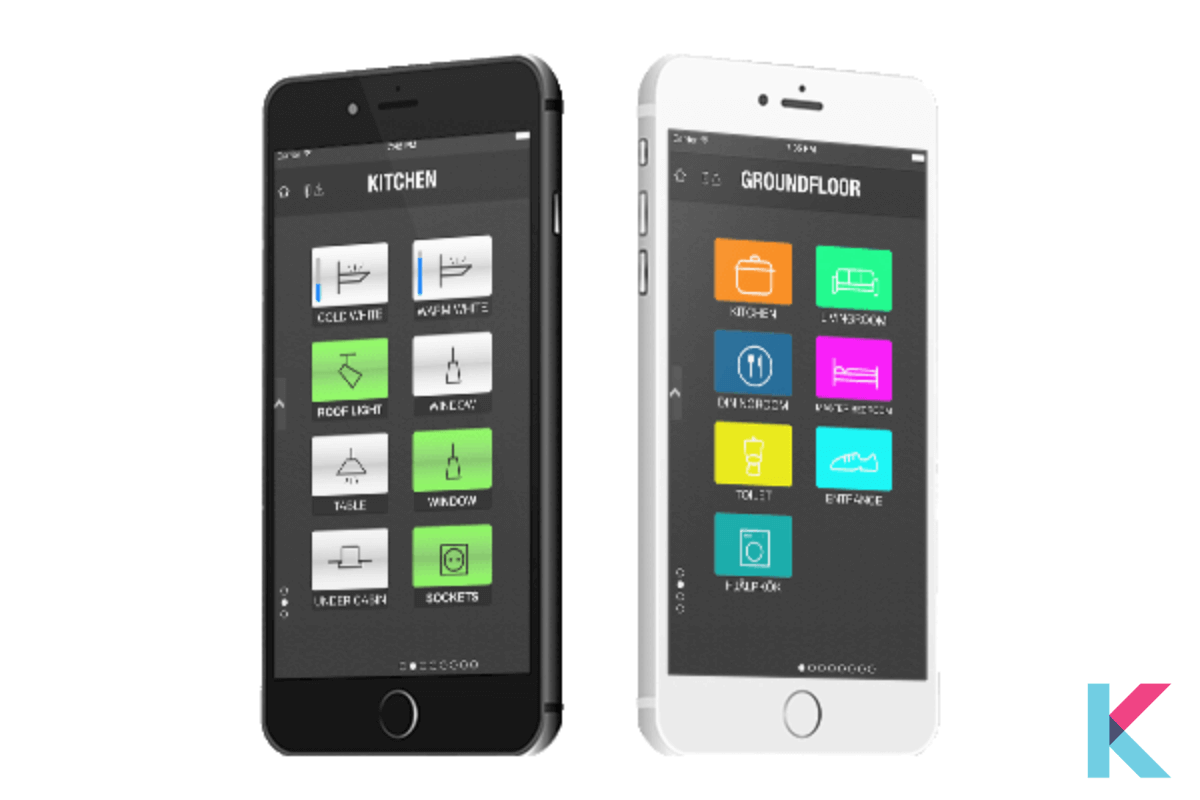 It lets you monitor your home instantly with only a few clicks. Rooms and buttons can be guarded with the secure PIN feature. User-friendly design is simple to navigate via various control features throughout the house.
What are the features of the KNX smart home?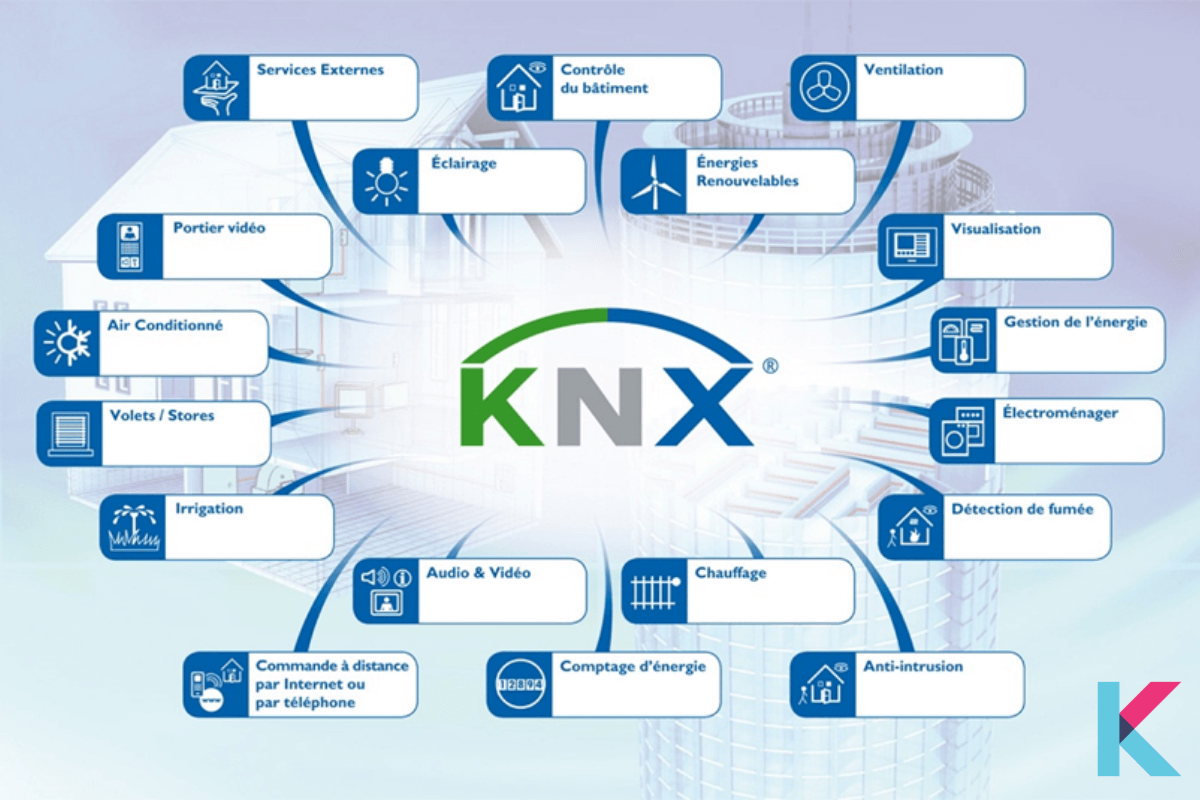 Features of KNX Smart Home
Electrical distribution (domestic wiring cabinet with KNX service shaft, low-voltage switchgear, etc.)
HVAC (Thermostat, heating, ventilation)
Lighting control (light sensor, light variator, presence detector)
Lighting (LED, Energy serving)
Bus configuration and supervision
Video surveillance (Connected IP camera to Home supervision)
Communication (KNX and Ethernet)
Touchscreen for home automation control (Tablet)
Energy and fluid metering and consumption monitoring
Distributed and internetworking application model for the various tasks in building automation.
Scheme for the management and configuration of resources on the network.
Permits the blinding of portions of a distributed application in various nodes.
Capable of hosting a distribution application
Model of the comprehension of these elements when developing real devices to be linked and mounted in an installation
Key features of KNX smart home with Homey
There are several key features when you turn your KNX system into a smart home using the Homey app.
Smartphone control from everywhere in the world
You can incorporate your KNX system into the Homey app. So, you can be able to control your all KNX devices on your smartphone or tablet from anywhere. Your favorite devices are now at your fingerprint at any time. Also, you can control your devices from Apple Watch using the iOS app.
Integrated with your KNX system with smart home devices
There are many smart home devices compatible with Homey such as smart thermostats, Spotify connects speakers, and many more. You can easily expand your KNX system with your smart home device and control them in a single place.
Voice control for KNX
You can use your favorite voice assistant to control your KNX system using the homey app. It also can available in Google Assistant, Amazon Alexa, and Siri shortcut.
Insights and energy management
Homey is a fantastic smart home hub when making a KNX smart home. There are so many functionalities. This is ranges from the hardware antennas in Homey pro on Z-wave, Zigbee, Wi-Fi, and infrared to energy management, Homey Apps Store with Homey energy.
Importance of KNX Smart home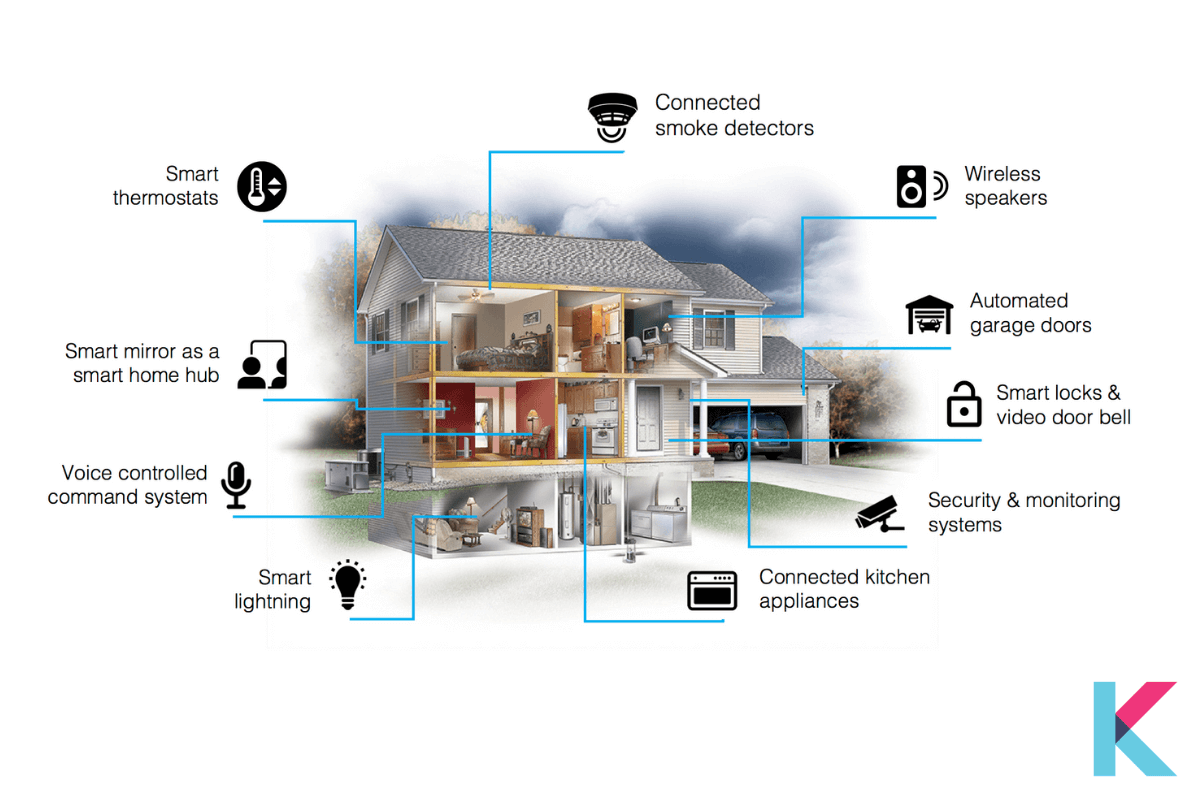 Close or open your shades with only one click on your tablet or smartphone. You can regulate your settings according to the weather. Also, you can able to close your screen remotely to guard your home against heavy storms and winds.
You can easily control your light when you leave or go to bed. Switch on the light when you enter the room using movement sensors. Also, you can color your every occasion using light scenes and adjust scenes according to your mood with only one touch.
Heating, Ventilation, and air conditioning
According to the time of the day, you can manage the temperature in your room. You can preheat your bathroom before taking a shower in the morning. You can save your energy cost by automatically deactivated heating when you are not at home. During a high temperature, control your ventilation or air conditioning remotely. This creates a comfortable and energy-efficient home.
When you lock the door, this allows you to activate automatically your alarm. Inform you or the local police when recognizing suspicious movement at your door. When you are not at home, it can manage your alarm remotely and set up a routine to give the impression.
You can see visitors at your doorstep with a door entry system before opening your door. Also, you can check your visitor on the entry system when the doorbell rings. There has a warm welcome for visitors when opening the door.
With visualization tools, keep your smart house and energy usage up to date anywhere. You can get insights into your energy usage and customize your interface to your needs.
10 best products of KNX smart home
KNX offer variety of design option and unique range of products. This lets you create your own unique smart home that answers your requirements perfectly. KNX devices are generally connected by a twisted pair bus.
ZENNIO Z70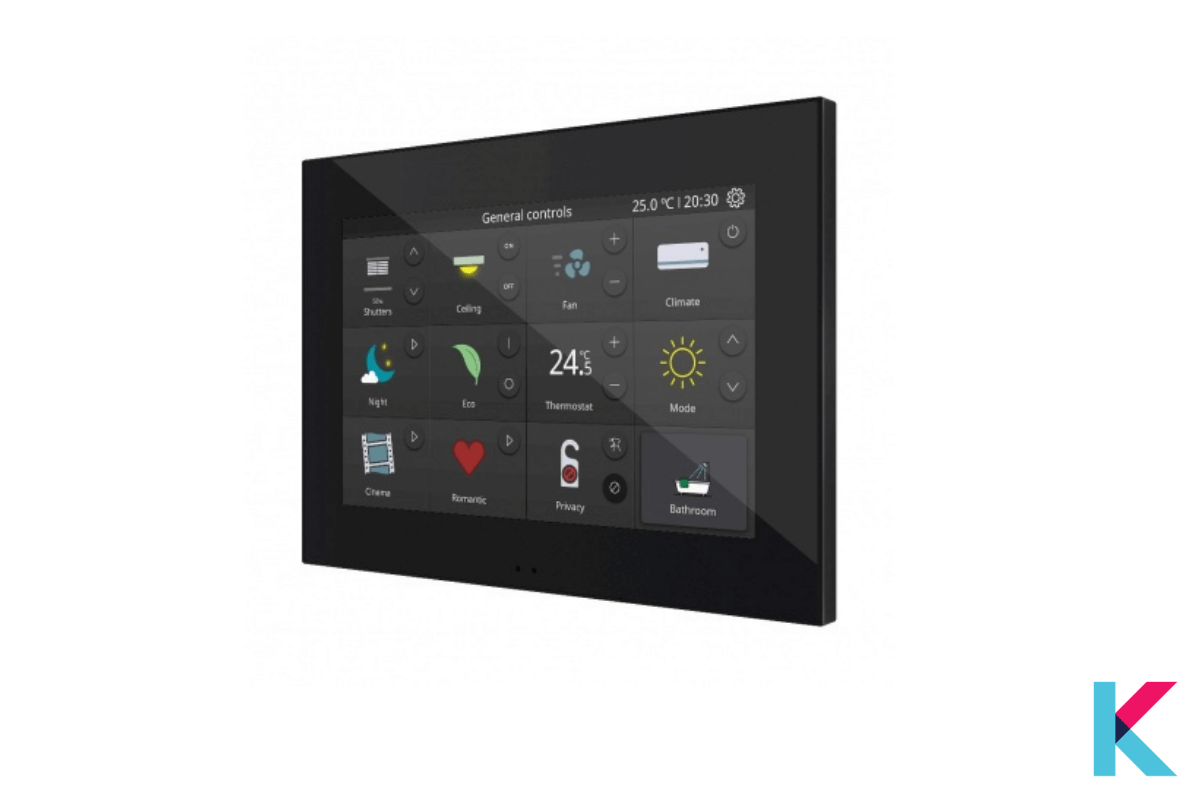 ZENNIO Z70 is a color capacitive touch panel with a 7" display. It is a built-in luminosity and proximity sensor. Also, it has an internal temperature probe, 4 analog-digital inputs, and a thermostat. It is easy to install using a standard double mounting box and has Ethernet and USB port for program update.  
ZENNIO Z41 TOUCH PANEL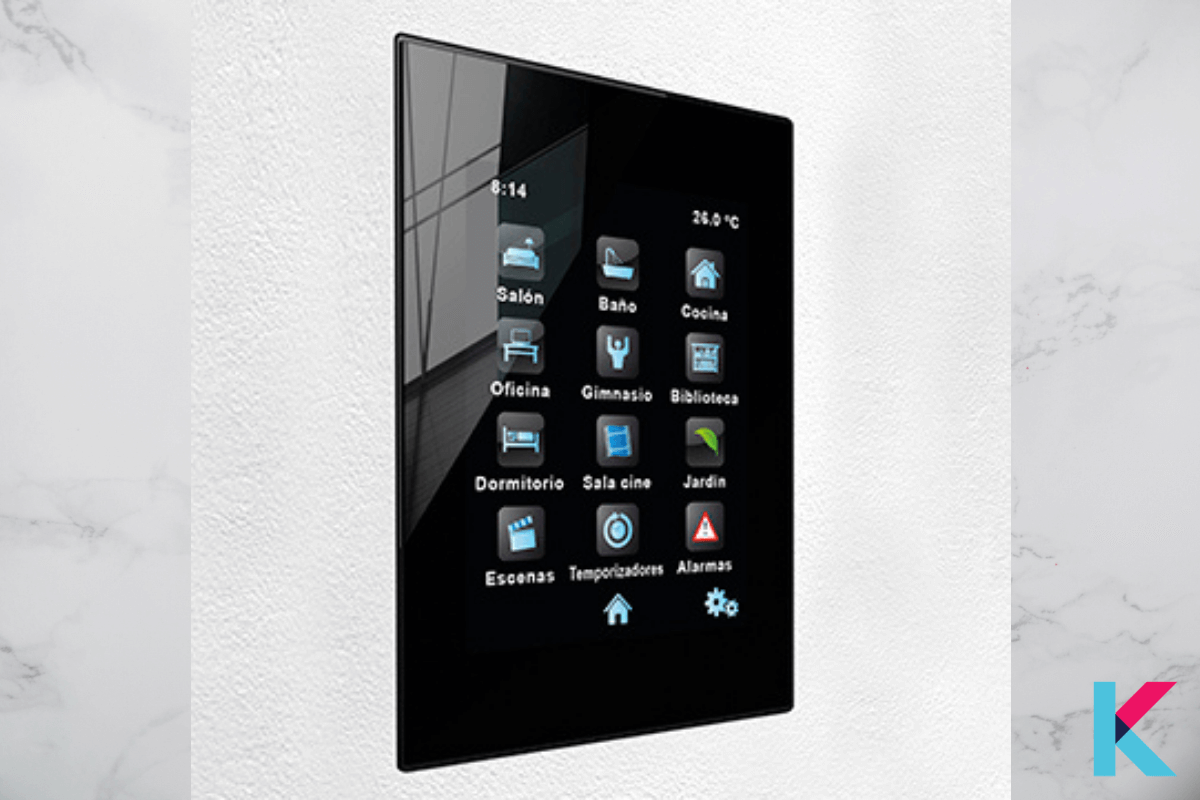 It is a KNX touchscreen with 6 pages of 8 functions. It is also available in silver, white and black colors. It can be installed in round European back boxes only. It can display timers, graphs and also offers a smartphone app with push notifications. Also, It integrated with a temperature controller.
ZENNIO Z35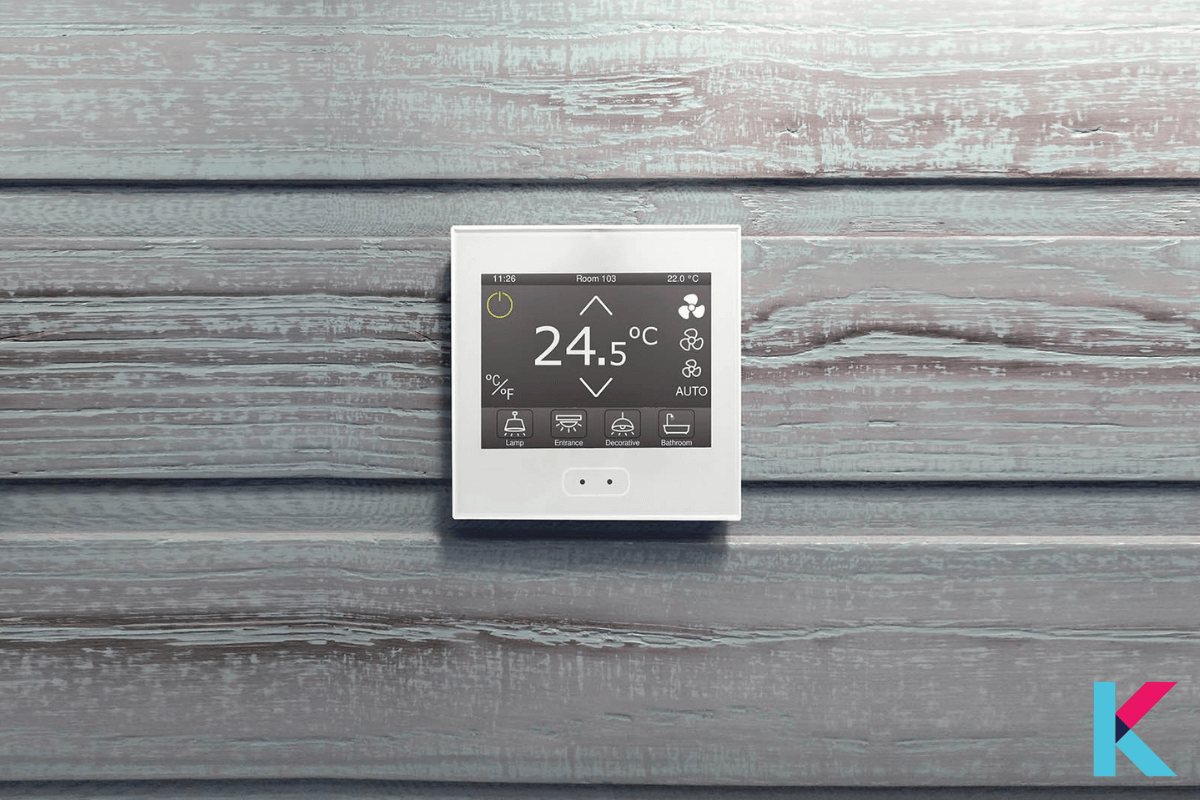 ZENNIO Z35 is a KNX touch screen with 7 pages of six functions. Also, it is available in silver, white, anthracite, and gloss white color. But it can only be installed in round European back boxes. It is integrated with a temperature controller, luminosity sensor, and proximity.
ZENNIO TOUCH MY DESIGN ROOM CONTROLLER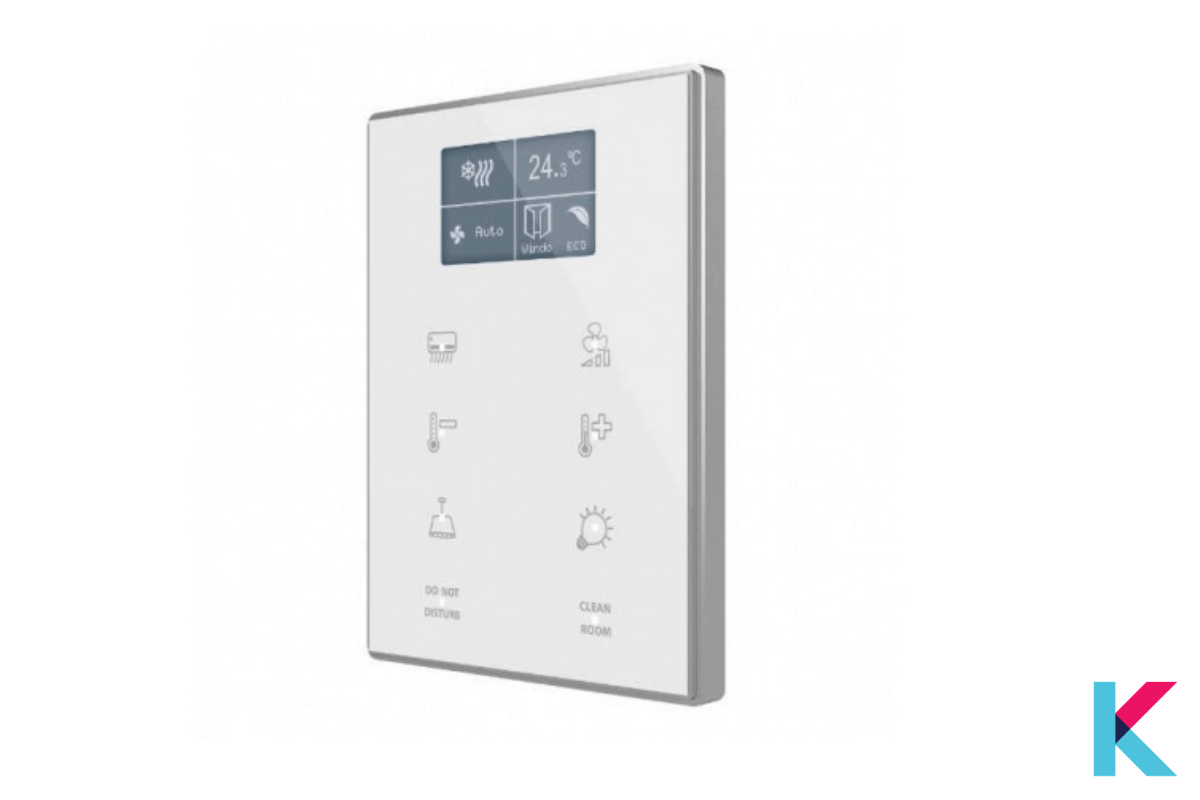 It is a KNX capacitive touch room controller with a display and 8 buttons. It is available in black, white, or custom printed finish. Also, It can be installed in round European back boxes only and has 4 pages with 32 functions. It is also integrated with a temperature controller and LED backlight.
LITHOS KNX KEYPADS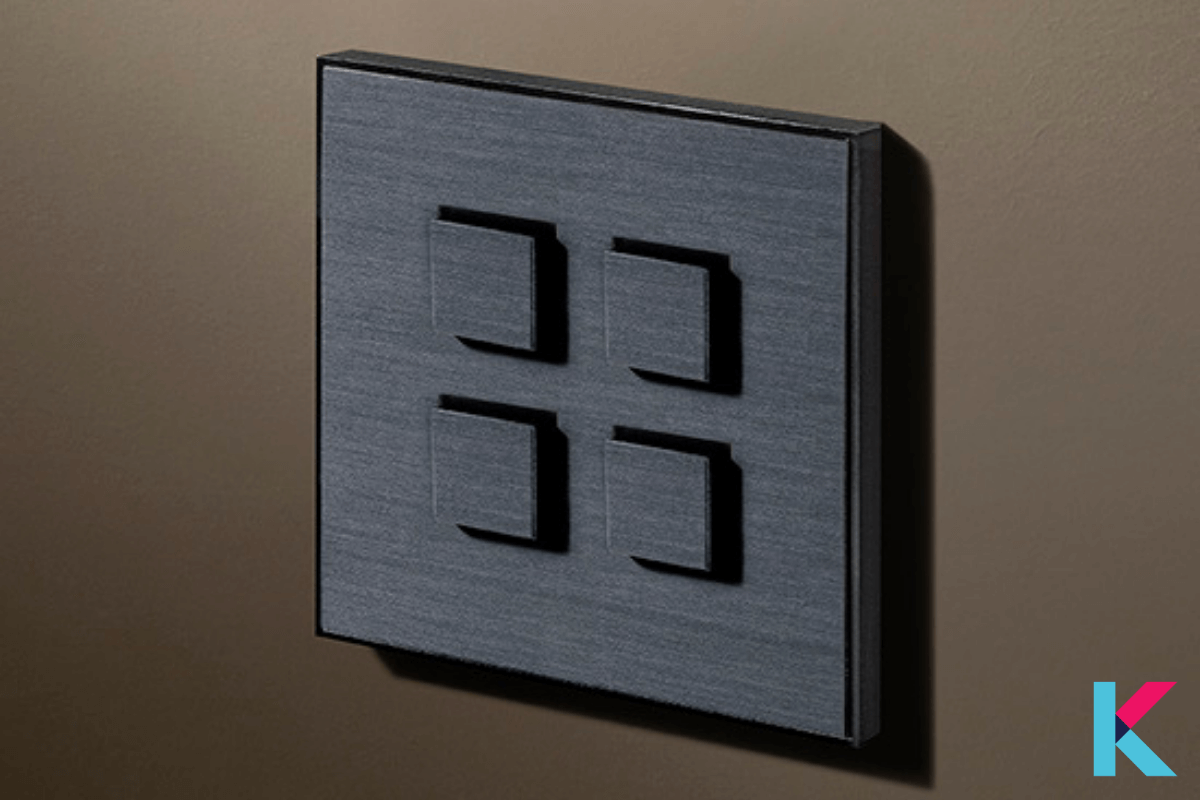 LITHOS KNX Keypads is a KNX keypad with several buttons with an extensive range of finishes. It can be installed in round European back boxes only. It is also integrated with LED backlight and temperature sensors.
JUNG SMART CONTROLLER 5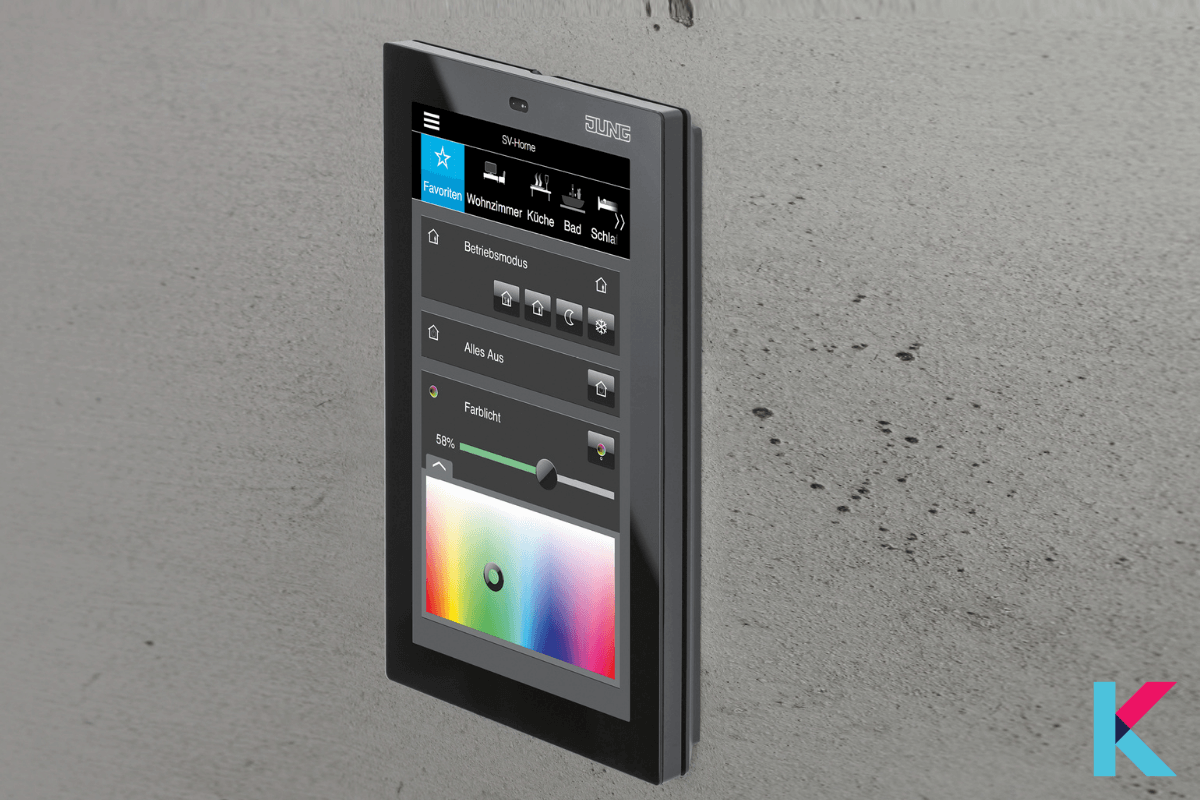 JUNG Smart controller 5 is the latest extension to the smart control series with a slim, compact design. It fits into a standard flush wall box. It also has a high-resolution touch display. Also, it is an integrated brightness sensor and proximity sensor to wake up and adjust the display. It is available in any size upon request.
ABB TACTEO KNX KEYPADS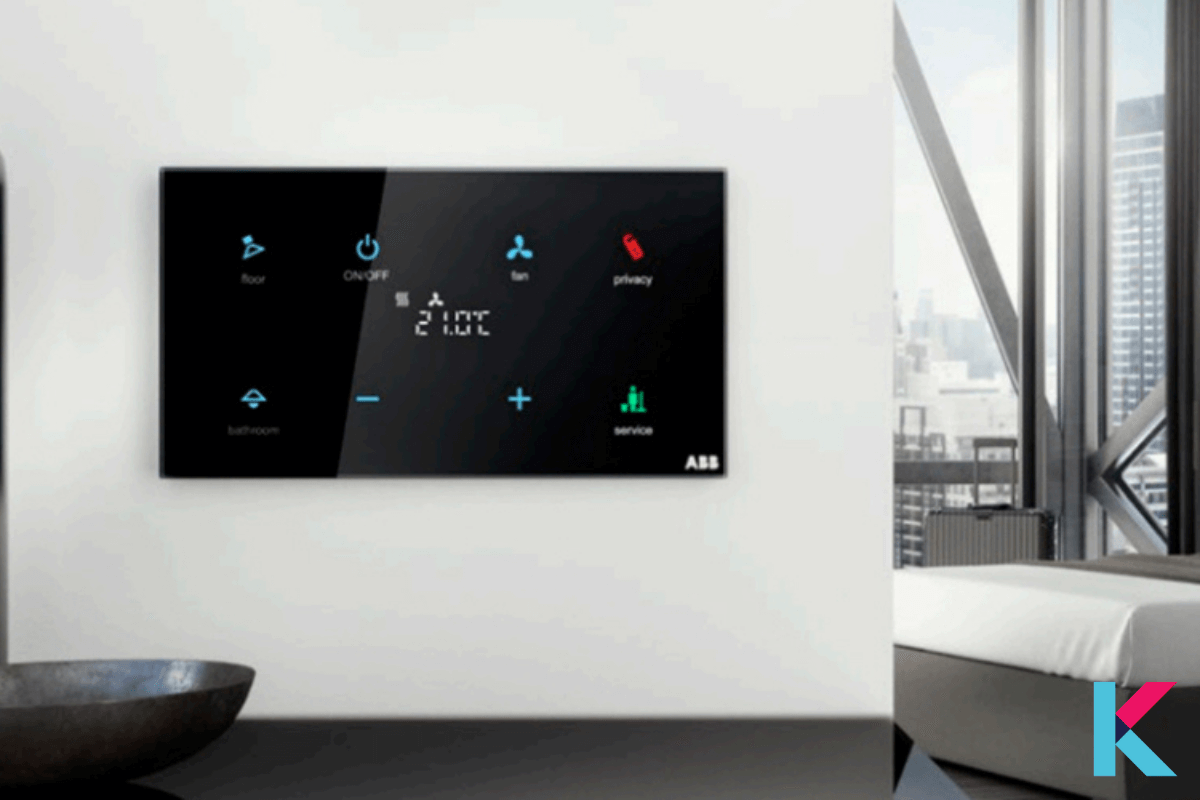 ABB TACTEO KNX Keypads is a KNX room temperature controller with a 2/4 button. It is also available in a wide range of finishes. Also, color or laser engravings are available through an online tool. It is integrated with temperature regulation.
BASALTE ELLIE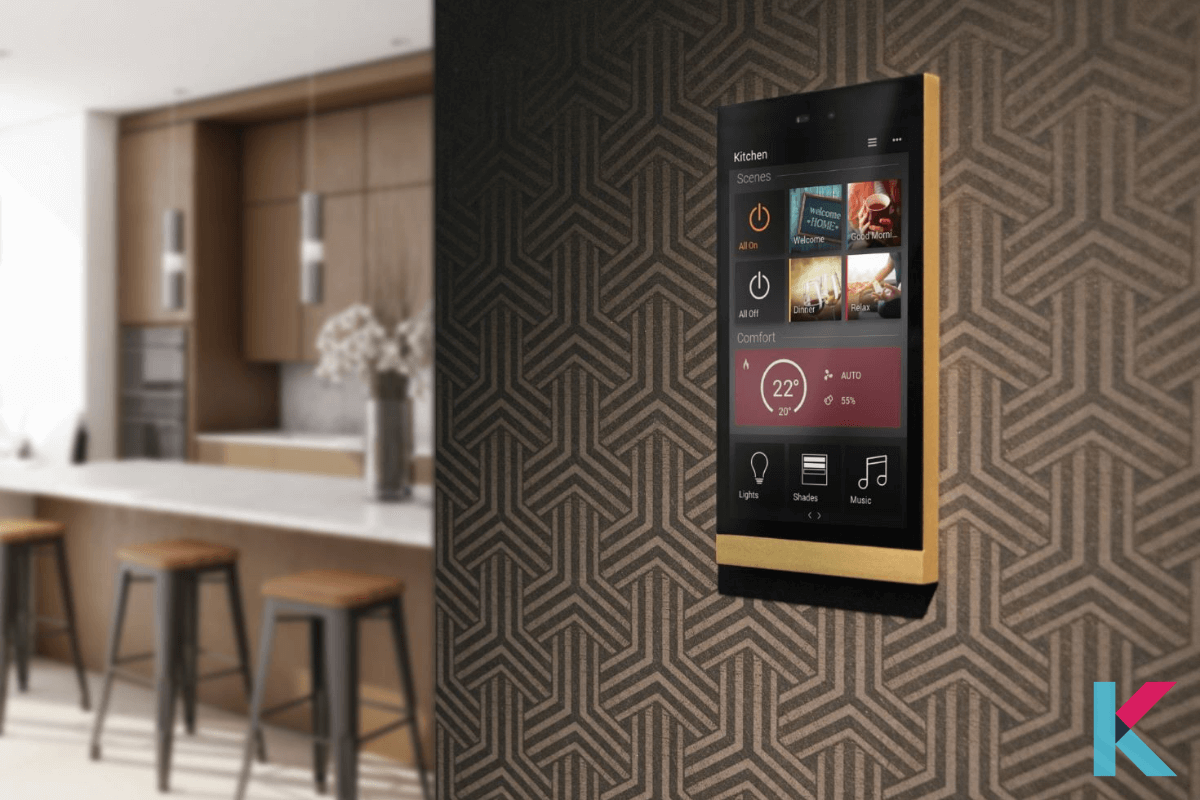 It is an elegant touch-sensitive panel with a slim design and premium finish. It can be used to control climate, lights, music, and many around the house. Ellie blends in beautifully with any interior. It comes with a wide range of high-quality finishes. It also requires Basalte Core Mini or Basalte.
GIRA KNX KEYPAD WITH TEMPERATURE CONTROL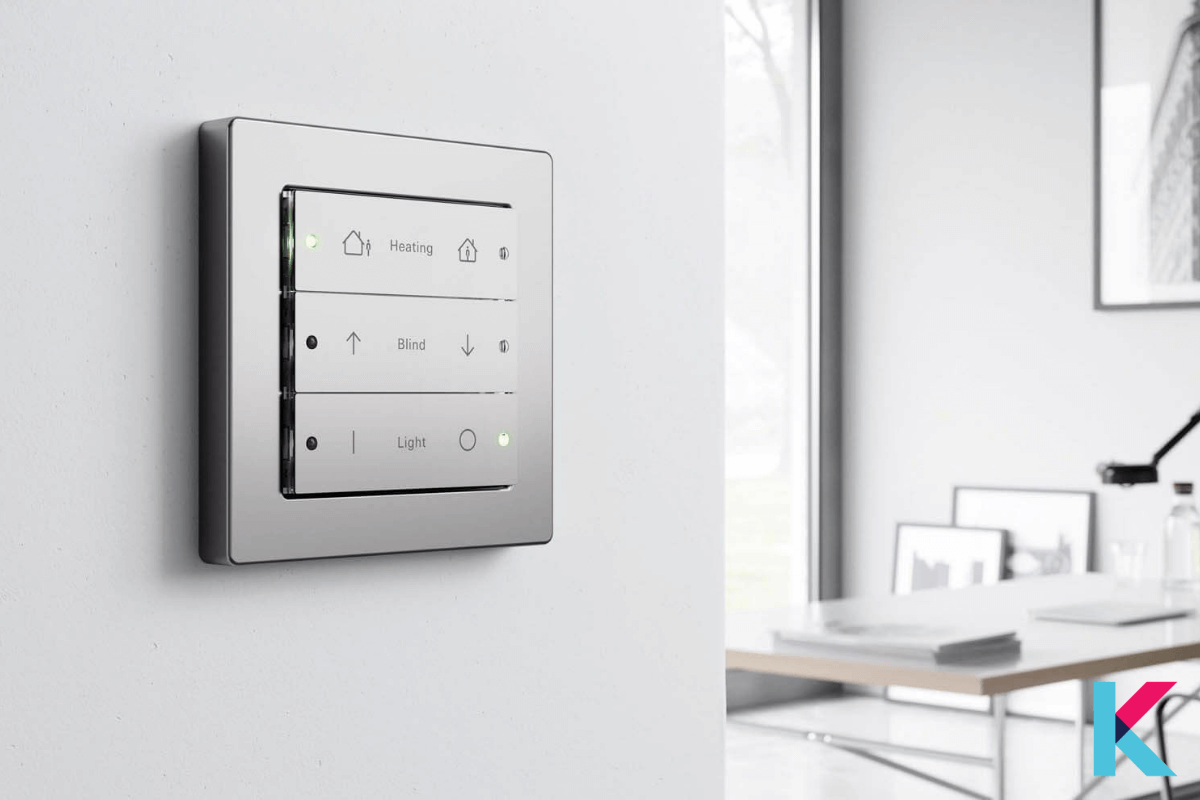 It is with a KNX keypad with 4 buttons with an extensive range of finishes. It can be installed in round European or square UK back boxes. It is integrated with the scene controller and temperature regulator. It is available in red, blue, or green LEDs with variable brightness for feedback and status.
How to start with KNX?
There are several options to start with KNX technology.
Find a certified professional
You want to find a certified professional for the setup of your KNX smart home. They will help you to plan your smart home and create routines in every room. There are many professionals worldwide. They will help you with installation and wiring with hardware and software.
Learn the basic of KNX technology yourself
It is better to learn yourself. You can connect with their online course and successfully finish your test. Then you can gain additional chances to get your first KNX software license.
You can purchase their ETS home edition
If you are already a KNX expert, the ETS home edition is the best solution for homeowners. It allows you to configure up to 64 smart home gadgets. It will also give complete ownership of your setup and data.
You can connect with the unlimited option with unique choices of products
You can simplify and automate your daily life with KNX. It can combine different kinds of home products.
How KNX smart home works?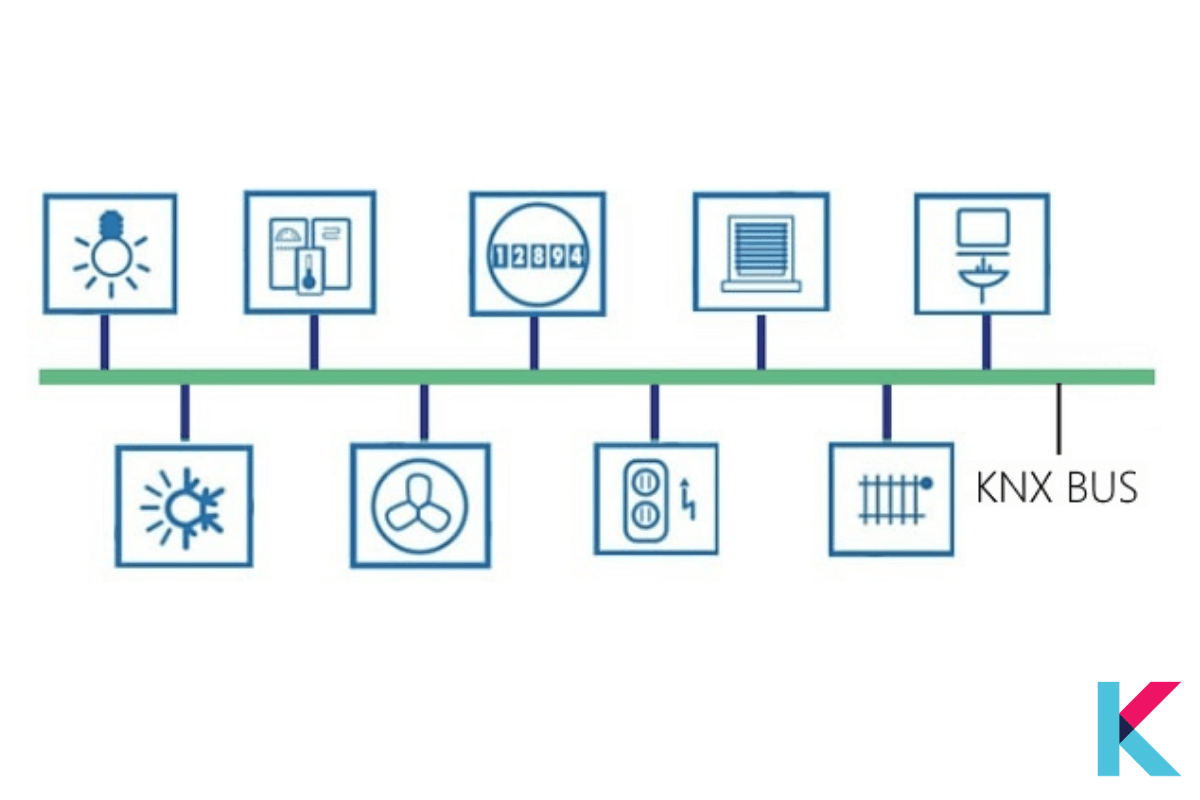 It has a main central nervous system for all automation. It is called the KNX bus line. It also a green cable installed in addition to the conventional core supply. It can be installed during a new renovation project and a new building.
According to the KNX standard for building automation, all of the different technology components are connected via the main KNX bus line. The cable system can be managed by sensors, parameters, detectors, etc. It also can be easily controlled by end customers with a smartphone, laptop, or tablet. This bus is routed in equivalent to the electrical supply to all of the devices and systems on the linking network.
How KNX smart home control?
There are different options available to homeowners. A wall unit, a smartphone such as Gira G1, or you can use something like the Gira pushbutton sensor 4. And yeah! The smart home hub can link it all together between the bus system and the control device. Ii has an important component that links it all together such as the Gira Home Server.

Comparison of software package with KNX
This is the comparison of ETS lite, ETS inside, and ETS professional. It helps you to choose which software package is the best for you.
| | | | |
| --- | --- | --- | --- |
| | ETS inside | ETS lite | ETS professional |
| Hardware | Mobile Handheld( Tablets, smartphone) | Laptop or Desktop computer | Laptop computers and Desktop |
| No: of Project | Unlimited project for ETS inside client, one per ETS inside server | Unlimited | Unlimited |
| No: of line | One line per project | Unlimited | unlimited |
| Project size | Small and medium | Small project with up to 20 product | Suitable for any project |
| Plug-in | No | Yes | Yes |
| Extendable via ETS apps | No | Yes | Yes |
| Licensing | Dongle | Dongle | Dongle |
| Suitable for | End-user and installer with limited KNX knowledge | Students and Homeowners | Professional system integration |
| Price | $190 | $238 | $1190 |
Price and Color comparison of KNX Smart Home Product?
| | | | |
| --- | --- | --- | --- |
| | Gira KNX keypad | ZENNIO touch my design room controller | ZENNIO Z35 |
| Number of buttons | 4 buttons | 8 buttons | _ |
| Installed in | Round European or square UK Back box | round European back boxes only | round European back boxes only |
| Color | Red, Blue, Green | black, white, or custom printed finish | silver, white, anthracite and gloss white color |
| Price | $332- $417 | $166-$285 | $300 |
KNX smart home system is the best option. Because it has the future-proof solution for cutting edge houses. It is the globally accepted standard for wired building technology. It offers the best guarantees in terms of future flexibility and compatibility. Their networks are very robust offer exceptional performance. It also can install in virtually any single-family home or apartment to a big complex with multiple talents. It can be used to take your functionality outdoors. For instance, you can use it to automate your garden.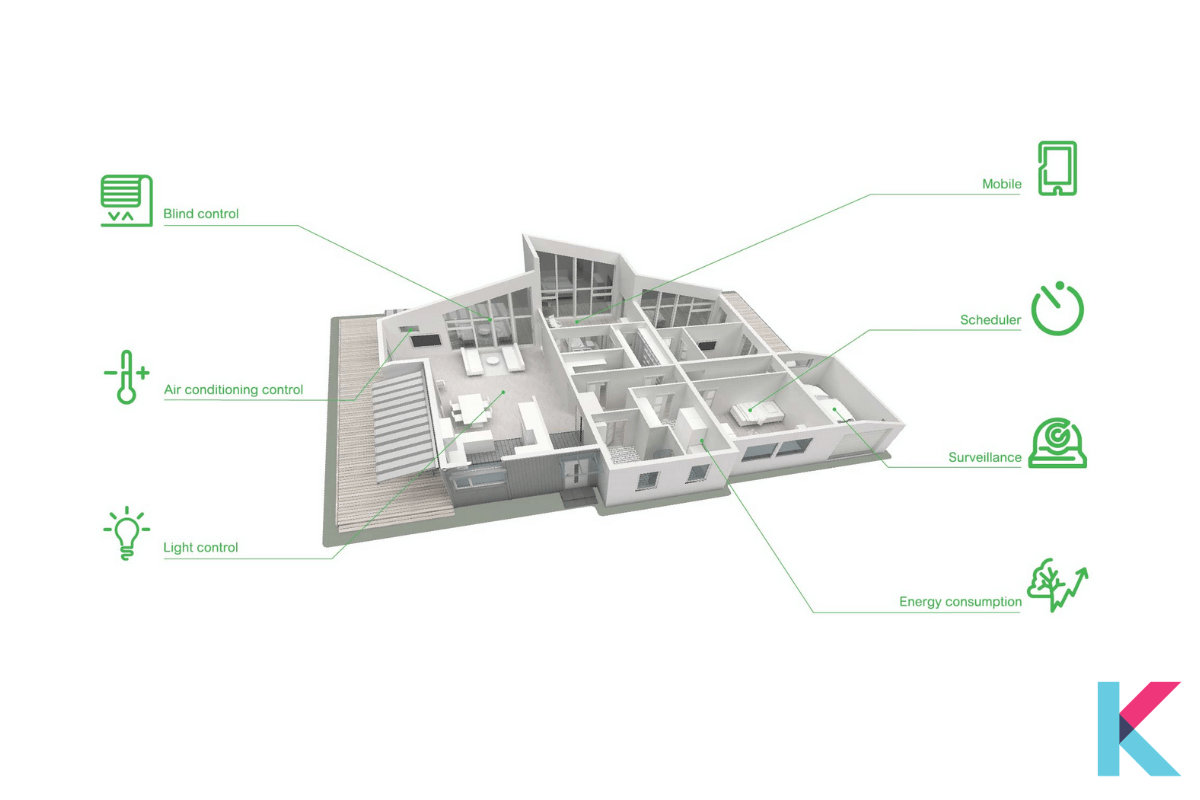 However, building a KNX system is expensive to already built houses. Hence, new ducts and cables need to be replacing in the wall to every light point, wall switch, sensors, or outlet. It is also inflexible. You want new wiring for relocated or new devices.
Which one should I choose: KNX or wireless?
Both KNX and Wireless systems have their advantages. It depends on what you need, also your living situation. KNX smart home is the best option if you want to build or renovating a home for long-term use. It can be customized to your wants and needs. It built using an international standard. Meanwhile, your house will probably be larger; appropriate with a Gira Home Server confirms that you have full command of your home at every time. In this article, you were able to know KNX Smart Home System, KNX Smart Home Products, KNX Smart Home App, KNX lighting control, and more.
If you are interested in another smart home system, you can find our Brilliant Smart Home Automation System article.