Everything you need to know about Philips Hue Smart Devices
Philips hue is the best option for smart lighting up your home. Here you have all about Philips Hue: Smarts bridge, lights, play, light strip, and sync box.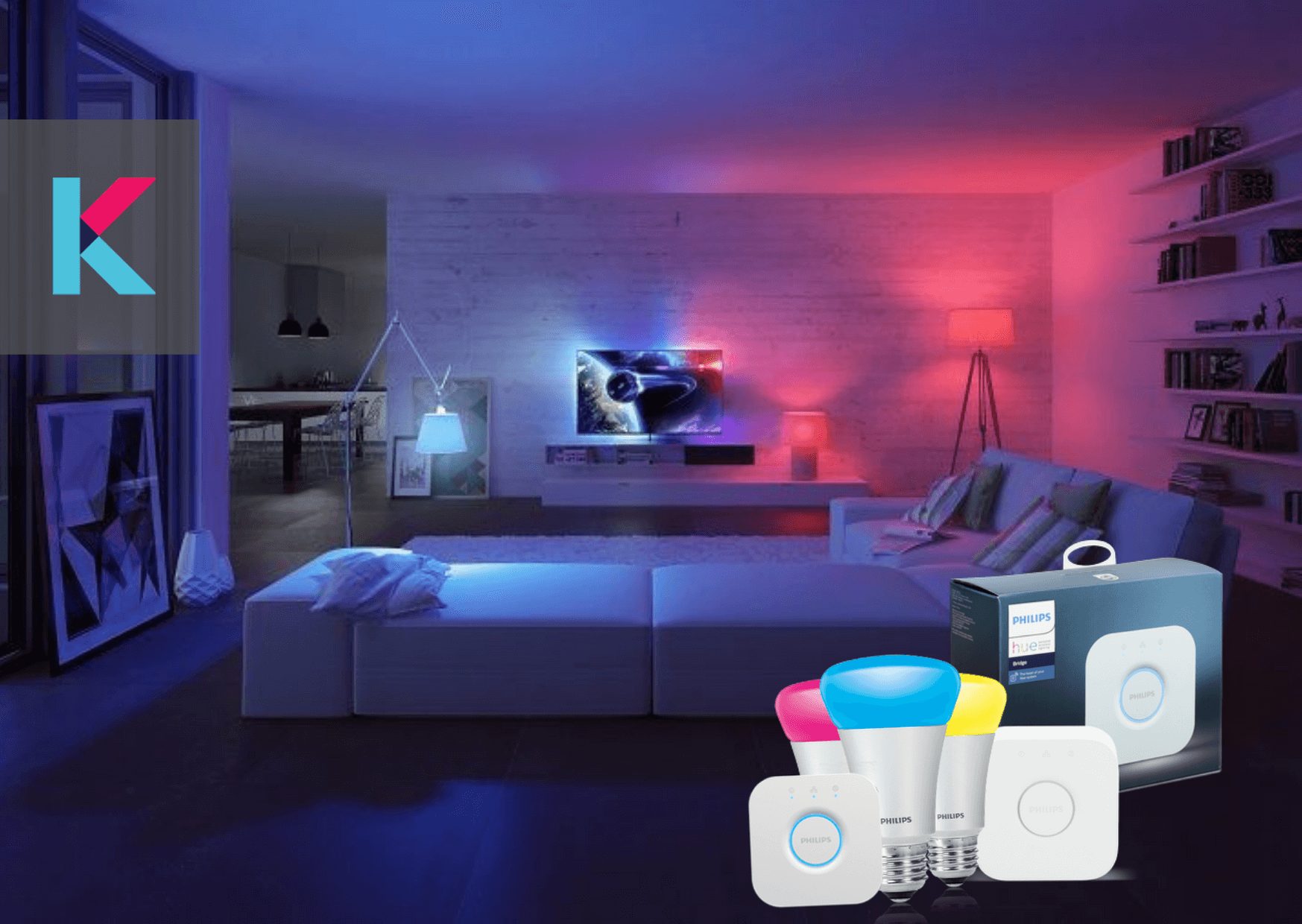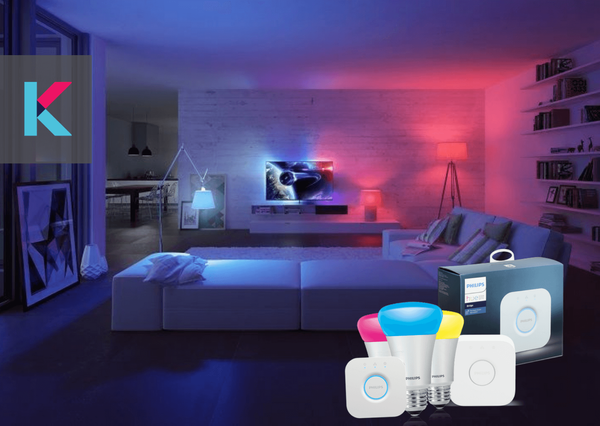 Philips hue is the best option for lighting up your home with a stunning luxury look. And yeah! Philips Hue is the top brand you can consider for lighting your house.
For anyone who expects to use some top-tier lighting accessories, Philips Hue is the best choice. The beauty of using a Philips Hue system is that it functions on all devices so that the system works with the Google Home and the Alexa devices as well as the Apple home kit. means that you have nothing to worry about what device you own, the Philips hue will go on with you.
Bit confused about these? Nothing to worry about. If we assume you are a newbie for these things, Philips hue is an ideal buying option for newbies too. We know that you are confused about, arguing about what to buy that suits your need. Probably you noticed smart lights that are less expensive around nowadays.
Briefly, you gotta have an idea about these 3 key components when you are planning to buy the Philips Hue.
Philips hue bridge — And the number one is the bridge, which essentially ties everything up
Bulbs — you can purchase for any of the many styles of lighting you want at home
Accessories — other Accessories that use with the Philips Hue kit
Philips Hue Bridge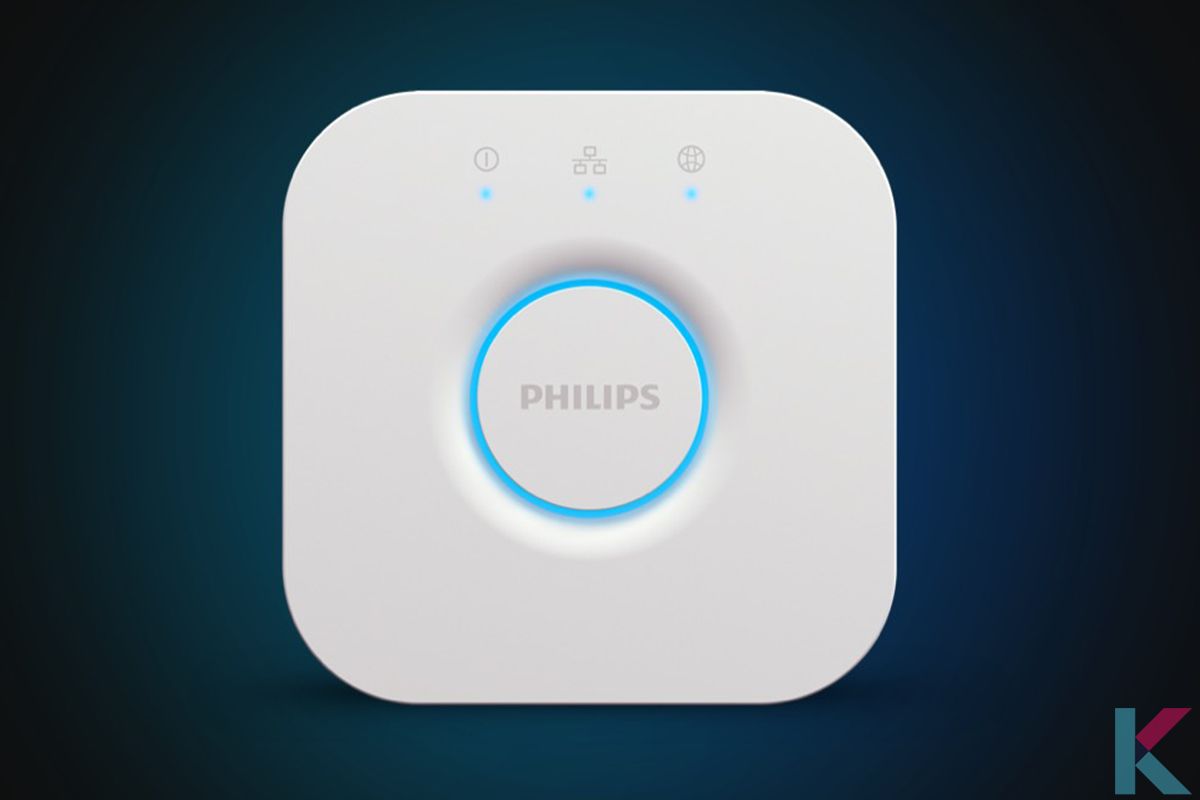 As I mentioned above, the Philips hue bridge the component that essentially ties everything up, believe it or not, this setup is just a walk in a park for a beginner too. the bridge is essentially a hub that can be connected to your modem, allowing you to connect all the bulbs and accessories you've got with Philips home kit.
With the latest edition of Philips bridge, you are able to connect 64 or 65 bits of equipment with the bridge. All you have to do is connect your bride to your Google Home, Alexa, apple home kit, or whatever that compatible with ethernet. And at last, just download the Philips app on your device and then, you know we have nothing to explain on that because it is too easy.
Let's see some interesting features you get from the Philips Hue Smart Bridge
Voice Control — With this ZigBee powered hub to voice control with Alexa, Apple HomeKit, and Google Assistant, the Philips Hue Smart Hub offers up to 50 Philips hue smart lights of your selection.
Remotely control your smart lights — don't bother If you are away from your home, you can simply take the control of your home system via the Philips Hue app.
More and more control for you — set up timers, alarms and also adjust the dimming patterns that make waking up or falling asleep every day really simple
Enhance your home system — with Hue Dimmer Switch, Hue Tap, or Hue Motion Sensor and some other plenty of enhancements, anyone can easily control the lights.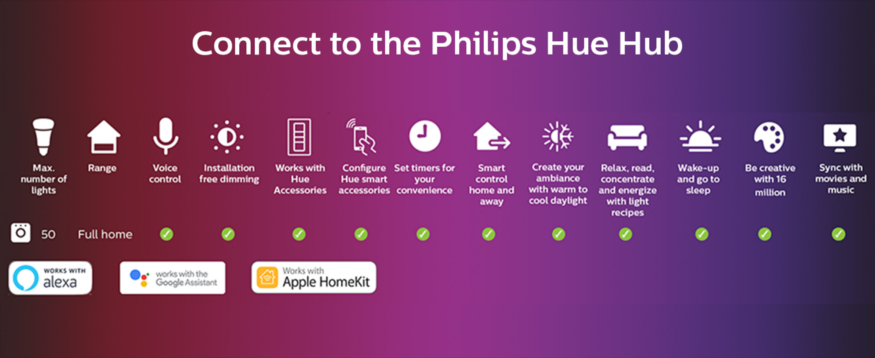 So now on, let's see what is the best selection for you and your budget.
Philips Hue Starter Kit — Newbie? Try this.
The biggest downside with the top-tier lighting brand is the cost. This also comes with Hue Bridge and a pair of plain, soft vanilla versions and color change support Philips Hue's smart LEDs. Also, there are RGB color support lights.
The Philips Starter Kit with LED is a perfect solution to replace your standard 60W incandescent with an over 800 lumens brightness. Will they cost you your electricity bill? A big No! The LED kit with some amazing features just uses 9.5 watts with great effectiveness as a smart kit.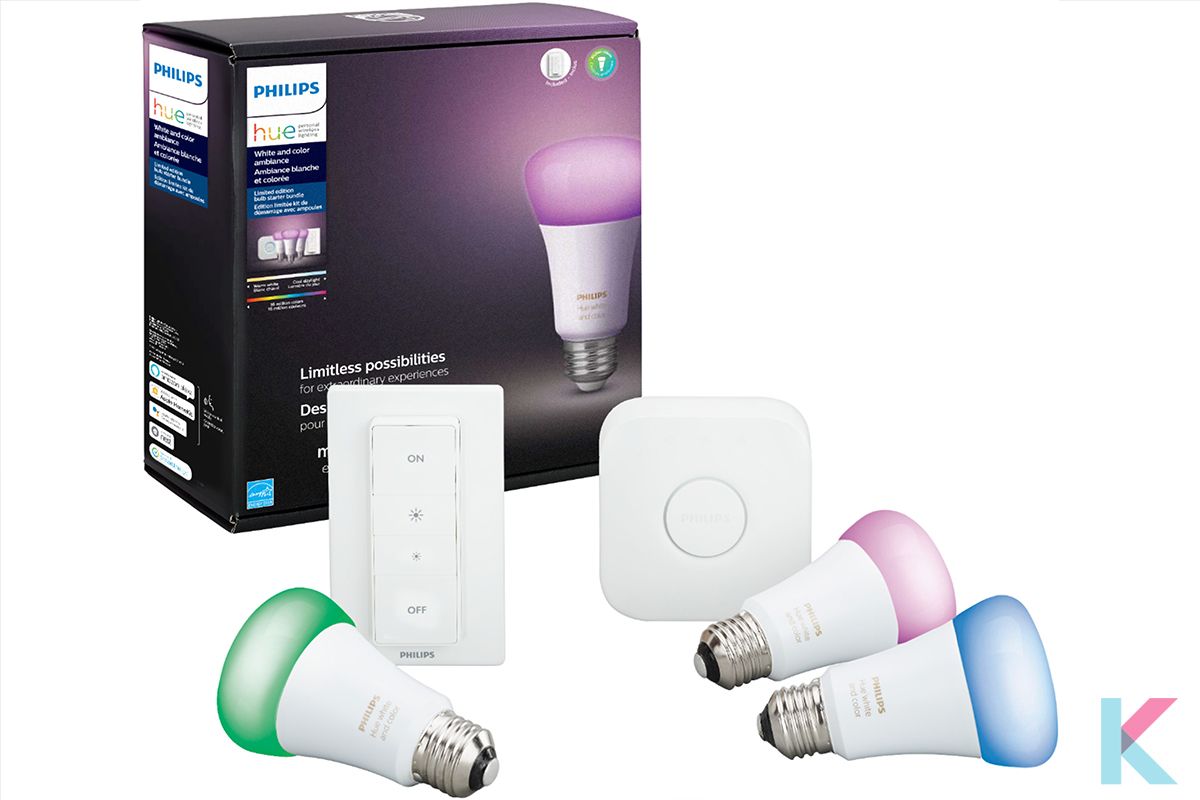 Why should you buy White Starter Kit?
Very responsive and fast
A great deal for everyone who wishes to have a smart light system
Compatible with 3rd party apps
Remote control outside the house too
Lovely decent output
Easier setup
As we can see, the Philips Hue Starter Kit is an overall decent product if your budget fits. We totally recommend this package for everyone who has an interest in smart lighting.
Below newbie Philips hue starter kit include Alexa, Apple HomeKit & Google Assistant support Color LED smart button, 3 Smart bulbs, and 1 Hue hub all together with special discounts.
Philips Hue Play Light Bar– The greatest light show.
16 million different colors? Yeah! One of the best loving features that Philips Hue Play Light Bar comes in a sleek, slim, profile that is composed of a solid lightweight plastic frame with a diffuser.
The best light show for your home is Philips Hue Play Light Bar. Isn't it so cool to see when everything around you lights up according to your background? Each light bar is around 10 inches long, small enough to be concealed behind speakers or behind the TV, but likely too thick to be hidden behind a wall-mounted TV. These can also be mixed and matched with your existing white hue lamps, allowing them to cover the light spectrum from 2,000 to 6,500 K.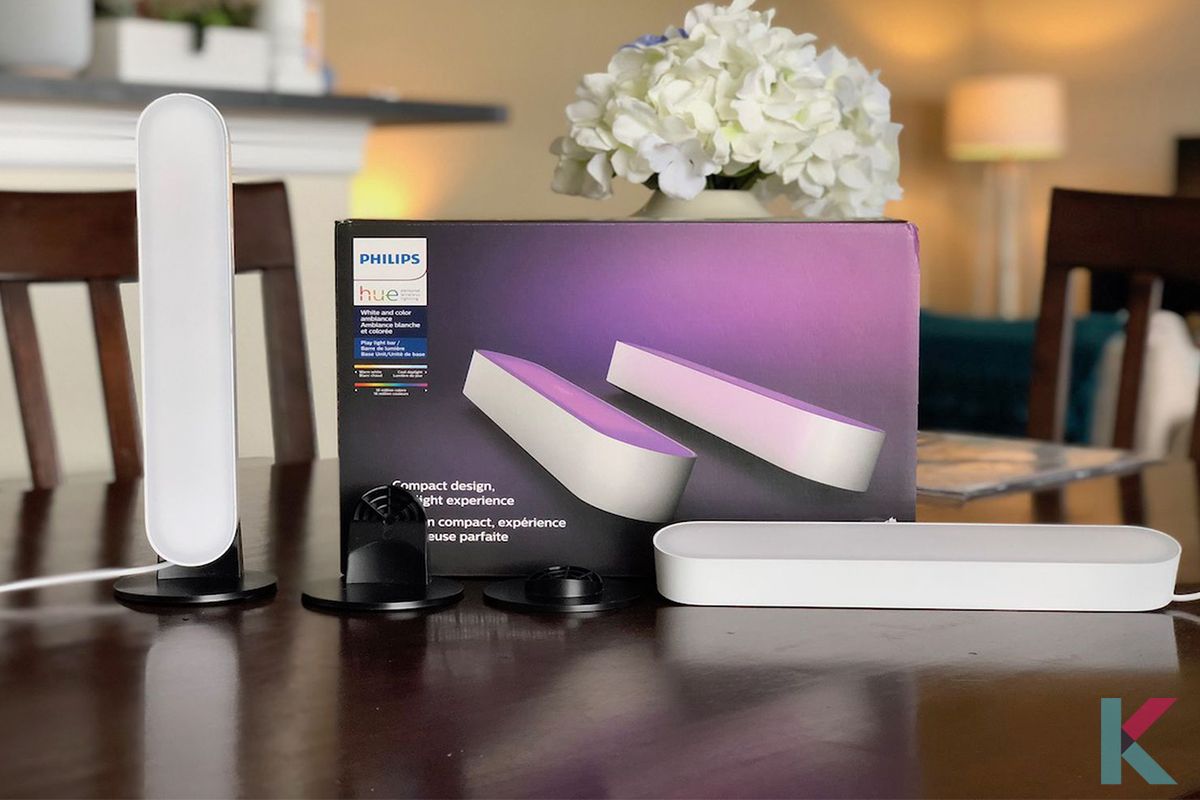 The next main device you should consider is HDMI Sync Box. This is the device that syncs the light system running on is on your TV, PC, or whatever.
And yet, The Philips Hue Play HDMI Sync Box is an HDMI pass-through device that syncs smart lights to whatever is on your TV, PC, or whatever. In the previous versions, you had to connect your laptop or your pc to enjoy the light sync on the tv but, fortunately, Philips' has upgraded that feature by now and you no longer need to do that. Quite interesting.
Whatever you do such as a gamer, streamer, Xbox player, PS player, or any, this Hue smart light system features real-time sync with your display with no visual lag at all. Philips Hue Entertainment now has a dedicated app for Hue Sync. Hue Sync lets you control the lights with brightness, speed, and intensity. The company also lets you set default preferences.
Why should you go for Philips Hue Play Light Bar?
Philips Hue Play is a sleek if pricey way to make your TV or PC display biased. Easy to set up and ready to fit with other Philips Hue Smart Lights. Can boost the image of your TV and reduce eye strain or use it for synchronous lighting effects in tandem with your computer monitor.
Why should you buy on Hue Play Lightbar?
An easy setup for both newbies and advanced users
Can be used integrated with the Philips Hue ecosystem
Amazing and stunning lighting effects
Syncs with TV and monitor
Lightweight and flexible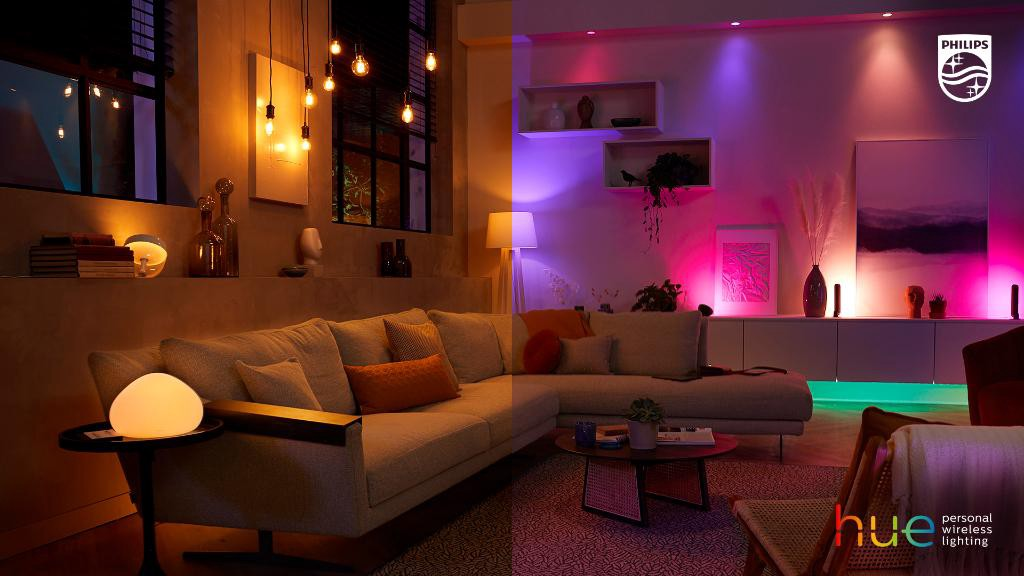 Final thoughts on Hue Play Lightbar,
Lightweight and flexible build ensures that it fits almost anywhere. Plays well with all smart home systems, keeping things clear even if you plan to change things in the future. The brightest colors are less annoying than Hue, but there are some annoying dark green lights.
Sync speed and confidence are high, and the Hue line-up plays well with any smart home system. But you will need the Hue Hub to turn them on and off, dimming and adjusting colors. It does need a Hue Hub, so if you are looking for bright lighting then you should be looking towards Hue already.
Philips Hue Lightstrip, Lightstrip Plus
The exclusive Philips hue light strip is the best method to add some eye-catching light ascend everywhere you wish to have. Of course, a vary of color range selection with an easier setup, user-friendly, Smart control with Hue Bridge is concluded with this package.
If you own a Hue bridge already, then you have already unlocked every single value for this Lightstrip. You don't? never mind, Philips offers you complete control over Lightstrip via Bluetooth or Zigbee. When it comes to ecosystems, Hue holds an unmatched brand name for sure.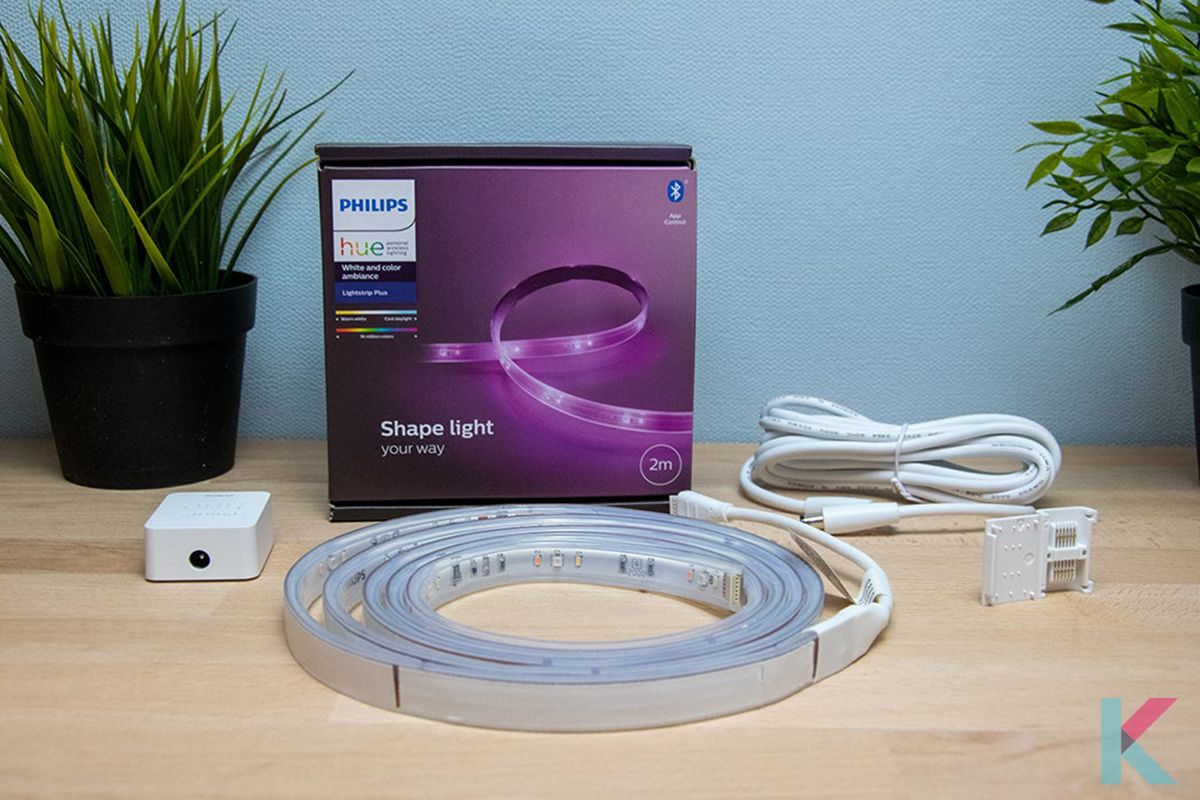 How about the design then? Hue Lightstrip Plus manages to be as unobtrusive as possible with its translucent plastic strip. Tiny LED lights are grouped together in sections shielded by a thick sheet of transparent plastic. The lights can be kept on nearly every level of surface thanks to the sticky backing on the rear.
If we move further on the installation process, the light strip is very easy to install. Just figure out where you would like to position it, peel it off, and stick it. Feels so easy nope? Controlling the lights with the Hue app is easy, and you can set up some minimal automation.
The pairing method is straightforward, and the app demonstrates how to pair them as well as pass all of your preferences and light settings. If you own a Hue bridge, you can have above every mentioned feature you get from the Hue Bridge such as tracking and controlling your lights from everywhere. Further due, you know that you can voice-control your lights too with Alexa or google home. Such a great feature.
They can also sync your lights with games through sound or color. They have a color temperature spectrum of 2,000–6,500K and an overall brightness of 1600 lumens.
So, what should you buy from Philips Hue Lightstrip?
Brings you huge compatibility from Bluetooth to voice and Smart Home assistants like Cortana, Alexa, Apple Homekit, SmartThings, IFTT, etc.
Easier connection for both newbies and advanced ecosystem lovers
The simple, stylish eyecatching design can be hidden and fits almost everywhere and every corner
1600 lumens brightness will lighten your whole place smoothly
Stunning features grabbed with Hue Bridge
Although when you think about how the Hue dynamically changes the appearance of your world with such limited size and little effort, it is a very small expense. That's why the Philips Hue Lightstrip Plus can easily be preferred if it suits the plan.
One last word,
We recommend going with Philips hue as your smart lighting ecosystem in 2021. We would suggest just buying one or two items at a time and slowly building your ecosystem over time. We can guarantee you that it will grow over time you cannot stop buying these lights it's like sick.
With such a brand name, such top-tier high-quality products, there is no other company to fight with Philips. Then the choice is in your hands. Enjoy your incredible eco-smart light system with Philips. If you love to know about not just smart lighting systems but also other smart home compatible devices like Best Alexa capable devices , Kodmy is the best place for you.