Eufy Security SpaceView Baby Monitor [Complete review 2023]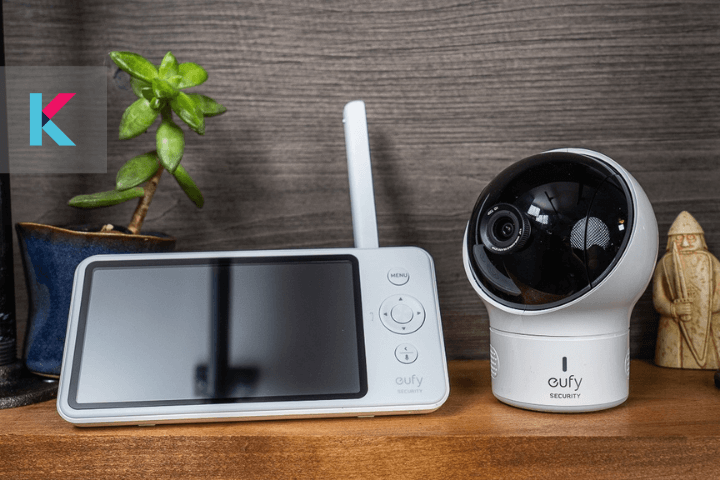 Do you want to enjoy your time while keeping an eye on your baby? Or Are you a multitasking momma? Then, don't waste your valuable time Googling baby monitor anymore. When your baby is crying, you can get alerted immediately from a baby monitor like Eufy even when you are sleeping. Don't worry. This Eufy SpaceView Baby Monitor review will cover everything you need to know.
What is Eufy SpaceView Baby Monitor?
Eufy SpaceView Baby Monitor is the pioneering In-Home HD Baby monitor with sharp 720p video. It has all the same features and the same camera as the Eufy SpaceView Pro. This gorgeous, reliable, and easy-to-use baby monitor is a great option if you are a new parent and it is a smartly designed system with a playful camera and an excellent parent monitor.
Also, you can use Eufy app for crying alerts and use Enomek to add them to Apple HomeKit.
Step guide for Enomek App Installation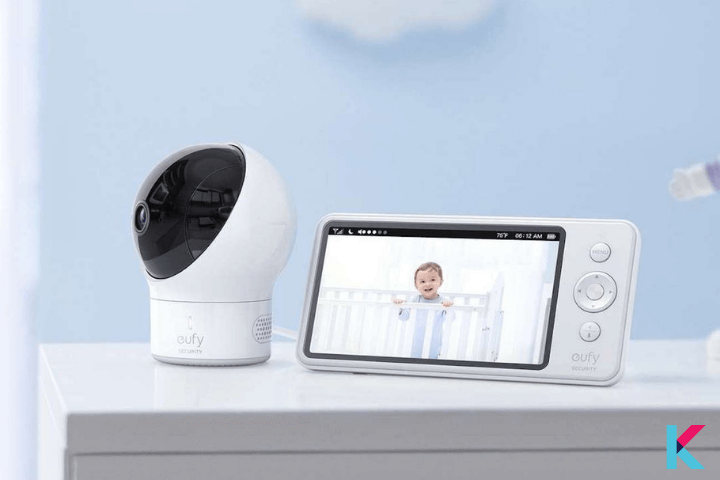 You don't want to spend time configuring the camera to connect to your Wi-Fi network and it is streamed from the camera to your portable parent unit directly. Also, you can choose from 5 relaxing lullabies so it will help put your baby to sleep. You know what Eufy is a brand known for smart security cameras and smart home appliances for your Smart Home. So, we can trust Eufy baby monitor without any doubt.
Compare with Similar products
Now, you have some idea about Eufy. Sometimes, if you are curious about the features, you can easily compare the Eufy SpaceView Pro with the Eufy Security Baby monitor. I'm sure. You may find the best comparison here.
Covered every corner and Pan from pillow to pinky toes
You can see the corner to the corner and see the floor to the ceiling since it pans the lens 330° and tilts 110°. So, you can expand the view to 110 degrees using the included lens. It helps you to keep in touch with your baby when starts to walk and run around.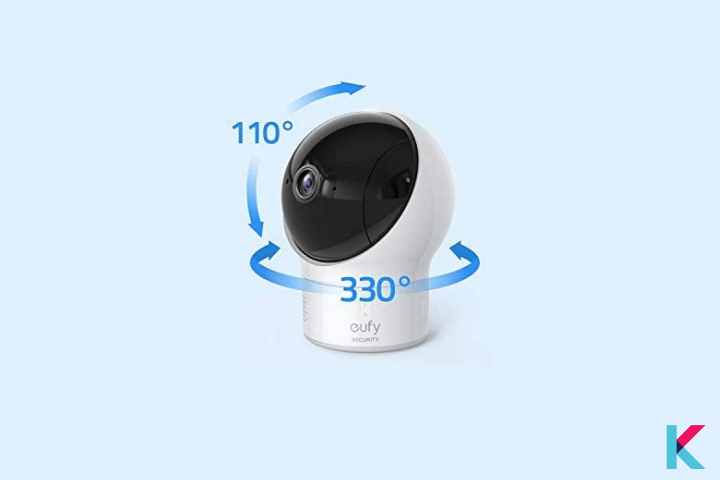 What about the Eufy SpaceView range? Be mobile wherever you are in your home as it covers 460ft- 1000ft range and it allows you to watch your little one. It isn't like an ordinary 240p-display baby monitor. It shows a sharp picture with 10 times more details than the ordinary display as it has a 5"720p large video baby monitor.
Rechargeable battery
It provides 15-hour monitoring with a high capacity 2900mAh rechargeable battery. So you can check in any time with ease.  Also, it is the best Eufy SpaceView Baby Monitor in the UK, Australia, and Canada. However, SpaceView Pro's monitor has a bigger battery than the SpaceView. It lasts for 1 hour longer.
Feel safe and secure
Even if you are elsewhere in the home, you can direct communication with your baby because of the Crisp Two-Way Audio. You can set the Eufy camera wherever you want, even on a wall. And, don't worry about the connection. You can trust the wireless FHSS transmission. This secure and private live stream is for you.
Sound-Activated Alerts
You will get an alert when there is noise around the camera. This feature is helpful during nights when you need some rest. You can also customize Eufy as you wish.
Instead, check out our Arlo Baby monitor article and find one that fits you and your little one.
If you're into Smart Home Automation, you might be interested in the best Baby monitor for your little one and compare the Eufy SpaceView Pro vs Eufy Security Baby monitor to select the best one.
What is in the box of the Eufy SpaceView Baby monitor?
Are you wondering what is in the SpaceView box?  Here are all the things in the Eufy box.
1 x Parent monitor unit
1 x Baby Camera unit
1 x Wall-mount with screws
2 x USB power cables
The Eufy SpaceView parent unit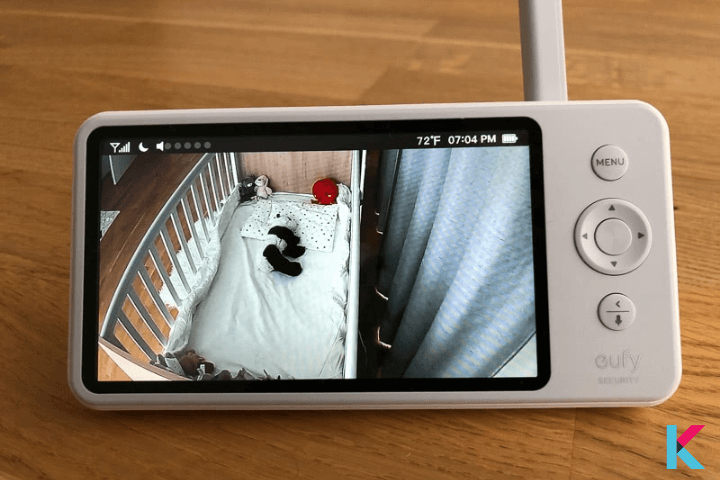 The Eufy parent unit is clean and easy to use. You can lay it on a table with a stand so don't worry about Eufy monitor replacement. If you want to extend the signal reach, it has a retractable antenna. Also, it has a 5" screen display and a screen playing the 720p video from your baby camera. You can turn off the screen of the parent monitor to save the battery if you want.  But, if the noise detects in your baby, it will automatically turn on.
Pros and Cons of Eufy Baby Monitor
Non-W-Fi Monitor- What does that mean?
Wi-Fi Baby router and the non-Wi-Fi Baby router are the two types of video feed monitors that you can choose. Wi-Fi Baby router connects directly to a mobile app via your home network. But non-Wi-Fi baby router comes with a parent unit (a screen dedicated to your monitor).
Have you ever heard about radio frequency to transmit video and sound from the camera to a portable monitor? This non-Wi-Fi SpaceView monitor is one of the example of that. Also, there are many Wi-Fi baby monitors like Arlo Baby monitor and Nanit plus. These monitors have full of helpful features for your baby. But there are some issues with Wi-Fi monitors.
Eufy SpaceView vs SpaceView Pro
You may buy the Eufy SpaceView Baby Monitor from Amazon via the below link.
You can also get the Eufy SpaceView Baby Monitor from Walmart for $99.99 via the link below.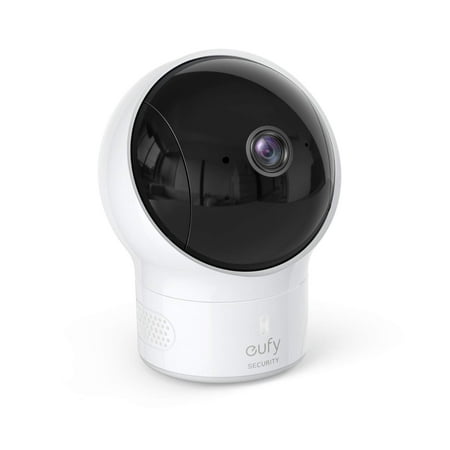 Setting up
When considering the setup, it is extremely simple. You just want to turn on the parent unit, and then both connect immediately. You can choose three placement options as you wish. As the first option, you can set it on a bookshelf or other raised surface. As the second option, you can mount it to the wall with the attached kit. Despite that, you can mount it to the crib with a clamp-looking attachment. Wow! There is no tedious configuration or extra steps to set up.
Security: Eufy SpaceView hacking
Don't bother about hacking. There are no chances of hacking. It uses an encrypted FHSS radio signal. It causes minimum hacking and security breaches. It connects to its parent unit via a wireless 2.4 GHz FHSS connection. So, it is safer than the WiFi monitor. Do you concern about your baby's safer? Then you have to place this at a safe distance from your baby to limit electromagnetic radiation exposure. When considering Eufy SpaceView vs Eufy SpaceView S, the only difference is that this SpaceView S comes with an extra clip to mount the camera onto your baby's crib directly. We don't recommend that because of the radiation exposure.
Why should I buy the Eufy Baby Monitor?
The Wi-Fi-enabled smart home devices tend to have security problems including Baby monitors, security cameras, and more. Sometimes, it may get hacked by intruders. So, a Wi-Fi-enabled baby monitor might not be worth the time or the risk. You won't have to establish another account, remember another password, or pair the SpaceView with your phone because it doesn't have Wi-Fi.
Instead, the SpaceView uses an FHSS radio connection to send data to a handheld unit. It's easier to put up, safer, and lets you keep an eye on your kids even if the power goes out. Also, this SpaceView comes with a standard 1-year warranty. Also, you can download the Eufy SpaceView user manual here.
Price comparison
Our pick
The SpaceView is a great pick if you're at the stage of kid rearing and it is our favorite Plug&Play Baby monitor. You can get your nice sleep when it is time for bed as night vision technology continues to monitor your baby. Of course, you might have a different view! I think this Eufy SpaceView baby monitor review is very helpful for you. You can find more exciting Smart Home news with Kodmy.
However, it is cheaper than the top range of Wi-Fi smart security cameras and health trackings system like Arlo Baby monitor and Nanit plus. We all know that not everything is perfect. But overall, you can go with the Eufy SpaceView.