Tesla HomeLink - Automatic Garage Door Opener for Tesla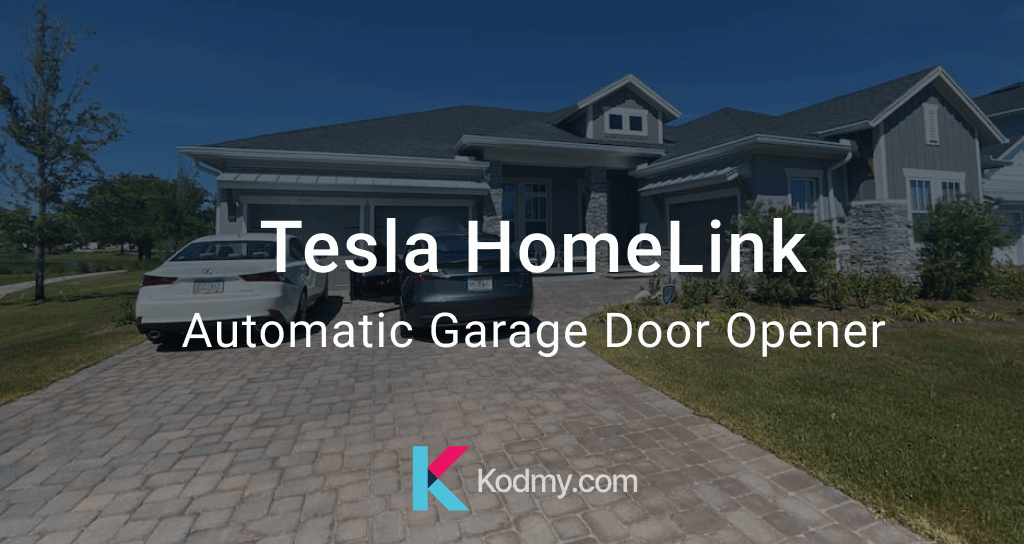 You might be wondering if you can integrate your Tesla with a garage door opener. Today, automaker companies are trying to attract their customers using their new features. Tesla is one of the automaker companies that use such features and their over-the-air update.
One such fantastic feature is Tesla's integration with HomeLink.
In this article, I would like to share my experience with HomeLink and we will be looking into How to integrate Tesla with HomeLink.
What is Tesla HomeLink?
HomeLink is the world's most famous vehicle-based wireless control system. It also works as an automatic garage door opening system. It does not come with your tesla but you can purchase it on the Tesla online store for an extra amount.
It is compatible with hundreds of garage doors.
It is also compatible with gates, and other devices.
Programming the Tesla Automatic Garage door opener is easy and quick (it automatically locates and synchronizes up with the code of the original transmitter)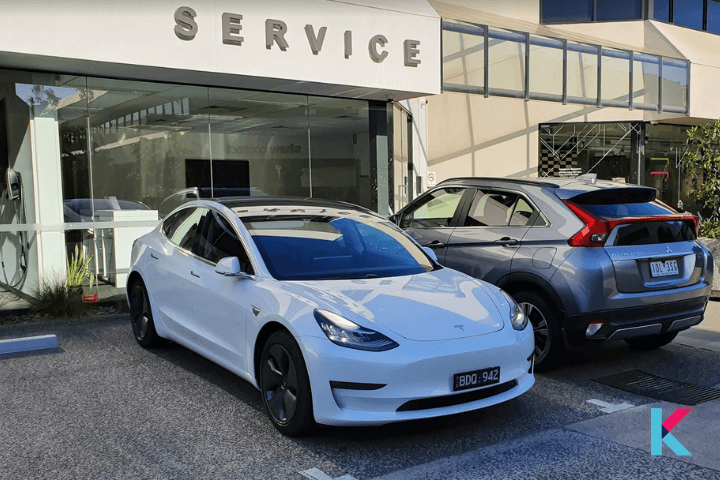 Model 3/Y Automatic Garage Opener
If you own Tesla Model 3 and Y, HomeLink can be installed as a retrofit for these models. My car also came with this interesting feature as an early adopter of the Tesla Model 3 in 2018.
Homelink connects your Tesla to garage doors, lights, gates, and security systems (three radio-frequency controlled devices). I would like to give step-by-step instructions on how to set up the Tesla HomeLink further.
If you own Apple HomeKit, you may be wondering How to connect Tesla to Apple HomeKit.
Is HomeLink worth it?  I'm going to help you answer this question. Below are the advantages and disadvantages of HomeLink.
Pros and cons of HomeLink for your Tesla
Some of the pros of HomeLink
Homelink is an easy and safe way to control your Garage door
Set up and program devices are easy
HomeLink works with nearly all garage door opener and gate systems
Some of the cons of HomeLink
It is an extra cost as don't come as standard
You can connect only three devices
If you're not close to the service center, arranging an appointment for an installation could be problematic.
Other Tesla compatible garage door openers
Looking for a Tesla-compatible garage door opener? Garage door openers are some of the absolute best for every home. We have great options for the Tesla garage door opener.
If you want to buy the best HomeLink Tesla alternatives, you can compare and select the best Garage Door Opener Tesla.
Further, if you have concerns about your pocket, you can buy the most affordable alternatives for that. There're many smart garage door openers on the market now. Below are some of the best alternatives to HomeLink.
MYQ Chamberlain Smart Garage Door Opener
MYQ Chamberlain Garage Door Opener is the best alternative to HomeLink. It is a Wi-Fi-enabled garage hub with smartphone control.
You can use this smart opener to open and close your garage door using the myQ app. Also, it can be used as a Tesla Model 3 garage door opener.
Looking for a way to add your myQ garage door opener to Apple HomeKit, Enomek is the best solution. Try Enomek.
Step guide for Enomek App Installation
You may also get this myQ Chamberlain Garage Door Opener from Amazon via the below link.
Meross Smart Wi-Fi Garage Door Opener
Meross smart Wi-Fi garage door opener is also the best tesla model 3 garage opener. It has unique features such as it doesn't need any hub to control it. It is also compatible with Alexa, Google Assistant, and IFTTT.
Looking for a Wi-Fi garage door opener? Then, this is the best one for your garage. Hurry up! You may get this Meross garage door opener from Amazon now.
It is easy to integrate your Tesla Model 3 with your garage door opener. But you have two options to either select the HomeLink or select the alternative to HomeLink.
How do you use Tesla HomeLink?
HomeLink will open your Garage door when arriving at your home automatically. It uses GPS technology and you can define the distance from the garage or the gate. Not only open your garage door but close your Garage door automatically.
You want to set the distance as you're backing out of the garage. Don't worry! There are no buttons to press during this process and it'll automatically detect using signals.
Want to tell your Tesla has HomeLink? Then, you can easily tell your Tesla using the car's display. You need to go to Control and then Software. Next, you want to tap on Additional Vehicle Information and you can see several details.
You can see a lot of information such as which full self-driving computer hardware is installed, whether you have the HomeLink garage door opener hardware installed, infotainment processor, and more.
How to check If you have installed the HomeLink Module?
See 'Not installed' or 'HomeLink' next to "Garage door opener".
Or, see whether your car is capable of opening garage doors or not.
You can use the Tesla HomeLink model 3 using the touchscreen and auto open and close method.
You can purchase HomeLink for Tesla models 3 and Y at Tesla online store and your local Service Center.
Control your garage from your Tesla App
I'm excited that Tesla added this fantastic feature and you can use the Tesla app to control the garage door. Here's how to control the garage door with the Tesla app.
Step 01: First, you need to go to your Tesla's touchscreen. And then you can go to control > Autopilot, and select the Summon button.
Step 02: Once you click the summon button on your Tesla's touchscreen, tap the HomeLink icon and select your garage door
Step 03: Next, open the Tesla app and If you click on the summon button from the Tesla App, you can find the HomeLink button on the top right-hand side. Your garage door opens and closes automatically when you press that button.
But, you need to have a Full self-Driving suit or Enhanced Autopilot installed to open and close your garage door with the Tesla app. If you don't, you need to change the order of your garage doors.
Also, you can control your Tesla HomeLink without remote control.
Supported Modes
There're three supported modes namely Standard Mode, D-Mode, and UR-Mode. You can select the transmit mode based on your Radio Frequency devices compatibility.
Standard Mode: Standard Mode is a frequently used mode for your HomeLink devices. This mode can be used to operate your RF device if your device has a remote control.
D-Mode or UR Mode: If your RF device doesn't have a remote control, you can use this D-Mode or UR Mode.
You can set it to a different mode as you wish. If you want to change the transmit mode, you have to touch the HomeLink icon on the Control screen. You can follow these steps to change the mode. (Go to the Control Screen > Touch the HomeLink icon > Select the device you want to change. Select Program > Choose the mode > touch Set Mode > Follow the onscreen instructions)
Program Tesla Garage Door Opener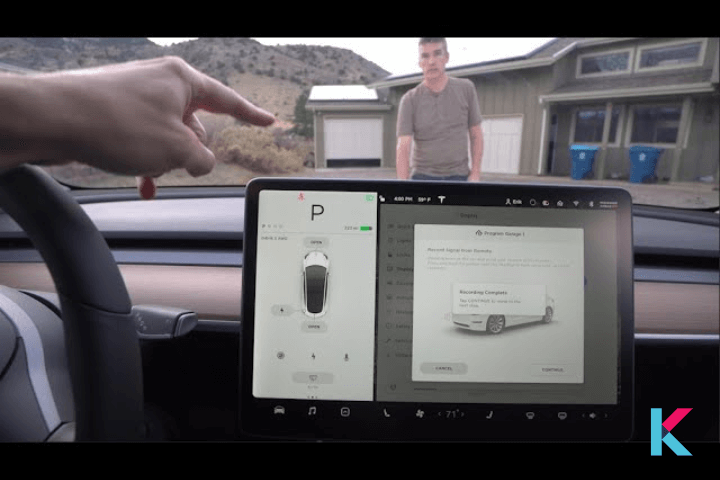 Want to program your HomeLink? If you want to set up your Tesla car to automatically open the garage door and close the garage door. You can do this using the car's interface or using the Tesla app. All you need is a remote that comes with your garage door to program your car.
You have to do several important things before programming HomeLink.
You have to make sure that objects are out of the way and you need to park your vehicle outside of the garage.
You had better get a new battery for your garage door remote
Sometimes, your garage door can use a rolling code. Then, you'll need a stepladder or other sturdy or safe device to reach the "Learn Button" after the programming.
All you need to do on your own is to set up the HomeLink garage door at home after the installation at the service centre. Follow the below instructions to connect your Tesla to HomeLink
Step 01: To get started you want to park your car in front of your Garage door
Step 02: This programming process takes a certain amount of time. So, Before programming makes sure to have plenty of space and a good step ladder
Step 03: Next, you can go to the Tesla's touch screen. Then, you'll tap on the control, Setting, and HomeLink icon. Also, you can add compatible accessories to HomeLink such as garage doors, lights, or gates.
Step 04: Start by clicking on the "Add a new HomeLink" button and then you can create a new profile.
Step 05: Before creating a new profile, you want to enter the name for the garage door and next tap "Create HomeLink"
Step 05: After that, you need to select the mode as standard mode, D-mode, or UR-mode. This mode can vary based on the location and the programming method of your vehicle.
Step 06: Once you set your preferred mode you want to click "Set Mode" and select "Program". From there, all you need to do is follow the on-screen instructions
Step 07:  You need to park your vehicle in front of your garage hence the car uses this location to detect the status of your vehicle.
Step 08: Now, you'll need to point your garage door remote at the front bumper of your car. And, then you want to press and hold the open button for up to 30 seconds.
Step 09: If you see your Tesla's headlight flash, your car was programming successfully.
Step 10: Next, you can go back inside your car and then tap the "Continue" button if it doesn't use a rolling code or if the remote is Quick-Train compatible.
Step 11: You can go to the garage door opener and then click the learn button to learn the Tesla's code.
Step 12: Once you press the button, you'll need to go to your tesla and tap "Continue". This will prevent unauthorized use of your garage door.
Step 13: As the final step, if you want to test the programming, you need to press the HomeLink button in the car. That's it.
Best HomeLink Tesla Products
01. Gentex Series 8 Frameless Auto-Dimming Mirror with Homelink and Compass 50-genk85a
Main Features:
Frameless Auto-Dimming Mirror with HomeLink
5-Year Guaranty
02. Advent ADVGEN40A4 Gentex Auto Dimming Rear View Mirror with Homelink 4
Main Features:
Auto-Dimming
HomeLink integration
03. ELENAT for Tesla USB Hub
Main Feature:
This contains 2 fast charging cable, 1 USB-A port and USB-C port
27W Fast Charging
Durable ABS material
04. HANSSHOW Door Sill Protector with LED Light for Tesla Model Y 2020-2023
Main Features:
Magnetic Control Illumination
Easy to clean
Unique design
High quality materials
For anyone interested in Apple CarPlay, you can enhane your Tesla experience with Apple CarPlay and if you are looking for some cool smart ideas, check out our Smart Home Blog.‌‌
FAQs about Tesla HomeLink Garage Door Opener
01. Do Tesla's have HomeLink?
HomeLink enables seamless integration between your Tesla and up to three radio-frequency-controlled devices, such as garage doors, gates, lights, and security systems.
o2. How do I access HomeLink on my Tesla?
Click on the HomeLink icon > Click create HomeLink > Enter a name for the device > Click Enter or Add New HomeLink > Select the mode > Click Set Mode
03. Did Tesla get rid of HomeLink?
Tesla removed HomeLink from Model 3 premium interior cars.
04. Does Tesla charge to install HomeLink?
Tesla charges a $350 installation cost for HomeLink.

05. Who owns HomeLink?
The HomeLink product line was originally developed by Johnson Controls. It was later acquired by Gentex in 2013.
06. Can I install HomeLink hardware myself?
No. You need to get help from Tesla service technician to install HomeLink.