How to connect Ring Devices to Alexa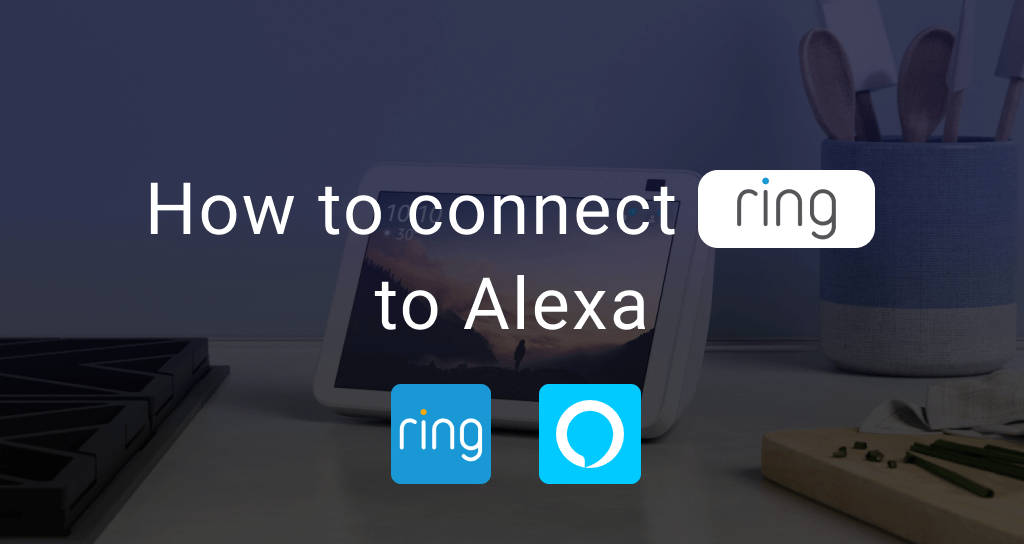 Have you ever thought of monitoring the security of your entire home by connecting any Alexa-enabled device to Ring devices? It's not as hard as it seems once you get used to it. Ring devices are specially created to secure homes in a smart way and are well-compatible with Alexa. There are many ways that these two can work better together.
Here's everything you need to know on how you can do it easily. Keep reading on!
Ring Alexa connected devices
Ring Doorbells with Alexa
Ring Security Cameras with Alexa
Ring Alarm with Alexa
Smart lighting with Alexa
How to connect Ring devices to Alexa?
Integration of Ring Alexa is a straightforward process that involves two main steps: linking Ring and Alexa and then discovering and connecting with the devices.
Linking Ring and Alexa Account
Before anything, you'll need to download the Alexa app and Ring app on your mobile, PC, or tablet. The apps can be found on Google Play Store or the App Store.
Download the Ring app on your smart device and follow the given instructions to create an account.
After signing up, add the Ring devices to the account.
Download and install the Alexa app on your device through the application store.
To use Alexa, you need to have an Amazon account. If you already have one, use the same credentials to log into the Alexa account.
Connecting Ring and Alexa
Now you have both Ring and Alexa apps on your device. So, it's time to connect Ring devices with Alexa.
Open the Alexa app and tap on more
Click on Skills and games
Tap the search icon and type 'Ring'
Select Ring skill from the results
Click on enable to use
A new screen will open where you can link Alexa with the Ring. Scroll down until you find enable skill and link accounts and click on it
Now the Ring account will be signed in through Alexa app. You can confirm it by clicking on authorize. And all done!
The above steps can be used to connect Ring devices to smart devices such as Echo Dot, Echo Show, Echo Spot and Amazon Astro. If you are wondering what are the capabilities of these devices, here's a small description about them,
Echo Dot- If you are looking for a smart speaker under budget, this is the best choice. It is an excellent speaker which is also compatible with Alexa. And it is capable of working as a smart home hub.
Echo Show- It's a smart speaker that comes with an extra feature: a touchscreen display! This display can be used to view all the visual information which brings a seamless experience with Ring video doorbell and Alexa.
Echo Spot- This device is a compressed version of Echo Show. It displays video from the front doorbell on a small screen and it still worth.
Amazon Astro- Astro is a multi-purpose robot and you need to learn a lot on how to use it. It is well compatible with the Ring protection program and gives the ultimate home monitoring experience where you can check the doorbell or the inside of the house even when you are away from home.
Communication between Ring and Alexa
Now that your Alexa and Ring are connected, you can choose a way to communicate from several different commands. This is helpful in maximizing the use of these two.
Two-way communication
You can use two-way communication. When a person rings the doorbell, you are able to speak directly with them by using Amazon Alexa. The commands like,
'Alexa, answer (device name)
or
'Alexa, show me the (doorbell)
Can be used for this. This is easy as you don't need to answer your door at all. You are able to engage in a conversation with a person standing outside of the door from inside your home.
You can also watch the person that you're talking to if you have a device like the Echo Show.
Alexa-Ring Chime notifications
Alexa can be used as a chime notification when there is someone present at your door, or a motion is identified. This feature can be enabled with Ring and Echo Show or Ring and Echo Dot. It allows these devices to act as Door Chime.
To get chime notifications, connect Ring doorbell and Echo Show or Ring doorbell and Echo Dot, and follow the instructions below on Alexa app,
Click on Devices at the bottom right corner
Tap on all devices at the top
Click on the Ring doorbell device that you want to chime the echo device
Select doorbell press announcements to enable the feature
Make sure that all communication and announcements are enabled on each device you use to chime. And the 'do not disturb' feature must be disabled
Alexa Devices and Ring: what can you do with them?
If you have an Echo Spot, Echo Dot, or Echo Show with a Ring protection subscription, in addition to checking who is at the door, you can view the recent video recording history of the Ring devices.
Commands such as,
Alexa, show the last activity from [device name]
Alexa, show the recent recording from [device name]
Can be used to check on them.
You're able to connect your Ring Doorbell device to your Alexa-enabled device easily. Here are some Ring Alexa integrations you can do,
Connect Ring Doorbell to Alexa Echo Dot
Connect Ring Doorbell to Echo Show
Connect Ring Doorbell to Echo Spot
Connect Amazon Astro's Alexa with Ring Doorbell
The subscribed features such as Ring Protect with Ring Video DoorBell Pro Ring can also be connected with the Alexa greeting feature. This is specially designed to instruct delivery people on where to keep the packages or to record any special messages from visitors.
If you're also interested in trying out different smart home devices compatible with Alexa, we also suggest you to checkout out TP-link Kasa Alexa article.
When it comes to the smart home concept, going for Ring and Alexa is a solid choice. Because they are one of the most trusted smart solutions in the industry and all of the products guarantee good service and safety. And what is coolest about Alexa is that it makes it easy to set up integrations of Ring with any compatible smart device within a single platform.
FAQs
Can you make your Ring doorbell display on your Echo Show automatically?
All the Ring video doorbells have the ability to pull up the live feed on Alexa automatically.
Can Ring doorbell use Alexa as a chime?
By using a device like Echo Show or Echo Dot, the chime will work with Alexa.
From how far Ring and Alexa can hear you?
The optimum distance is 20-30 feet away.
Why are Alexa and Ring Doorbell not connecting?
Make sure that both are connected to the internet through Wi-Fi.
Can you use Ring with Alexa?
Yes. And to do it, you have to add Ring as a skill in Alexa.
Ring is owned by Amazon.
What commands can Alexa do with Ring?
Alexa can do so much with Ring including showing video footage of the door, answer the door, send chime notifications, speak to your visitors etc.