August Wi-Fi Smart Lock - Complete Review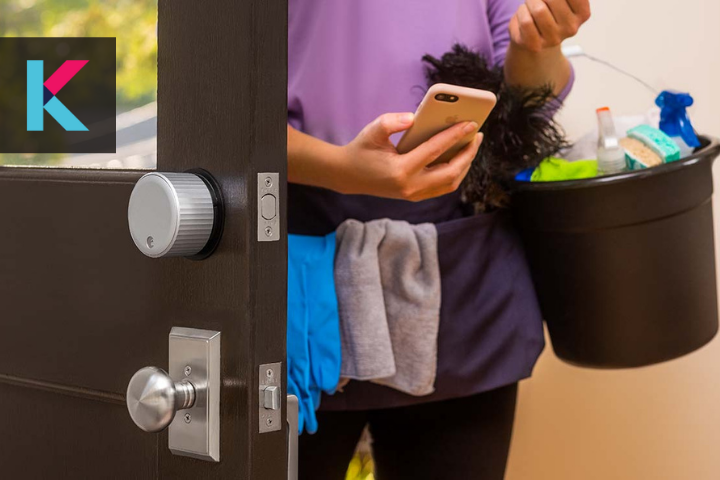 Do you want to make your smart home even smarter? Many smart locks connect through Bluetooth to your smartphone. It also lets you control the smart lock from close range. For control outside of that range, you need a Wi-Fi connection. So, you can control it from anywhere in the world using Wi-Fi connected smart lock. We have reviewed the best Wi-Fi smart lock for you. Here's what you need to know about August Wi-Fi Smart Locks.
What is August Wi-Fi Smart Lock?
August Wi-Fi Smart Lock 4th Generation is the number one smart lock with built-in Wi-Fi. So, you don't require an additional bridge to connect it. Now, you can upgrade your deadbolt with this. So, if you want to know the door status, you can guard your door with August Smart Lock.
Don't worry about who's coming and going to your home. The August smart lock allows you to see who's coming and going. This is the best smart lock in Australia, Canada, and the United Kingdom. When we talk about the August Smart Lock compatibility, you can even control it with your favorite voice assistant Amazon Alexa, Google Assistant and Siri. Also, it is easy to install and attaches to your existing deadbolt.
Is your August Smart Lock compatible with Apple Homekit?
Moreover, its simple, clean design is very useful as it fits any home's style. Even you can't imagine what your door can do for you. You know what it provides a smarter way to come and go with a seamless experience. As well as you can control your doors using the August app from your iPhone or Apple Watch from anywhere.
And, it is partners with the leaders in smart home technology. So, everything works together seamlessly with latest Smart Home Technology. August locks fit into your existing smart home and pair it with Alexa, Siri, Google Assistant, and more.
Pros and Cons of August Wi-Fi Smart Lock
After knowing the benefits of this August Wi-Fi Smart Lock, you may get the August Wi-Fi Smart Lock from Amazon. Click the image below.
Features of the August Wi-Fi Smart lock
Door Sense- Door Sensor is one of the useful features that only August door locks have. So, you can know your door status whether your door is securely closed and locked without any stuff.
Smart Alerts- You can get a smart alert if anything changes with the status of your door. Also, you can customize smart alerts to notify you.
Auto-Lock and unlock- The auto-locking feature automatically locks your door once it is closed, and the auto-unlocking feature automatically unlocks it once it is opened or after a preset amount of time. August can know when you have returned home using geo-fencing. So, you'll never have to worry anymore whether your door is locked or not.
Many ways to access your door - Now, you can access your door with Smartphone, August keypad, Apple Watch, or you can keep your original key. By using the August app on your smartphone or Apple Watch, you can easily manage or control your door.
Unlimited control - If you want to control your front door from anywhere, the August smart lock facilitates you to control it anywhere with your phone. Remote access is one of the easiest ways to control your door. It can be done by the August app. So, it lets to remotely control or secure your door when someone forgot to lock your door. You can send secure keys to anyone you wish and manage access from the August app. And also, there is an August's Activity Feed on your app to see what time guests enter and leave your home.
You may get the August Smart Lock, 3rd Generation from Amazon for $98.97. Click the image below.
August models compare
Now, you have some idea about the comparison of August models. If you think to compare the August Smart lock and Wyze smart lock, you can find the best smart lock comparison here.
How does August Smart Lock work?
As you approach your home, your August Smart Lock will not only unlock but also lock the door behind you. Your lock will automatically lock after a specified time if you activate the August Auto-Lock option in your August app. Auto-Lock ensures that your home is safe and secure, whether you're at home or not.
DoorSenseTM must be installed and configured before Auto-Lock can be enabled. This how-to document can assist you in doing so. Simply open your August app, go to "Lock Settings," select the "Auto-Lock" button, and specify your "Auto-Lock Timing" once DoorSenseTM is configured. This is the same location where you may manage your Auto-Unlock feature.
Auto-Lock, unlike Auto-Unlock, is affected by your phone's location. Auto-Lock seals your door after the amount of time you specify, whether you are at home or on the go. You can choose between 30 seconds and 30 minutes before your door locks again automatically. Auto-Lock is activated whenever the door is opened, rather than on a set timetable. Do you want your door to be locked at all times? The Auto-Lock Timer should be set to 30 seconds. Maybe you're constantly in and out of the house. Set the Auto-Lock Timer to run for a longer time.
Unlike other proximity locks, Auto-Unlock uses your phone's technology to determine its location. In addition to the August app, August Auto-Unlock makes advantage of your phone's Bluetooth, Wi-Fi, and GPS. Your phone's operating system communicates with the August app to manage all of these systems. The August Smart Lock will be able to determine the proximity of your phone with superior precision and safety if you use this method. So, how does the August app know when to unlock your door automatically?
If you want to know more about Best HomeKit compatible devices, you can find the best devices here.
Home and Away are the two states that govern how Auto-Unlock works in the August app. When you're at home, your August app switches to Home Mode, which disables Auto-Unlock. Your August Smart Lock will not unlock automatically when you are in Home Mode. The August app will go into Away Mode as soon as you leave your house. The August app waits for you to go at least 200 meters away from your house before switching to Away Mode. When the app is set to Away Mode, your August Smart Lock will wait for you to return home before unlocking automatically.
Your phone will start checking for your lock as soon as you are within 200 feet of your house. The August app will locate your August Smart Lock within 20-30 feet of your door, instantly unlock it, and return you to Home Mode. No more fumbling with full hands for keys or your phone; everything is done automatically based on your proximity to the lock.
Installing the August Wi-Fi Smart Lock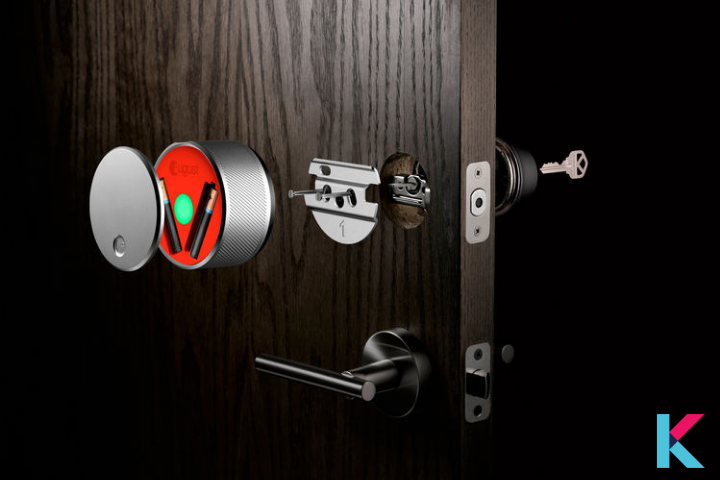 The August Wi-Fi Smart Lock has an easy installation process as it takes less than 10 minutes to install. It can be simply installed on the inside of your door over your existing deadbolt. Also, you can leave your outside lock alone and keep your existing deadbolt and keys. Don't worry about august door lock compatibility? It is compatible with most single-cylinder deadbolts. Its retrofit design makes them easy to install without replacing your existing deadbolt.
Once you want to download the August app available on iOS or Android, there's a helpful guide to follow. It contains animations to walk you through the process. As well as in-box instructions are simple to follow.
Here are several smart lock tips to follow when installing a smart lock
Be sure your door closes well before beginning the installation process
You had better make sure the deadbolt moves freely
Check your Wi-Fi connection and make sure you have a good Wi-Fi connection
Keep your screws organized
What deadbolts are compatible with August Smart Lock?
Many types of single-cylinder deadbolts are compatible with August Wi-Fi Smart Locks. By now only August Smart Locks are compatible with these single cylinder deadbolts. Also, the August Wi-Fi Smart lock is compatible with Yale flat round single cylinder deadbolt. However, isn't compatible with Mortise locks, Double Cylinder deadbolts, Multi-Lock or single-sided deadbolts, and Medeco deadbolts.
Here's the list of Assa Abloy's Emtek and Yale-branded deadbolts that are compatible with August Smart Locks.
Emtek
Modern StyleNeos Style
Square Style
Round Deadbolt
Urban Modern Deadbolt
#8 Style Deadbolt
Quincy Deadbolt
Low-Profile Deadbolt
Rectangle Deadbolt
Regular Style
Saratoga Style
Knoxville Style
Rope Style
Arts and Crafts Style
#1 Style
#3 Style
#4 Style
#2 Style
Tuscany #11 Style
Tuscany #14 Style
Bronze Rustic Modern
Tuscany Octagon Style
Tuscany Style
Tuscany Bronze Style
Martinique Deadbolt
Yale
Flat Round Single Cylinder Mechanical Deadbolt - 4881N19FR *
82 Premier Single Cylinder Deadbolt – D881N01
82E – Edge deadbolt – EDSC156
83 select – D981N01
820 New Traditions – 4881N19
Lock Brands A-L
Lock Brands M-Z
Prices and release dates
Is August Wi-Fi Smart Lock safe?
Encryption – August smart lock encrypts data securely with Bluetooth Energy (BLE) technology encryptions and TLS in your mobile application.
Authentication – If you expect added level of security, you can verify your identity with a second form, either a phone number or email.
Lost Phone- You can disable your August app quickly and easily when something happens to your phone. And you can also disable all virtual keys at any time.
Biometric Verified Access- With this new feature, you can lock and unlock your door using your fingerprint or facial verification. So, it provides extra security for your doors.
In search of another HomeKit compatible Smart Lock for your home? Now, you can find Apple HomeKit / Home Key compatible locks here.
Our pick
If you're looking for a Wi-Fi smart lock, this August Wi-Fi smart lock puts smarts at your door without replacing your deadbolt. Anyone who wants a smart lock, but wants to keep your exterior hardware traditional, this August smart lock is for you. It is a bit expensive, but you won't have to spend any extra money on a Connect module. Further, if you love August Smart locks, this is a perfect choice as it is easy to install and packs a ton of features into its compact frame.
You may be interesting in Smart Home Automation. So, you can go to our Smart Home blog to get latest information related to your smart home.
FAQs about August Smart Lock
01. Which August Smart Locks are compatible with Apple HomeKit?
August Wi-Fi Smart Lock
August Smart Lock Pro
August Smart Lock, 2nd Gen
Connected by August Smart Locks
If your August Smart Lock isn't compatible with Apple HomeKit, you can use Homebridge, HOOBS and Raspberri pi solutions for that. So, you can control your non-HomeKit compatible August lock with HomeKit with these solutions.
02. Can August Smart Lock be hacked?
Yes, they can be exposed to hacking hence it uses Wi-Fi. But no incident has been reported yet.
03. Can you open August Smart Lock without phone?
The answer is yes. August Smart Lock gets a keypad and it pairs with the August Smart Lock. So, you can unlock your door using this keypad code.
04. Does August unlock automatically?
If you want to auto unlock the door, you need to reset the mode to Away mode. When you set the away mode it thinks you are away from home. So, it'll be lock automatically.
05. What happens if August Smart Lock battery dies?
Don't worry about it. It retrofits the existing deadbolt. So, you can use physical key to open and close your door.