Phyn Plus : Smart Water Assistant + Shutoff (2nd Gen)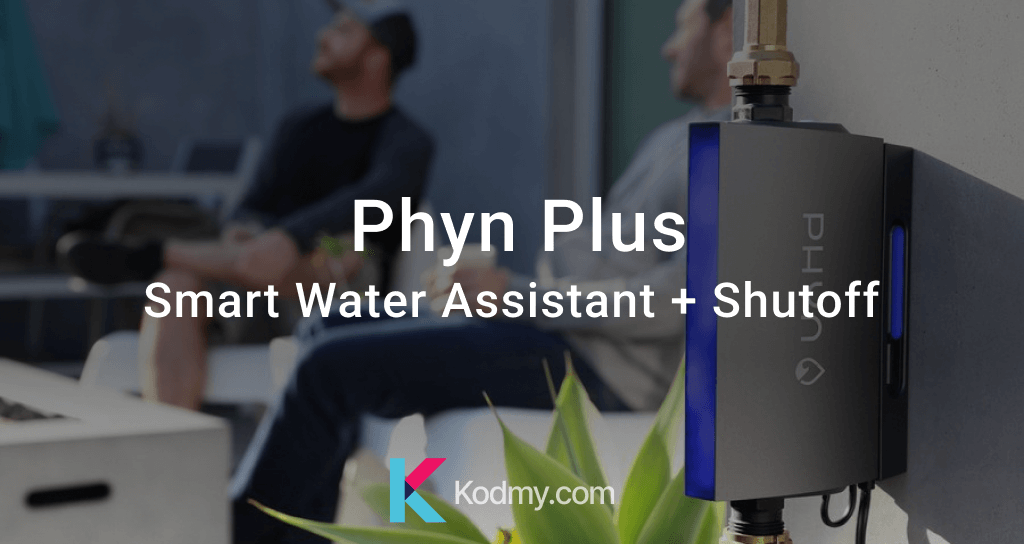 When it comes to home safety, smart water shut-off valves are very important to your home. It has been designed to shut off automatically in case of a major leak. So, this helps you to save huge expenses and reduce unnecessary wastage of water. Now with the idea of turning your house into a smart home, we'll dive into the Best Phyn plus Smart valves review.
What is Phyn plus Smart Valve?
Simply put, Phyn plus (2 nd Generation) is a new smart water assistant + shutoff that is re-engineered to be more affordable and 25% smaller than the first-gen. It can alert you the second a leak is detected using a patented, high-definition pressure wave. Also, it identifies potential plumbing problems and mitigates costly damage through automatic shutoff.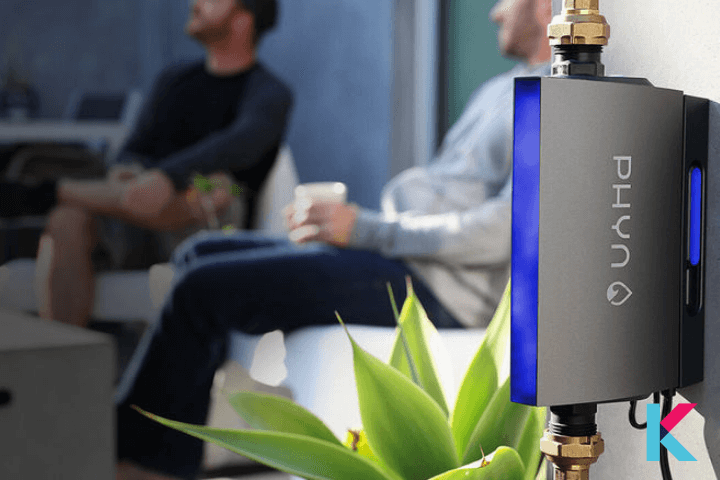 This device is equipped with ultrasonic sensors so that you can measure the current water temperature, measure the water pressure, and flow rate. These are reported in real-time to the Phyn app.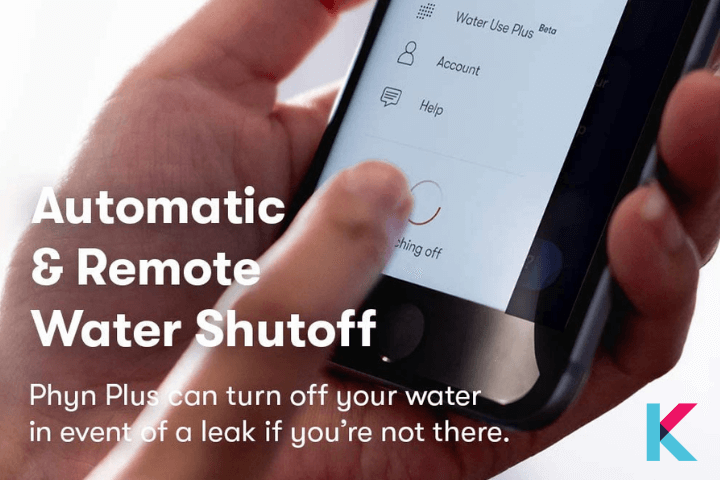 Phyn app is split into two sections: Water use and Water Use Plus. You can see the bar chart in the water use section. It reports the number of gallons of water you've used for a month. Also, the Water Use Plus section presents monthly water consumption in a calendar format and tracks each water-use event. It provides more informative details for you.
In addition to that, it sends a push notification and text messages when detects a problem with your water supply.
Are you more into an Android or Apple HomeKit?
Android User - This is compatible with Google Assistant and Amazon Alexa, so keep reading.
Apple HomeKit user - Ever wondered how to integrate Phyn plus with Apple HomeKit? See How to add Phyn Plus to Apple HomeKit?
Features of Phyn Plus
Water leak detection + Water monitor system
You can save your money on water usage using this Phyn plus 2nd Gen and prevents frozen pipes. (Protect your home from water damage, Understand potential leaks, and Monitor your water usage)
Smart Home-enabled water sensor alarm
Don't worry! This Phyn plus alarm keep your home watertight by detecting drips and leaks.
Receive real-time alerts
When it detects a potential issue you can receive real-time alerts in seconds with the Phyn app.  It also sends all the details you need to help identify the issue and turn off your water from anywhere. The Phyn app is available for your iOS and Android smartphone.
Whole-home protection with one device
Phyn plus connects to your existing Wi-Fi so you can protect your entire home's water system from a single location. Don't require you to place multiple sensors or additional hubs.
Make your smart home even smarter
It works seamlessly with Google Assistant and Amazon Alexa. So, you can easily control your water with the Alexa voice command. Ask Alexa "How much water have I used this month?" or "tell phyn home assistant to turn the water off."
Pros and Cons of Phyn plus water valve
How to control the Shutoff valve
Via the Phyn App and voice command
From the device when it is powered on
Manually when it isn't powered
No power? Don't worry about that.  You can unlock and shut off the valve manually without power.
Phyn Plus installation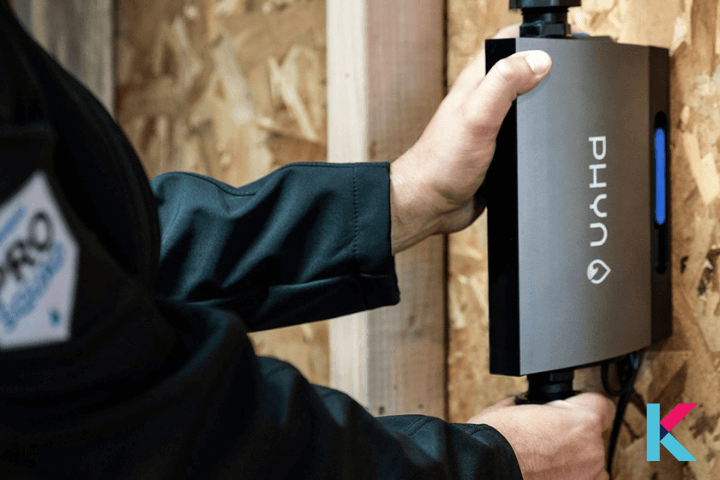 When you get installed Phyn plus you want to get help from a professional plumber. Do remember! It gets installed on the main water line where your shutoff valve is. It can be installed either indoors or outside. But, if you want to reach the device you'll require having a power outlet within 15 feet, a Wi-Fi signal, and the main water supply line 11/4" or smaller. Also, you had better measure your W-Fi signal strength before installing the Phyn. However, Phyn plus installation cost can be an extra cost to you.
Here, you can download the Phyn plus smart sensor manual for homeowners.
Compatibility of Phyn plus water assistant + Shutoff
If you're an Android user, this is especially for you. Phyn works with Amazon Alexa, Google Assistant, or an IFTTT seamlessly. (Android 5.0 or later). And also Phyn app works with iOS9 or later.
Now, you know that the Phyn plus is one of the Alexa-enabled devices, check out other Best Alexa-compatible devices in 2022 for your home.
But, if you're an Apple HomeKit user, don't worry about that. There are many floods and leak sensors in HomeKit. But, there're no HomeKit shut-off valves in the HomeKit ecosystem. But, Belkin is set to release the Phyn plus with HomeKit compatibility in near future. Let's see how to add this Phyn plus to your HomeKit.
How to connect Phyn plus to Apple HomeKit?
You can simply add the bridge as a device in HomeKit. It registered your Phyn plus in HomeKit and when you request to control your water, your phone talks to the bridge, and the bridge talks to the smart valve. Bridge relays information from one API to another. Check how to add any Smart Home Device to Homekit?
Solutions
Homebridge
HOOBS
Raspberry Pi
But unfortunately, there is no public API documentation for Phyn Homebridge plugins yet.
But, when it comes to Flo by Moen (the competitor to Phyn Plus), it can integrate to HomeKit easily with HomeBridge.
HomeBridge plugin solution
Homebrdige Plug-in for Flo by Moen (homebridge-flobymoen or hombridge-http-switch plugin)
You can able to integrate the Flo by Moen 3 water system with HomeKit now. It manages the Flo smart water kit system. Also, its controls and monitors devices via the Flo unofficial cloud API.
Econet bulldog valve robot with HomeBridge integration
You already know about the Phyn plus HomeKit integration. Want to know more about Ring HomeKit integration? check out how to add Ring devices to your HomeKit
Buying guide for the best smart water shut-off valve
Before buying the smart water valve, you should consider the following factors.
Wi-Fi and Mobile Connectivity
Easy installation
No separate Hub
Low Battery indicator
Water flow control
Multiple Sensors
No subscription fees
Precise Temperature control
Durable
Compatibility
Size
Type Price
Warranty
Customer support
Where to buy the Phyn plus Assistant?
Our pick
Phyn Plus is the incredibly best option if you have a pressure problem. It can accurately monitor the flow of water. It's a more expensive smart valve but it performs better than the competitors. Also, you can ask Alexa or Google to turn on or off your Phyn plus 2nd gen. You should buy this if you want a way to automatically shut off the water in the event of a leak, you're looking for a way to measure your home's water usage, and your home has water problems or old pipes. But you should not buy this if you just need water usage statistics or you are a renter.
If you're more into Smart Home related things, you would like to learn more about Smart Home Automation. You can find our Kodmy Smart Home Blog post to get latest smart home information and let's make your life easier.
Phyn plus related FAQs
01. How does Phyn plus smart water monitor work?
The pressure in your plumbing system changes when you wash your hands, run a bath, or water your lawn. It measures these microscopic (tiny) changes in water pressure 240 times a second to fingerprint the unique pressure profile of each fixture in your home. Phyn knows it's a faucet when you run a faucet. And it lets you know if that faucet leaks.
02. Who makes Phyn plus?
Are you curious about the manufacturer of Phyn plus? It is exclusively manufactured by Badger Meter. Badger Meter is a global leader with 110+ years of water metering innovation and expertise. You know what utility meters are already installed in millions of homes and it holds every Phyn to the same rigorous potable water standards.
03. What is a Phyn device?
Phyn device is a water detector that measures microscopic water changes in high definition. Simply, it is a Smart Water Assistant and self-installed water monitor. It notifies you of early warning of dangers and deploys under your sink, washing machine, and next to your water heater.
04. Does Flo by Moen work with HomeKit?
Yes. Flo by Moen works with HomeKit by using the Homebridge plugin. So, you can easily control it with Apple Home App or your favorite voice assistant Siri.
05. What is Phyn Plus away mode?
Away mode is one of the features that can be enabled on the Phyn App. It is a very useful feature when you are out. Away mode makes your Phyn very sensitive. When detects any unexpected water usage activity alerts you.
06. How do I reset my Phyn Plus away mode?
Step 1: Tap the Menu icon of the Phyn plus app in the upper left-hand
Step 2: Tap Account and then settings
Step 3: Next, tap the toggle button
Step 4: Once the color of the toggle button changed from green to gray, you can reset the away mode.
07. Which is better Flo by Moen or Phyn? (Phyn vs Flo by Moen)
At the first glance, the first obvious difference is price. If Phyn plus is more expensive than the Flo by Moen, it doesn't charge extra to inform you how you are using water. Apart from that, Flo technologies' service is great than the Flo. If the Phyn app's water usage goals help you reduce your usage and detect a possible leak. So. Phyn's app is more elegant. But, Its algorithm is more sophisticated.
08. Can I install Phyn Plus myself?
You had better get help from a licensed plumber to install Phyn plus. Phyn is partnered with the Uponor Pro Squad. So, they've expertly trained and ensured that Phyn is installed properly. You can also get your plumber. It has instructions in the Phyn plus box. So, they can follow these instructions to install Phyn plus properly.
09. Will Phyn Plus turn the water off automatically if there is a leak?
The answer is yes. It'll learn how you normally use water once installed. This learning period will be different. In an abnormal event, it'll unlock the ability to turn off your water. Also, when a potential leak, send you an alert and you can control it remotely using the free Phyn app.
10. How do you restart Phyn Plus?
Step 1: Unplug the Phyn Plus water valve from the electric socket
Step 2: Re-Plug it into the electric socket
Step 3: After a few seconds, the Phyn device appears online in the Phyn App. It is also the solution if your Phyn Plus devices show "Device Offline" in the Phyn App.
Subscribe to Kodmy Newsletter below to receive email notifications about the latest smart home devices.
11. Where is Phyn Plus installed?
It is important to know where is Phyn Plus installed when you install Phyn Plus. It is installed on the main water line.
12. How do I turn off my water alarm?
If you want to turn off your water alarm, you need to push the disable button. Before turn off the water alarm, be sure to keep the water turned off. You need to make sure that there're no damage causing leaks.