Lucky patcher custom patches allow you to patch APKs through lucky patcher custom patches. What does this patch means? Perhaps you might wonder. Well, to put it in the simplest form custom patch is a simple code that enables an extra functionality to any app. For instance, by applying lucky patcher custom patches, you can experience the full version of an app without having to pay after its trial version. And there are many more you can do with it. All you need to do is just to apply the custom patches available in lucky patcher.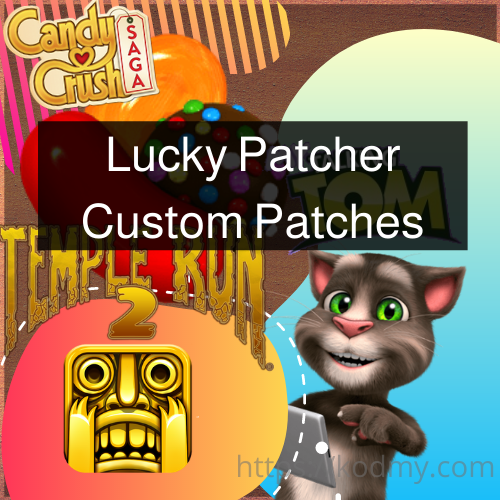 Example: If you are interested in having free/ ad-free Temple run and Candy Crush versions, you may simply get them by applying the custom patches. Below are the benefits you will get in Temple Run and Candy Crush.
Brief Overview & Benefits of Temple Run & Candy Crush
Temple Run – Running and stealing treasure game (heartracing, adventurous & exciting
Main theme of the game :
Temple Run is an endless running game developed and published by Imangi Studios. An enemy who is being chased by evil demon monkeys.
Benefits : Ad Free, Free coins, Free gems etc.
Candy Crush – ( pastime, enjoyable )
Main theme of the game :
Candy Crush is a puzzle game developed by King. The player has to swap small coloured pieces on the board, make a match of three or more of the same color and then that eliminates those candies from the board and replaces them with new ones.
Benefits: unlimited Lollipops, Free Switches, Boosters etc.
How to apply Lucky Patcher Custom Patches
But before you try to apply patches in lucky patcher, there is one thing you need to know. It's the colour indicators. Lucky patcher indicates several colours showing which function that could be applied to the available apps on your phone. But what should be noted is that if it indicates in red, that means you cannot patch that app.
Now you are ready to apply lucky patcher custom patches. Here are the steps,
Step 1
Download lucky patcher.
Step 2
Launch the lucky patcher app you downloaded and find the app you want to patch.
Step 3
Tap on the app you selected and find the "Menu of Patches" option on the popped up list.
Step 4
Tap on "Create Modified apk file"
Step 5
In the next appearing list, select "Custom Patch – applied apk"
Step 6
Select the required patch from the next appearing list and finally tap on " Patch". That's All.
Below are some of the most popular lucky patcher custom patches
Temple Run – Running and stealing treasure gamme (heartracing, adventurous & exciting
Candy Crush – (pastime, enjoyable)
PUBG (wartype, exciting, heart racing and bravery)
Autorap by Smule (Pastime singing app)
Rocket Music Player (Music, entertainment)
Microsoft Office Mobile (official, documentation)
Greenify (Android power saver app)
Whatsapp Plus (messaging and file sharing app)
Interested in having the latest lucky patcher custom patches for games? Step into Lucky Patcher Games List 2020 now