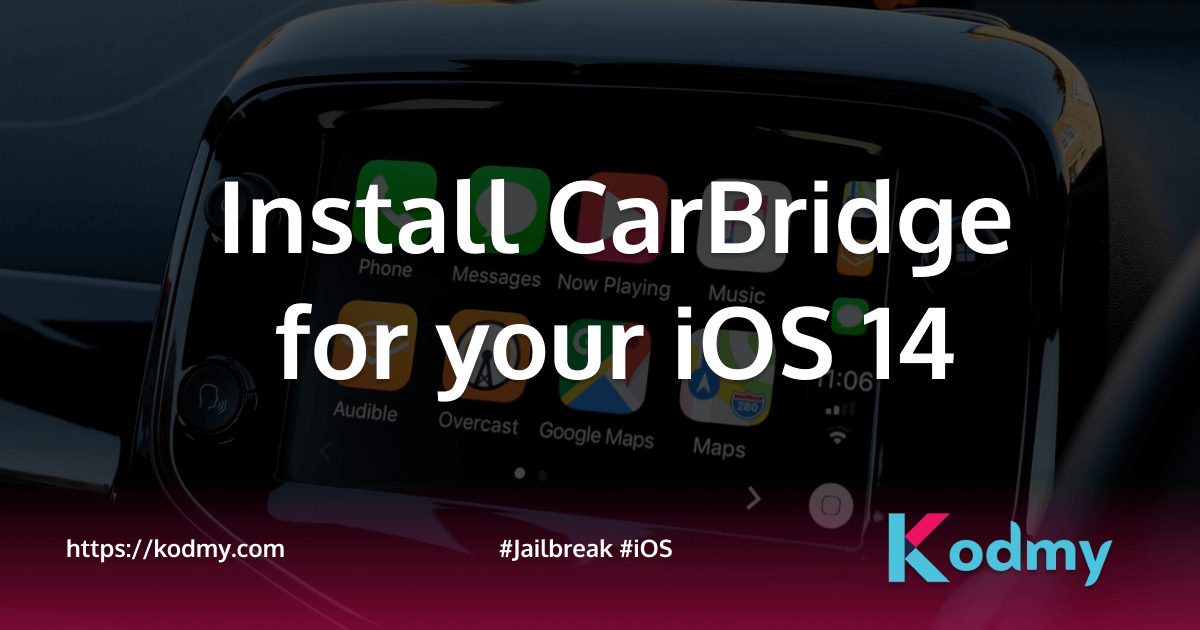 CarBridge is an awesome app that lets you use any iOS application on your CarPlay supported touchscreen head unit through iPhone . Being stuck with limited selection of Carplay is no longer a problem with CarBridge. It brings you the whole iPhone experience to your car without limitation. And also CarBridge is the best alternative for NGXPlay.
CarBridge brings you a few exciting features to you. It allows you to use 2 apps which means one on your phone and another one for the car. And also you can hide any CarPlay icon and customize your CarPlay.
From this article, we reveal How to install CarBridge for your iOS 14 device. iOS 14 was launched by Apple this year and they tend to release more new updates for iOS 14 within the past few months. Before you install CarBridge on your iPhone or iPad you need to complete the jailbreak procedure on your device. Checkra1n and unc0ver are giving you the best jailbreak tools for iOS 14 to iOS 14.3 devices. Read more about iOS 14 jailbreak solution.

You can install CarBridge on your device in two ways
Donating to CarBridge
Via Launching Cydia    
If you are not assuming to install Cydia on your device, Simply you can donate a few dollars to the CarBridge app and take the availability of direct downloading to your device.  
Is it possible to install CarBridge without jailbreaking?
As already mentioned about the CarBridge app, CarBridge is a tweak which only you can use after jailbreaking. But there's an easy way to install CarBridge alternatives on your device.
TweakMo comes with a pack of benefits not only as a jailbreak solution or Cydia alternative. It brings you, your favorite tweaks, jailbreak and non jailbreak apps, hacked games, iPhone customizations and lots more for 100% free. No more worries about your Apple warranty. It's 100% safe now.
If you are not wishing for Jailbreak, this is the best solution for you to use CarBridge alternatives such as InCar on your device. Follow these simple steps to install CarPlay apps and carPlay alternatives.

Visit TweakMo official page and download TweakMo on your device
Find TaigOne under app stores (but you can download TaigOne directly from TaigOne official website)
Install TaigOne and you'll find InCar and other CarPlay alternatives.

How to Install CarBridge with Cydia

Install Cydia on your device. (you may find correct jailbreak tool for this from TweakMo or TaigOne)
Install Rocketbootstrap, Applist or Filza via Cydia
Navigate Perferenceloader  in source tab
Use Filza to Install the leftyfl1p.deb file

Congrats! Now you have freedom to use any app on CarPlay. There are more things you can do with TweakMo  other than the said CarBridge alternative. Visit TweakMo official page to read more and download the app.