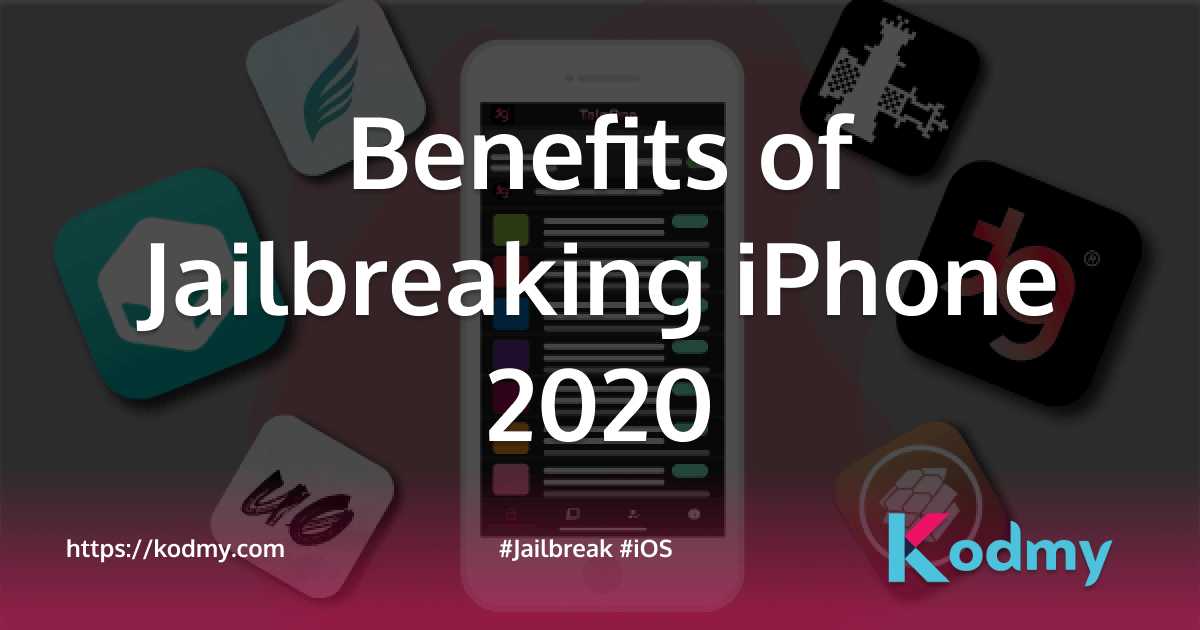 Apple devices are deprived from all customization and user interface conclusion. If you are an iPhone user you might feel it's very restrictive.  Jailbreak is the best solution for users who want to break these restrictive barriers on their iDevices and customize it.  Jailbreak lovers are all around the world. But if  you are still considering Jailbreak or not to jailbreak, this article is for you. We listed the benefits of jailbreaking and what is jailbreak.

What is jailbreaking  

Jailbreaking can widely open up your security vulnerability for exploitation. It means your device is free from all the barriers of customization. If you are totally satisfied with the limitation that iOS provides and don't want anything more on your device you shouldn't go for jailbreak it. It always depends on what you want on your iDevice. But you can get these benefits from jailbreaking your device

You can customize your iDevice like any Android device without any restriction.
You can install many third party tweaked apps, repos and tools you want without any limitation.
Can easily customize your apps, wallpapers and more to for perfect user satisfaction
Also latest iOS versions features can be added as tweaks to older versions
What are the benefits of Jailbreaking iPhone 2020

In this year, Apple has released their latest iOS 14 version to the public. If your iPhone is up to iPhone 6 version, you can jailbreak it easily using an online method or PC method. You can easily jailbreak iOS 14 and higher versions  using Checkra1n as a PC method. If you are not interested in jailbreaking but interested in jailbreak features, then you can use Taigone, TweakMo to customize your iPhone while keeping new  features of iOS 14 on your iPhone.

These are the benefits you can get from  jailbreaking your device in 2020.

You can get access to install all unauthorized apps

Jailbreak will help you to download apps, hacked games that are not available on the App Store. Download Package managers like Cydia, Sileo, Zebra for many tweaks and repos like BigBoss, Packix etc. Also you can download third party jailbreak app stores. In advance, you can install paid iOS apps for free with the help of jailbreak tweaks. Also there are non-jailbeak alternatives available for this such as Yiti Apps.

2. You can Customize your iPhone with according to your taste

If you are not jailbroken, you always have to use your iPhone with limitations of Apple. But you can customize your phone with new wallpapers, modified icons, customized docks and many more if you are jailbroken with the support of Cydia/ Sileo or any package manager.

Barrel, Cylinder are the famous points when speaking of these customizations.
3. You can keep your storage free

After jailbreaking you can uninstall your default apps which you think useless and you can operate third party apps as default apps.

4. You can customize the control center.

You can create bottom app shortcuts and create customized control center by switching around toggles.

This is just a snippy of jailbreaking benefits. There's a lot more and of course more funnier and more useful.

You just want to have a compatible iPhone and a compatible jailbreak tool. If you are using the PC method ( Checkra1n) You need a PC (mac or Linux, Windows) to jailbreak your iPhone. You can customize your iPhone like a pro using this jailbreak method as Cydia is the default package manager for Checkra1n.  

PS: Select the best jailbreak tool for your iOS / iPhone version.